HISTORICAL MEMORY
Argentinean judge asks to question 19 suspects in Franco crimes case
Buenos Aires magistrate is using the concept of universal jurisdiction to justify her inquiry
A judge in Argentina who accepted a 2010 lawsuit against alleged crimes committed under the Franco regime in Spain wants to question 19 former officials in connection with the case.
María Servini de Cubría has asked Spain's High Court for permission to take testimony from former Franco ministers José Utrera Molina and Rodolfo Martín Villa, and from former police officer and suspected torturer Antonio González Pacheco, known by his nickname of Billy the Kid, among others.
The Buenos Aires judge wants to travel to Spain to take depositions from them between April 4 and 22.
Servini de Cubría had already attempted to arrest all 19 individuals and have them extradited to Argentina in October 2014, but the Spanish government rejected the request on the grounds that Spain's courts are the ones that should try their own citizens.
The conservative Popular Party (PP) government also said that the statute of limitations had already been exceeded for the events under investigation and that some of the actions in question did not constitute crimes at the time of the dictatorship.
The decision triggered a reprimand by four experts from the United Nations.
In January of this year, an order issued by Servini's court enabled the opening of a mass grave in Guadalajara
Judge María Servini de Cubría is using the concept of universal jurisdiction to justify her inquiry into alleged crimes that do not directly involve Argentineans. Relatives of Franco's victims turned to her court after an attempt to investigate offenses committed by the Franco regime by Spanish High Court Judge Baltasar Garzón landed the magistrate in the dock himself, accused of overstepping his powers.
Servini charged ex-minister Utrera Molina with signing the 1974 death sentence against Salvador Puig Antich, a 23-year-old anarchist who had been found guilty of killing a Civil Guard. Antonio Carro, another former minister, signed the last execution warrants of the Franco regime in September 1975.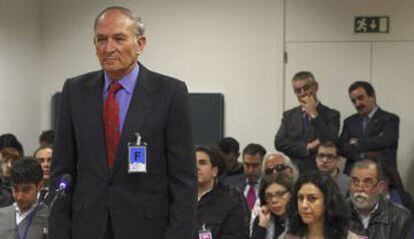 Billy the Kid and other former law enforcement officers are accused of torture. Meanwhile, a doctor named Abelardo García Balaguer is charged with the theft of a baby in 1967.
The judge's petition rests on the Extradition and Legal Assistance Treaty on criminal matters signed between Argentina and Spain in 1989.
In January of this year, an order issued by Servini's court enabled the opening of a mass grave in Guadalajara province to find the remains of Ascensión Mendieta's father. The 90-year-old lady had traveled to Argentina two years earlier to ask the judge for help finding her executed relative.
English version by Susana Urra.