MOTORSPORT
Carlos Sainz out of Dakar Rally after gearbox failure on Peugeot
Racing legend was leading with seven-minute advantage before being forced to retire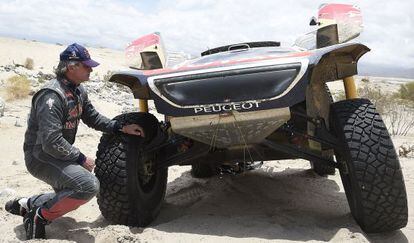 The Peugeot team have confirmed that Spanish driver Carlos Sainz has had to retire from the Dakar Rally, after suffering on Wednesday mechanical problems with his gearbox. The retirement of his DKR 2008 car has cost him the chance of winning his second title in the legendary race, which this year runs through Argentina and Bolivia.
The Madrileño veteran of the motor racing world had started the 10th stage of the rally in the lead, with a seven-minute advantage over his teammate Stepháne Peterhansel. But after a day characterized by bad luck his car ended up immobile a full 30 kilometers from the end of the timed route due to a problem with the gearbox casing.
The former rally world champion finally crossed the line six hours later, towed by a breakdown truck. After seeing the damage to the car, the team decided the Spaniard should retire from the race. It was the fifth time he had taken part in the Dakar, and the fourth year in a row.
"Retirement @CSainz_oficial Engineers concluded: breakage spacer engine/gearbox & other significant collateral damage," Peugeot Sport explained via its official Twitter account.
English version by Simon Hunter.