Artur Mas: "We have the legitimacy to construct the Catalan republic"
Acting regional premier focuses on benefits of independence in investiture debate address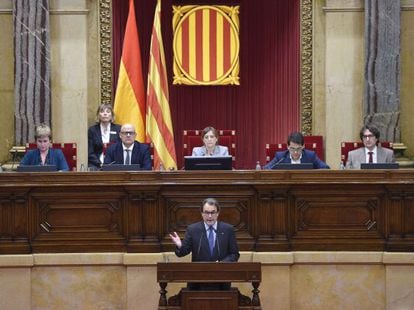 In a marathon session that began on Monday morning, the Catalan parliament first passed a historic motion to start breaking away from Spain, then watched as acting premier Artur Mas fought to convince fellow separatists from different parties to support his bid to be reinstated as regional leader.
As expected, Mas's investiture debate speech focused heavily on the secessionist victory just hours earlier, rather than on the issues that are creating gridlock in the Catalan assembly and preventing him from easily securing a new term in office.
In these years of imposed authority, Catalonia could have kept up the welfare state with no cuts if it had had a state of its own"
Acting Catalan premier Artur Mas
"We have to choose between suffering the cost of subordination or paying the price of freedom," said Mas in a long address lasting around 90 minutes that underlined his view that the September 27 regional election granted separatists the democratic legitimacy to carry on with the task of creating an independent republic.
The election gave his Junts pel Sí coalition and its partner, the radical leftist CUP, a majority of seats in the Catalan assembly but not a majority of votes, receiving around 48 percent of all ballots cast. Detractors of independence have used this as an argument against proceeding with the process, but separatists claim that this is a sufficient figure to allow them to push ahead.
"We have the legitimacy to construct the Catalan republic," Mas said. "Nobody can talk about the silent majorities. The ballots have spoken, and the result is clear: an absolute majority in favor of independence, with nearly 50 percent of the vote."
Mas sought to back up this claim by dividing the 52 percent of votes against his separatist plan into two blocs: one comprising parties that reject independence outright (the Catalan Socialists, Popular Party and Ciudadanos, representing 39 percent) and another comprising Podemos's incarnation in Catalonia, Catalunya Sí que es Pot, and the Democratic Union of Catalonia (UDC), which Mas defined as having unclear positions.
Mas also made an appeal to his partners in the leftist, anti-capitalist CUP, whose support is essential to his reinstatement, by speaking about the social policies that a new Catalan state would foment, including improved public healthcare and education.
"In these years of imposed authority, Catalonia could have kept up the welfare state with no cuts if it had had a state of its own," said Mas, whose first period in office was marked by street protests over budget cuts to public services made at the height of the Spanish economic crisis.
The final part of his address touched on corruption, one of the major stumbling blocks in his own candidacy to the premiership as a result of the graft scandals affecting his Democratic Convergence of Catalonia (CDC) party.
In a last attempt to convince the CUP, Mas concluded his speech with an old nautical saying: "If there is not enough harmony between the wheel and the sails, the ship could capsize."
English version by Susana Urra.