CATALAN BID FOR INDEPENDENCE
Catalan independence declaration will not achieve its goals, says Rajoy
State will not spare any political or legal tools in dealing with self-rule bid, says prime minister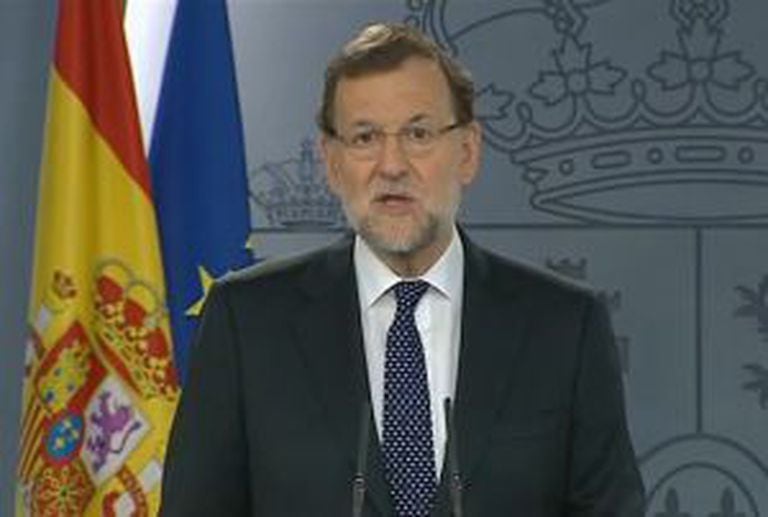 Prime Minister Mariano Rajoy warned on Tuesday that the Spanish state would not withhold the use of any available political or legal tools when it came to defending Spain and upholding its law and Constitution.
The statement by the leader of the center-right Popular Party (PP) comes after Catalan secessionist parties had earlier Tuesday registered a document declaring "the beginning of the process to create an independent Catalan state" – an act Rajoy described as "provocation by those who claim to break the law because they know the law is not on their side."
"The government guarantees, and will guarantee, that they will not achieve their objectives and that not one of their effects will take place once approved," Rajoy said.
"Those who want to separate and divide Catalonia have to know that they are not going to achieve it," he added. "They have in front of them the law, and a government that is ready to make use of it."
Rajoy issued his warning from La Moncloa prime minister's residence after speaking with opposition leaders Pedro Sánchez, of the Socialist Party, and Albert Rivera, of emerging group Ciudadanos, who both agreed on the "general principles" that needed to be followed in order to uphold the law, according to government sources. Rajoy did not, however, consult with Pablo Iglesias, leader of anti-austerity party Podemos.
Deputy Prime Minister Soraya Sáenz de Santamaría has commissioned a number of legal reports to support the next actions of the government.
Junts pel Sí, the nationalist coalition that won the most seats in the regional election in Catalonia last month, and CUP, a small far-left party whose support is necessary to drive the secessionist bid forward, have agreed on a document declaring "the beginning of the process to create an independent Catalan state."
The nine-point document, which they will bring to the regional parliament for approval next week, states that the future Catalan state will be a republic.
It also declares that the independence process "will not depend on the decisions of Spanish institutions, in particular the Constitutional Court," a body that is described as "having lost its legitimacy."
The Madrid central government has already announced that it will study contesting the declaration. Justice Minister Rafael Catalá has said that the executive will legally evaluate any declaration made in the Catalan parliament that makes a step towards independence and that, if in contravention of the law, will contest it at the Constitutional Court or another appropriate legal body.
English version by Nick Funnell.