IMMIGRATION
Boy from Ivory Coast found trying to cross into Ceuta inside suitcase
Officials detected eight-year-old when luggage went through scanner in Spanish exclave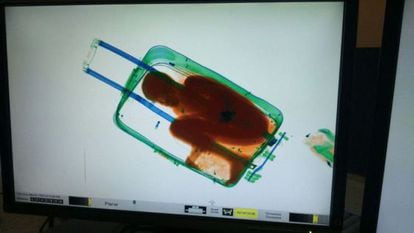 The juvenile department in Ceuta has taken charge of an eight-year-old child from Ivory Coast who attempted to cross into Spanish territory inside a suitcase.
Customs officials in the Spanish exclave, located along the northern coast of Africa, detected the young boy when the luggage went through the security scanner at the Tarajal border check on Thursday.
The suitcase was being carried by a 19-year-old woman from Morocco
The suitcase was being carried by a 19-year-old woman from Morocco, Fatima E.Y., whom authorities suspect was paid by Abou's father to take the boy over the border.
The father, A.O., attempted to cross into Spain an hour-and-a-half later, thinking that he would find his son there waiting for him.
But customs officials grew suspicious when the man said he was also from Ivory Coast. He was interrogated and shown a photograph of the boy inside the suitcase. The 42-year-old broke down immediately and admitted to being the boy's father.
"I just wanted to bring him to the Canary Islands with me," said A.O., who has a residency permit from Las Palmas de Gran Canaria, where authorities suspect he arrived illegally years ago on a boat.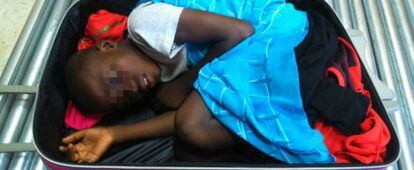 Police sources said the minor had been placed under the tutelage of Ceuta authorities until further information about his family can be obtained.
The father and the woman carrying the suitcase were both sent to preventive prison by a Ceuta judge on charges of violating the rights of foreign citizens, with the aggravating circumstance that the child's life was put at risk.
The father had previously requested family reunification but his petition had been turned down. He told the judge that he was unaware that his son would be smuggled into Spain inside a suitcase, but the judge was unconvinced by his statements.