Madrid eviction ends with 11 arrests
Police said detainees doused them with gasoline, but residents claim it was water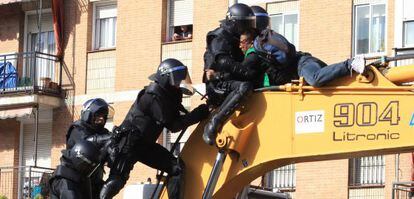 Madrid municipal police arrested 11 people on Friday morning after a group of activists attempted to halt the demolition of a residential building.
The residents of number 29 Ofelia Nieto street got help from around 100 people who rejected the city's plans to demolish a structure that authorities describe as substandard.
Located in the city's Moncloa district, on the border with neighboring Tetuán, the building had become a focus for anti-eviction groups since August 19, 2013. On that day, a crowd prevented an earlier attempt to evict the three families who were continuing to hold out there despite an expropriation in 2010.
The city offered the owners compensation of nearly €400,000 in order to pull down the building and expand the sidewalk, but the owners rejected it.
The legal battle continued its course in the courts, and a new ruling on February 18 of this year ordered a new eviction process.
The nine remaining residents, some of whom have been living there for over 50 years, claimed they had not been informed that their building would be demolished on Friday. The city says the residents were served due notice of the court's eviction order.
The police showed up at 7.30am but were unable to force the front door open, according to witness reports. A digger was finally sent in to do the job, and several people standing inside were dragged out by law enforcement officers.
According to police sources, some individuals doused officers with gasoline, but did not attempt to set them on fire. Seven people were arrested for this behavior.
Residents and activists said it was not gasoline but water.
Four more people were taken into custody after climbing the digger that finally demolished the house. A few residents said the police employed significant violence during the eviction.
The property was the last remaining building in substandard conditions in the area. The owners, who have been living there since 1956, were asking for €1.8 million, but various lawsuits fixed the compensation at €399,000.
"It's a shame that this family has been evicted when what the city really wants to do is to speculate with the area and sell it to the private sector so it can get rich with the land. The housing conditions were perfect, and it was not necessary to take nine people out of their homes, three of them children," said one local resident.
Socialist councilor and mayoral hopeful Antonio Miguel Carmona asked Mayor Ana Botella, of the Popular Party (PP), to explain what solutions were to be found for the three families.
"We will not allow the Botella administration to treat citizens this way," he said. "Botella left them out on the street, Botella will have to find them new accommodation as of tonight. If this government is incapable of reaching a deal with three families, the time has come for it to make way for other leaders who put people at the top of their priorities."