How prone is Spain to earthquakes?
Authorities in Albacete town at epicenter of Monday's tremor confirm it caused no damage
The 5.2-magnitude earthquake that shook central Spain on Monday afternoon did not cause any damage to people or property, authorities in the Albacete town at its epicenter have confirmed.
"I have just gone over every inch of terrain within our city bounds and there's nothing, not even a crack," said Luisa Clemot, the mayor of Ossa de Montiel, the community of 2,530 residents located 85 kilometers from the provincial capital where the quake struck.
Town residents all talked about "the loud noise" made by the tremor, which hit at 5.16pm local time.
"The whole house shook, all the glasses and plates and lamps were shaking, and the dogs didn't stop barking," said Rafael Mora, 55, who is the justice of the peace in Ossa de Montiel.
Described as "moderate-to-strong" by the National Geographic Institute (IGN), the earthquake was felt in parts of the Valencia region, Murcia, Castilla-La Mancha and Madrid. Two aftershocks were registered measuring 2.5 and 3.1 on the Richter scale.
The tremor took place along the same fault line that caused the May 2011 earthquake in Lorca (Murcia). Although that quake was less strong (5.1), it caused extensive damage because it occurred at a depth of only 1,000 meters, compared with 10 kilometers on Monday.
The incident raises questions about the frequency of earthquakes in Spain.
Spain is not at risk of major earthquakes such as the 9.5-magnitude tremor that shook Chile on May 22, 1960, which remains the largest recorded quake in history.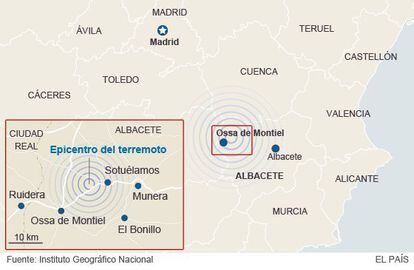 Yet each year, between 1,200 and 1,400 tremors are recorded in the Iberian peninsula. Usually they measure no more than 4.9 on the Richter scale, while one registering 5.0 or above occurs once every three and a half years or so.
The last time a major earthquake was felt in Spain was February 28, 1969, when a 7.8-magnitude tremor in Cape St. Vincent, in neighboring Portugal, knocked down several buildings in the southern Spanish province of Huelva.
On Christmas Day in 1884, a 6.5-magnitude quake beneath Arenas del Rey, in Granada province, killed 839 people, destroyed 4,400 buildings and damaged 13,000 others.
And on November 1, 1755, an 8.5-magnitude quake that also originated southwest of Cape St. Vincent created a 15-meter tsunami that hit Western Europe and northern Africa, marking the greatest quake-related tragedy recorded in Spain, according to the IGN. This event went down in history as the Lisbon earthquake because of the destruction it caused to the Portuguese capital, where an estimated 15,000 people lost their lives, but the Spanish provinces of Huelva and Cádiz were also affected.