CINEMA
This week's movie releases
Argentinean black comedy 'Wild Tales' offers six shocking stories of violence and revenge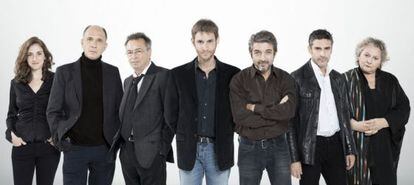 A huge hit in its native Argentina, Damián Szifron's darkly comic Wild Tales is a portmanteau film comprising six strange stories about people being yanked around by the unpredictability of modern life. So, for instance, we have Argentinean star Ricardo Darín as a demolition man out for revenge over a parking fine; Leonardo Sbaraglia as the driver of a flash car caught up in an extreme case of road rage; and Talk to Her actor Darío Grandinetti as a passenger on a plane where everybody seems to be connected to one musician. Co-produced by Pedro Almodóvar, the film has been chosen to represent Argentina at next year's Oscars.
This year's Golden Shell winner at San Sebastían, Magical Girl is Spanish director Carlos Vermut's follow-up to microbudget head-scratcher Diamond Flash. No less peculiar, the film stars Luis Bermejo as the father of a sick daughter prepared to go to any lengths to buy her the dress she covets from a Japanese anime TV series. His attempts lead him into a web of blackmail as he comes into contact with the mentally ill Bárbara Lennie and retired teacher José Sacristán, a man struggling to escape his tormented past.
Denzel Washington reunites with Training Day director Antoine Fuqua in The Equalizer, an update of the classic 1980s TV action series starring the late Edward Woodward. He plays a retired black ops agent who turns into a vicious one-man A-Team after he witnesses teen prostitute Chloë Grace Moretz being mistreated by Russian gangsters.
Also undergoing a big-screen revamp – whether you wanted them to or not – are crime-fighting reptiles Raphael, Michelangelo, Leonardo and Donatello in Teenage Mutant Ninja Turtles. This new Michael Bay-produced reboot of the film franchise, originally based on a comic book and subsequent TV series, eschews the animatronics of the original three features in favor of motion-capture computer graphics. The real-life performers include Megan Fox, Will Arnett and Whoopi Goldberg.
Making 'Tracks'
Seventies-set adventure Tracks tells the story of one young woman's 2,000-mile journey across the Australian desert with only her dog and four camels for company. Mia Wasikowska plays real-life adventurer Robyn Davidson, while the great Adam Driver plays the National Geographic photographer who records her trip.
Arriving after causing a stir at this year's San Sebastián festival, Pablo Malo's Lasa y Zabala is another film rooted in real events. Starring Unax Ugalde, Oriol Vila, Francesc Orella and Aitor Mazo, the Spanish thriller centers on the kidnapping, torture and killing of two young ETA members by the Civil Guard in 1983.