EBOLA IN SPAIN
Nursing staff resign from their posts to avoid treating Ebola cases
Workers at Carlos III Hospital in Madrid argue safety measures are not adequate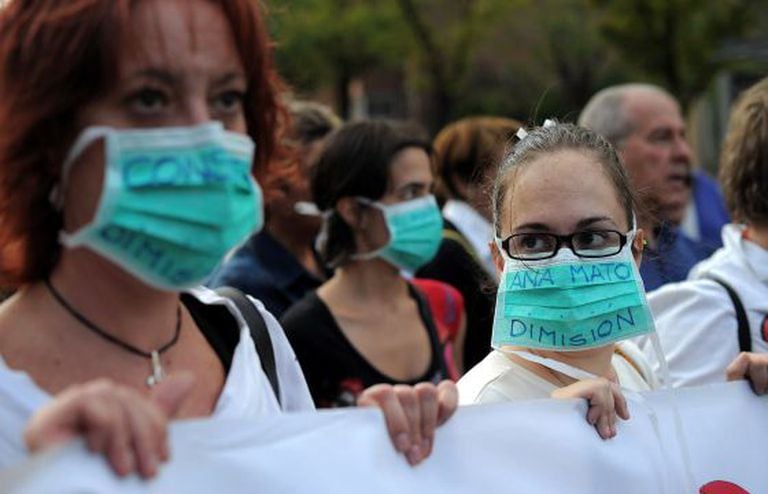 Carlos III Hospital in Madrid, the health center where Ebola victim Teresa Romero is being treated, is having to draft in extra staff given that nurses are refusing to work with cases – or suspected cases – of the virus, claiming that safety conditions are not adequate.
A number of other patients are being monitored in the hospital after having come into contact with Romero, although none so far has been confirmed as having contracted the virus.
"There are members of staff who are canceling their contracts so that they don't have to enter [rooms with Ebola cases]," explains Elvira González, provincial vice-secretary of the SAE nurses' union.
González explained that a number of nurses and technicians have formally resigned from their posts at the regional health department, while others have refused to treat patients under current conditions.
People get anxious and they can't work like that, being so nervous"
In theory, a health professional is obliged to attend to any person who is sick, but in this case the hospital is not forcing anyone to enter a room if they don't want to.
"Right now, there are questions as to whether the protective suits are adequate, if the protocols are adequate," Gonzalez added. "A health professional could accuse the administration of a public health offense if they are forced to work in conditions that are not adequate. Not even at the regional health department can they be sure of the infallibility of the protocol, which is why no one is being forced to do anything."
"I know a lot of people who are making excuses," explained one member of staff at the hospital, who asked not to be identified. "They are saying that they've got their period, that they're getting dizzy, that they're claustrophobic … People get anxious and they can't work like that, being so nervous."
Staff members who are treating Romero and the isolated patients in the hospital are receiving psychological counseling to help them deal with the stress of the situation.