THE END OF JUAN CARLOS' REIGN
The life of a royal family
A chronology of King Juan Carlos' 76 years, from birth to renouncing the throne
January 5, 1938. Don Juan Carlos de Borbón is born in Rome, Italy.
May 14, 1962. He marries Sofía of Greece in Athens.
December 20, 1963. Infanta Elena is born in Madrid.
June 13, 1965. Infanta Cristina is born in Madrid.
January 30, 1968. Prince Felipe is born in Madrid.
July 22, 1969. Don Juan Carlos is proposed as successor to General Franco with the title of king, according to the 1947 Succession of the Leadership of the State law.
November 22, 1975. He is proclaimed King of Spain following the death of Franco.
May 14, 1977. The Count of Barcelona gives up his dynastic rights in favor of his son, Juan Carlos.
January 30, 1986. Prince Felipe swears loyalty to the Constitution and the king.
March 18, 1995. Infanta Elena marries Jaime de Marichalar in Seville Cathedral.
October 4, 1997. Infanta Cristina marries Iñaki Urdangarin in Barcelona.
May 22, 2004. Prince Felipe and Letizia Ortiz marry in Madrid's Almudena cathedral.
November 13, 2007. The Royal Household announces the separation of Infanta Elena and Jaime de Marichalar.
2008. The Palma Arena corruption case erupts. Judge Castro investigates the construction of the Palma sports complex, where costs shot up from €48 million to €110 million. The inquiry also sparks the Nóos case involving Infanta Cristina's husband Iñaki Urdangarin.
2009. Infanta Cristina and Iñaki Urdangarin move to Washington, D.C..
December 15, 2009. Infanta Elena and Marichalar complete their divorce in a Madrid court.
2010. The king undergoes an operation to remove a benign tumor from his right lung.
2011. The king damages his left Achilles' tendon and has his right knee replaced.
In June the judge names Diego Torres, Iñaki Urdangarin's business partner at the non-profit Nóos Institute, as an official suspect in the case. In December Urdangarin is also targeted as an official suspect. The Royal Household relieves him of all official duties.
In his traditional televised speech on Christmas Eve, the king says: "Justice is the same for everyone."
2012. The king undergoes an operation to replace his right hip after breaking it on an elephant-hunting trip to Botswana. A short while later he dislocates the same hip and also has his left hip replaced because of arthritis.
February 25-26, 2012. Urdangarin testifies in front of Judge José Castro for 22 hours.
2013. Don Juan Carlos suffers a slipped disc and undergoes another hip operation in September.
Infanta Cristina and her family relocate to Geneva, Switzerland.
January 20, 2013. The judge accuses Urdangarin and his business partner of making "disproportionate profit" and orders them to post a €8.1 million bail bond.
February 23, 2013. The judge summons Urdangarin to testify for tax fraud.
April 3, 2013. Judge Castro names Infanta Cristina as an official suspect in the case. The Palma de Mallorca High Court later removes her name from the list of official suspects because of a lack of evidence.
November 14, 2013. Public prosecutor Pedro Horrach says there is no evidence of any criminality in the Infanta's actions in relation to her husband's business dealings and therefore she should no longer be investigated in the case.
January 8, 2014. The investigating judge names Infanta Cristina as an official suspect for a second time after finding that there is evidence of money laundering and tax fraud in relation to Aizoon, the company she jointly owns with her husband.
February 8, 2014. Princess Cristina testifies before the judge.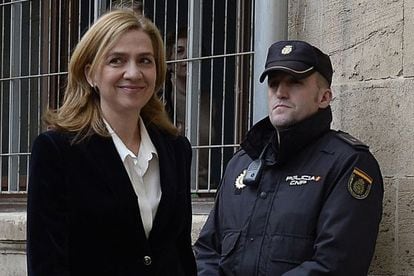 March 6, 2014. Queen Sofía brings Prince Felipe, Princess Letizia, the Infantas Elena and Cristina, and their children together at a ceremony to mark the 50th anniversary of the death of her father, Paul of Greece, in Athens. The last time they had all been seen together was in June 2013 on the occasion of a Mass to commemorate the 100th anniversary of the birth of King Juan Carlos' father, Don Juan.
April 2014. The royal family celebrates Easter in Palma de Mallorca without the Infanta Cristina and Urdangarin.
The king begins a tour of various countries in the Persian Gulf.
June 2, 2014. Prime Minister Mariano Rajoy announces that the king has communicated to him his decision to abdicate.