MOBILE WORLD CONGRESS
Zuckerberg: "WhatsApp is already worth more than what we paid for it"
Facebook wIll bring WhatsApp the stability it needs to keep developing its business model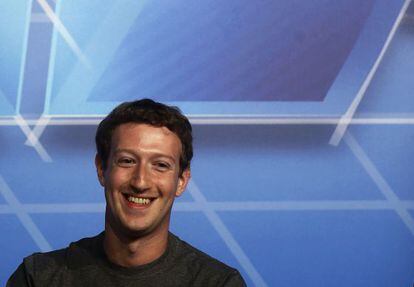 Mark Zuckerberg, the young founder and CEO of Facebook, told a captive audience on day one of the Barcelona Mobile World Congress that "WhatsApp is already worth more than what we paid for it."
The statement sought to satisfy curiosity as to why his company recently announced the purchase of the popular text messaging service for 19 billion dollars (13.8 billion euros). "It's a great company for us. It's the best application we've seen on mobiles."
Since Thursday, when the acquisition was announced, WhatsApp shares rose four dollars.
Zuckerberg said that Facebook would bring WhatsApp the stability it needs to keep developing its business model, which is connecting more people. He also underscored that despite the deal, the messaging service would remain autonomous. Also on Monday, WhatsApp announced it will soon be rolling out voice communications.
The Facebook founder then launched into a passionate explanation of his next project, Internet.org, which seeks to bring internet access to the two thirds of the planet which remain unconnected. His partners in this endeavor are Samsung, Opera, Nokia, Ericsson and Qualcomm, among others.
The goal is to offer free basic services such as messaging or weather reports. "We already have projects, for instance in the Philippines, where the number of users has doubled. If you have two dollars, it is worth it to invest it in data services."