Spanish far-right leader Blas Piñar dies at age of 95
Fuerza Nueva politician styled himself as the successor to Franco but failed to rise from obscurity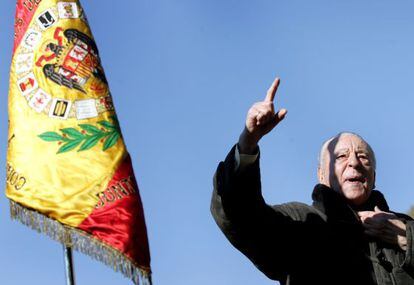 Blas Piñar López, a leader of Spain's far right who once put himself forward to replace General Francisco Franco as caudillo, or warrior-leader of Spain, has died age 95. On public appearances Piñar was flanked by a small group of supporters, wearing the red beret of the Spanish Falange.
But Piñar was no Falangist. Author Manuel Vicent once described him as a "white-collar Catholic," but Piñar was also a trail blazer. He did not ride with the "magnificent seven," the group of former Franco ministers gathered together by Manuel Fraga who nonetheless failed to make an impact during the transition to democracy, winning just 16 seats in the 1977 elections.
Two years later neo-fascist organizations concentrated their votes and delivered a seat to Blas Piñar via his Fuerza Nueva formation, allowing him to sit in Congress for four years, albeit with little effect. When Antonio Tejero, one of the leaders of the February 23, 1981 coup d'état, burst into the lower house, Blas Piñar endured 18 hours in his deputy's seat like everybody else.
Blas Piñar lost his seat in 1982 when Felipe González and the Socialists swept to power and Fuerza Nueva subsequently dissolved. He then opted to ape the far-right movements in France and Italy, banging the drum of Spanish nationalism and the Christian spirit while banning his acolytes from carrying out extortion and violence. Meanwhile, Fraga and José María Aznar went on to merge the far and center right into today's Popular Party.