Anticorruption prosecutor attacks Nóos judge for "conspiracy theories"
Pedro Horrach demands more evidence before Princess Cristina declares in court as official suspect
The anticorruption prosecutor in the Balearics region, Pedro Horrach, is not going to appeal against the decision to call Princess Cristina to declare as an official suspect in the Nóos case, but he has left a defense statement containing some explosive allegations on the desk of investigating Judge José Castro.
In a fresh attempt to dismantle the accusation against the king's daughter in the probe into fiscal fraud and money-laundering relating to her husband's business affairs, Horrach is asking Castro to provide more evidence and further expert information from the Tax Agency before she appears at the Palma High Court on February 8.
The arguments accusing Cristina, which Horrach claims are "based on the absurd and denigrating theory of an alleged biased manipulation," need to be abandoned, the prosecutor writes. He is asking that three Tax Agency inspectors and one police chief, who have all been called to give evidence, make their statements before the princess appears before the court as an official suspect.
The anticorruption prosecutor also believes that Judge Castro has embraced the "conspiracy theory" that points to an alleged manipulation of Tax Agency reports, as well as changes of criteria and inspection objectives by the Tax Agency in relation to fictitious expense claims made by Aizoon, the company jointly owned by the king's daughter and her husband, Iñaki Urdangarin. As such, he says, he is "justifying the existence of criminal indications that support the targeting of Doña Cristina as an official suspect."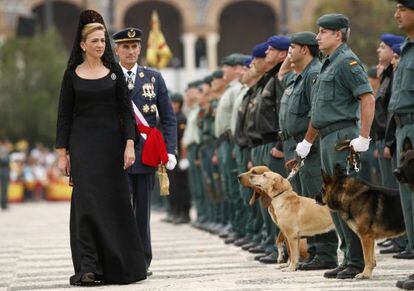 Horrach rejects the idea that there are "illegitimate motives" among civil servants and sees the work of the Tax Agency – which has found no evidence of criminal activity and views the investigating judge's interpretation as "erroneous" – as having "the most rigorous and coherent" standards.
The prosecutor is demanding that these questions be cleared up as a matter of necessity with the questioning in court of the leading civil servants responsible for the tax probe.
Judge José Castro named Princess Cristina as an official suspect in the case last Tuesday. On Monday her lawyer said the princess was eager to testify as soon as possible in order "to clear up a situation in which she is absolutely convinced of her innocence."
Urdangarin and his business partner Diego Torres are under investigation for allegedly siphoning off 5.8 million euros of public money awarded to them to organize events for the governments of Valencia and the Balearics. Castro believes the princess benefited from that money through her use of funds from Aizoon, whose sole activity seems to be as a depository for Nóos money. The princess allegedly used that money for personal purposes but charged the outlays as expenses against Aizoon's tax liabilities.