The Mecano musical, rebuilt
Stage show based on 1980s songs returns to Gran Vía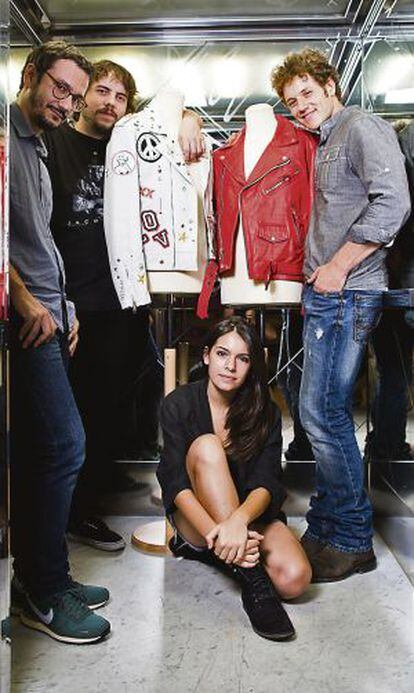 "I discovered the tape of Descanso dominical when I was young, from some of my aunties, and I listened to it until it was worn out," explains Daniel García. Twenty-five years on, Mecano, the creators of that 1988 album, have had time to make history and break up, and García is no longer a child. But one thing hasn't changed: he is still listening to Mecano non-stop. That's because he is now the musical director of the new version of Hoy no me puedo levantar, the stage musical based on the songs of Ana Torroja and José María and Nacho Cano, which has just returned to Madrid's Teatro Coliseum.
"People come to see a kind of dream," he says. That's why, he explains, the show had to make a comeback. The figures might also have helped: more than 2.5 million tickets sold and a hit tour around Spain and Mexico between 2005 and 2011 make for an enviable calling card.
But between that version and this one, there is a big difference: this time there will be no tour. And that carries with it a second key change: the new stage design - "a visual orgy," in the words of director David Ottone - is too complex to be moved around. A 200-square-meter screen that transports theatergoers from the Puerta del Sol to the Madrid skyline, 100 moving spotlights and 27 scene changes are signs of a concept that David Serrano, who created the original script, describes as "the most spectacular musical ever made in Spanish."
The new cast is young enough to have first heard Mecano in their cribs
The story that Serrano came up with in conjunction with Nacho Cano - two youngsters from a small town head to Madrid to become music stars in the 1980s - is identical apart from the odd detail. But the relationship between Cano and the new production does not sound so refined. The musician was removed from the show's management in 2007 and earlier this week issued a statement saying the musical, for which he handed over the rights to his songs, was now "nothing" for him.
The new cast is young enough to have first heard Mecano in their cribs. Claudia Traisac hadn't even been born when Torroja and the Cano brothers released the single from which the show takes its name, back in 1981. Daniel Diges, meanwhile, has gone from co-star in the first version to the main role of Mario. "The dramatic side is the hardest," he explains. "You spend the whole second part crying." Why? If you really want to know, ask around: there are millions of people who have already seen it.
Hoy no me puedo levantar. Ongoing at Teatro Coliseum, Gran Vía 78, Madrid. www.hoynomepuedolevantar.com