Bale delights Bernabéu at unveiling as Kaká and Özil make way
Former Tottenham man finally walks on the Bernabéu turf, but how much did he cost?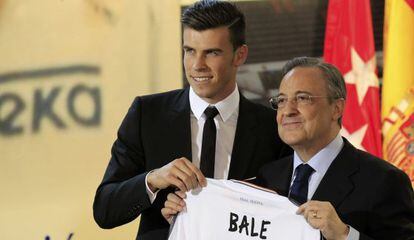 Gareth Bale was finally offered to his public at the Bernabéu on Monday after a protracted transfer from Premier League side Tottenham Hotspur. The Wales forward, 24, was not pulled into the debate over his transfer fee, simply stating that it was a matter for the clubs to decide and that he would happily have signed on the dotted line for "a penny."
Tottenham stated that just over 100 million euros changed hands; Real Madrid insisted the fee was 10 million less, thereby not depriving Cristiano Ronaldo of the tag of world's most expensive player.
In any case, Bale followed the script at his unveiling: "Cristiano is the best player in the world and he was a factor for me in deciding to come here. He is the boss here and I want to learn from him," he said, adding that he would play wherever coach Carlo Ancelotti chooses to deploy him. Able to play through the middle, Bale is probably at his most destructive on the left flank, Ronaldo's position of choice.
Bale's arrival sparked a minor exodus during Monday, the final day of the transfer window. Real offloaded Kaká to AC Milan on a reported free transfer after paying a then-world record fee for the Brazilian in 2009. A bid of some 50 million euros was also accepted for Mesut Özil, the most ever recouped by Real for one of its players, although confirmation was pending at press time.
According to club sources, Wales international will earn 11 million euros a year, plus a possible two more if bonus objectives are met, making him the top-earning star in a team that includes Ronaldo, Xabi Alonso, Sergio Ramos, Iker Casillas and Luka Modric.
At the unveiling ceremony alongside Pérez, Bale said in halting Spanish that it was "fantastic to be here. I have come to help the team be successful. I hope we can win Champions League number 10. It is a dream for me to play for Real Madrid; thank you for this great welcome."