MONARCHY IN CRISIS
Royal Household denies king's involvement in duke's Qatar handball deal
Juan Carlos and Sheikh Al Thani conversed solely on defense contract bid, sources say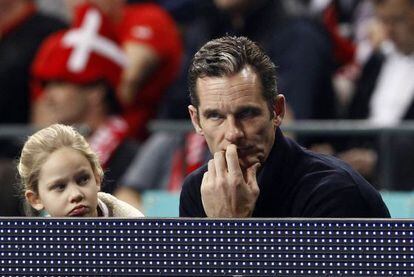 The Spanish Royal Household has denied that King Juan Carlos spoke personally to the Emir of Qatar about the prospect of Iñaki Urdangarin taking up a post as assistant coach to the emirate's handball team.
Urdangarin, who is under judicial investigation for the alleged embezzlement of public funds in the ongoing Nóos inquiry, informed the monarch of his intention to relocate to the Middle East on Monday. The job offer was extended by Spanish handball coach Valero Rivera, who was Urdangarin's mentor during his days as a Barcelona player and is due to take charge of the Qatar team. The Duke of Palma also represented the Spanish national team at the 1992 Olympic Games.
Diplomatic sources told Europa Press that King Juan Carlos and Sheikh Hamada bin Khalifa Al Thani, who enjoy a longstanding friendship, had spoken several times in recent days but the Royal Household stated the conversations revolved entirely around a public contract bid by Spanish shipbuilder Navantia to supply the emirate with four corvette class warships, six patrol boats and a support vessel. The king sent a letter to the sheikh last month asking him to study Navantia's offer.
The Royal Household added that the offer to take up a coaching post with the Qatar national team had nothing to do with the royal family and is entirely the fruit of the relationship between the duke and current Spain coach Rivera.
Urdangarin is expected to travel to Qatar this week to negotiate his contract after being cleared to travel by the Palma court investigating the Nóos fraud case, in which the king's son-in-law and his partner at the non-profit Nóos Institute, Diego Torres, are alleged to have pocketed the money from regional government contracts via offshore accounts and front companies.