Persecution complex keeps Atlético on run
Ronaldo's own goal for Granada seals fourth Real Madrid defeat down south as Barcelona and Valencia share the points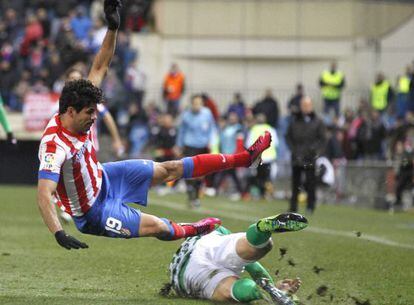 It was close. It was tense. At times it was downright unpleasant. In the moments before heavily employed referee Undiano Mallenco blew the final whistle, it was too quiet for home coach Diego Simeone, waving his arms in a frenzy to coax more noise from a slightly sparse crowd. But they got there: this determined Atlético Madrid won a record 13th straight Liga match in its own Calderón, beating a doughty Real Betis by the tightest of margins in Sunday's late game.
With both sides keen to defend deep and in numbers, there was little in the way of memorable action in the midfield regions, and the game really came down to a dozen or so trials of strength and agility on the occasions when one team had pressed the other a little too far back for comfort. It was just a couple of details that made the difference. Radamel Falcao, back from injury on a frustrating night for a center forward, took a hopeful long shot, which was good enough to force a save from goalkeeper Adrián. The resulting corner, however, saw Adrián sprawling helplessly, and, to compound Betis' misfortune, the job of containing the great malevolent bear that is Diego Costa fell to the slight figure of Beñat. Perhaps the fact that Costa had just come on for the other Adrián, the considerably less imposing Atleti forward, was the cause of this mismatch, the brawny Brazilian shoving the Spain international this way and that before nodding home the only goal of the night. After that it was more about Costa — always either fouling, being fouled, pushing or being pushed (and even copiously spat upon by Betis' Antonio Amaya at one point) — than about Betis seeking an equalizer. That suited an unambitious home team, although with Costa — who clearly genuinely believes himself to be the most unjustly persecuted man in soccerdom — on the field, Atlético's fortunes are always on a knife edge.
Costa genuinely believes himself to be the most unjustly persecuted man in soccerdom
So this season's perfect streak by the Manzanares continues, a run that Simeone would love to take all the way to April's Madrid derby, a fixture, lest we forget, Atlético has yet to win this century. And the other statistic that could be mentioned is that the colchoneros are now only nine points behind Barcelona at the top of the table... After all, the Catalans dropped two points at Valencia, where the improving home team was well worth the 1-1 scoreline.
Not that Barça's biggest rival had anything to cheer. Granada can now also count itself among the Andalusian teams to have taken the scalp of Real Madrid this Liga season. After defeats at Sevilla, Real Betis and Málaga this period, the capital club suffered another surprise loss on the road down south with a 1-0 defeat at Los Cármenes Saturday night.
The solitary goal came from the unlikeliest of sources: for the first time in his career, Cristiano Ronaldo scored in his own net to hand victory to the home side. Jumping up to defend a corner midway through the first half, the Portuguese forward headed the ball past keeper Diego López to give a new-look Granada the lead.
With coach Lucas Alcaraz enjoying his first game in charge following the dismissal of Juan Antonio Anquela on Wednesday and three new arrivals making their debuts on the pitch -- Recio, Aranda and Nolito -- the Andalusians looked an altogether different outfit in defensive terms from the one that had only won twice at home this season. At the same time, Real lacked spark, enthusiasm and looked decidedly rickety, failing even to manage a shot on target in the first 45 minutes.
I was one of the few who believed in this triumph" Granada coach

Alcaraz
Things improved slightly when coach José Mourinho hauled off Gonzalo Higuaín and Sami Khedira and brought on Karim Benzema and José Callejón at halftime, but it was not enough to prevent Granada's first victory over Real since 1974.
"It's something historic and it has to serve to relaunch us back into the league," said Alcaraz after the win. "I was one of the few who believed in this triumph."
Mourinho accepted his share of the blame for Real's fifth loss on the road this season. "We have accumulated too many defeats and the responsibility is mine only," he said. "We didn't even manage a tie and I was annoyed a lot by the first half performance, which was horrible. We improved in the second half but it wasn't enough to be even minimally satisfied."
The Portuguese coach concluded the post-match press conference by praising the Andalusians. "They did their job, they scored their goal and defended with all their hearts. We could have tied, but I think they deservedly won the three points," he said.
The result leaves Real 16 points adrift of Liga leader Barcelona after the tie in Valencia on Sunday. Éver Banega put the home side ahead after 32 minutes, before Leo Messi leveled from the penalty spot six minutes later.
Just behind in fourth place, Málaga failed to fully capitalize on Real's slip-up. It only managed a 1-1 tie against Zaragoza in La Rosaleda on Sunday after Isco's penalty canceled out Hélder Postiga's 13th-minute volley for the visitor. The Andalusians now lie on 36 points, seven behind Real.
Other results: Sevilla 2-1 R.Vallecano; Valladolid 2-2 Athletic; Osasuna 1-0 Celta Vigo; Getafe 3-1 Deportivo; Espanyol 3-2 Levante.