New dome covering Madrid's Las Ventas collapses ahead of inauguration
No one was hurt in the incident, which may have been caused by strong winds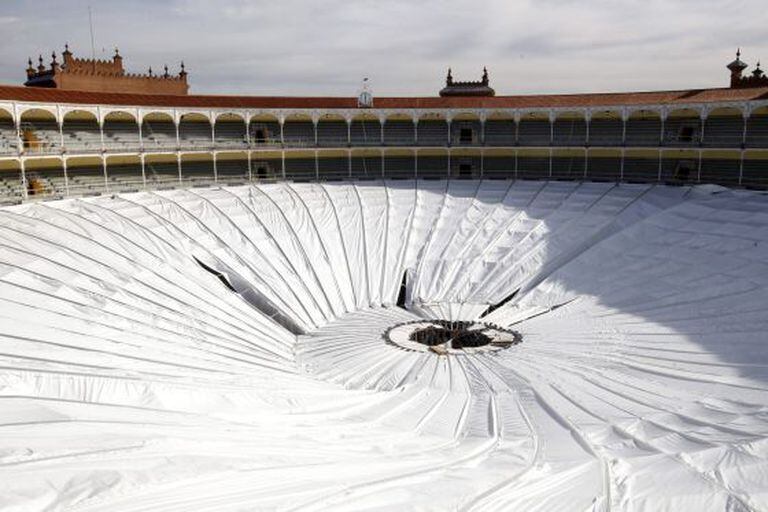 Strong wind gusts early Monday may have contributed to the collapse of a temporary aluminum dome that was in the process of being installed at Madrid's Las Ventas bullring. The 160-ton structure came crashing down at around 4.45am Monday – three days before Warner Music, the sponsor and provider of the dome, was due to hold an inauguration party at the venue.
"It sounded like wood snapping," said José Luis Blanco, manager of Taurodelta, the private company that manages Las Ventas. "It looks like a deflated parachute."
No one was hurt in the incident. Security guards were outside the ring when the dome came crashing down.
Warner Music paid to have the structure installed in exchange for exclusive use of the Las Ventas ring for the next three years for concerts, parties and other activities. Another company, Cedeti, was in charge of the engineering aspects of the dome, including picking the areas where the topside covering would be supported.
Salvador Victoria, a commissioner form the Madrid regional government, said that a preliminary investigation shows that the high winds that picked up shortly after midnight on Sunday may have been the cause for the collapse. Until 4am the Sierra Norte de Madrid was under yellow alert until 4am with wind speeds picking up as high as 80 km/h.
Madrid regional premier Ignacio González said during a public event in Tielmes on Monday that the aluminum dome won't be re-installed "because it couldn't withstand [the elements]."
Nevertheless, a spokesman for Taurodelta said he was confident that by next year Las Ventas will be able to get a new topside covering, while Warner representative Íñigo Argomáriz said his company would wait for the findings from a technical study before determining who will be held responsible for the accident.
The French firm Spantec built the aluminum dome while Grupo Pabellones Plus was in charge of installing the structure.
"We don't know what happened. We just don't have any explanations for this disaster," said José Luis Cervero, a manager at Grupo Pabellones Plus.
The removable dome was to be used only in fall and winter for public activities at Las Ventas, taking advantage of the venue, which usually sits empty after the bullfighting season ends. It was to be removed once the season began in the spring.
This isn't the first time such an accident has occurred in Spain. In 1998, the bullring in Jaén became the first covered ring in Andalusia, but the dome was permanently removed after strong winds in winter toppled the structure on two occasions.