Spaniard sentenced to four years for causing Cuban car crash
Ángel Carromero found guilty of negligent homicide of two dissidents Both Carromero and the prosecutor can appeal the sentence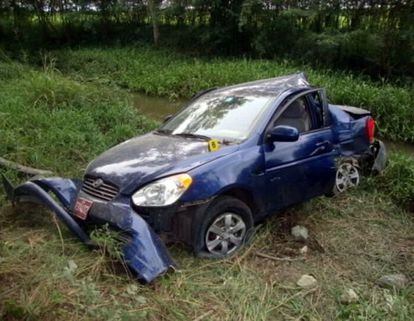 A Cuban provincial court has sentenced Spaniard Ángel Carromero Barrios to four years in prison for the negligent homicide of dissidents Oswaldo Payá and Harold Cepero in July.
Spanish government officials, who have been in contact with their Cuban counterparts, have said that they hoped that Carromero would be pardoned and expelled from the country so he could return to his native Madrid. However, sources at the Foreign Ministry told Efe news agency that they were studying all options, including invoking a 1998 joint Spanish-Cuban treaty that could allow Carromero to serve out his four-year term in Spain.
The sentence was announced on the Cubadebate news web portal on Monday.
Carromero, a 27-year-old official from the Spanish conservative Popular Party's youth wing Nuevas Generaciones, went on trial on October 5 in Bayamo, the capital of Granma province, on charges that his reckless driving caused the deaths of Payá, 60, the leader of the dissident Cuban Liberation Movement, and his assistant Harold Cepero, 31, on July 22. The two dissidents were in Carromero's rented vehicle when it crashed on a road near Bayamo.
"Considering the seriousness of the events, in which the lamentable deaths of two people resulted as a consequence of Carromero Barrios' imprudent conduct [...], the court imposed the penalty of four years deprivation of liberty," Cubadebate reported.
To me, Ángel should have been home a long time ago"
Ofelia Acevedo, Payá's widow
According to Havana-based news portal, both Carromero and the prosecutor can appeal the sentence with the People's Supreme Court. Prosecutor Isabel Barzaga was asking for a seven-year sentence for the defendant.
Carromero serves as deputy secretary general for the Madrid chapter of Nuevas Generaciones.
Elizardo Sánchez, president of the National Cuban Human Rights and Reconciliation Commission, another dissident group, told EL PAÍS he had expected "a full acquittal due to the extenuating circumstances that were presented in the case, such as the bad road conditions."
The accident has been a diplomatic nightmare for Prime Minister Mariano Rajoy's PP government, and has captured international attention because of Payá's fame as a leading Cuban human rights activist. During last month's UN General Assembly, Foreign Minister José Manuel García-Margallo met with his Cuban counterpart Bruno Rodríguez to analyze the case.
Tomás Rodríguez-Pantoja, the Spanish consul in Havana, said that the trial was "clean," "fair," and "impeccable" after attending the October 5 session. But Payá's family members have still been demanding an independent investigation into the incident because they claim that Cuban security agents ran Carromero off the road.
Ofelia Acevedo, Payá's widow, said Monday that Carromero shouldn't have to serve any time in jail. "To me, Ángel should have been home a long time ago," she told Efe. "Maybe he won't have to serve any time in Cuba and they will expel him."
The defendant, who didn't testify at his trial, had said previously in a video released after he was detained that he lost control of the vehicle while driving on the bumpy road. In his opening statement, Carromero asked for forgiveness. "I have lost so much during this time but it doesn't compare to the pain that the victims' families are facing."
Dozens of dissidents, who had planned on attending the trial, were kept away by Cuban security police. Some were even briefly held in custody or placed under house arrest.
Payá and Cepero, were riding in the rented vehicle when it veered off the road and hit a tree. Also in the car was a Swede, Jens Aron Modig, of the Swedish Christian Democratic Youth League, who had been helping the two dissidents with their activities. Modig was allowed to return to Sweden.