OCTOBER 12 CELEBRATIONS
King chastises education chief for wanting to "Hispanicize" Catalan students
Wert says he is still "very proud" of what he said in Congress this week Princesses Elena and Cristina notably absent from this year's parade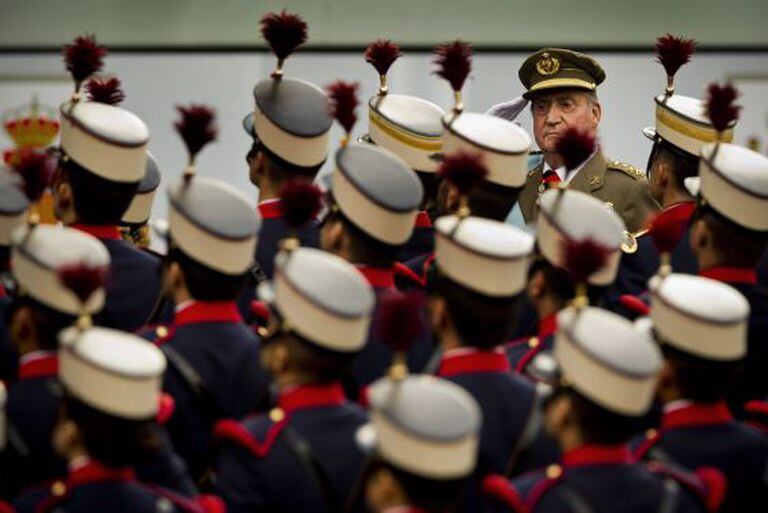 King Juan Carlos on Friday used the military parade during Spain's National Day celebrations to take Education Minister José Ignacio Wert to task over his controversial vow to "Hispanicize Catalan students."
"That about Hispanicizing the Catalans of poor Wert -- I told him what he had done was very bad," the king said to Prime Minister Mariano Rajoy as they watched the parade.
However, Wert stuck to his guns by insisting in Catalan that: "I am very proud about what I said."
Wert made his remarks after the Catalan parliament voted in favor of holding a referendum to ask Catalans if they want to be independent from the rest of Spain. Regional premier Artur Mas of the Catalan nationalist CiU bloc has called early elections for November to seek a mandate to push for greater autonomy for Spain's richest region after Madrid rejected his request for a fiscal pact that would provide Catalonia with greater revenue-raising powers.
The Rajoy government has said the Constitution empowers it to block any such referendum.
Also attending the parade, Prince Felipe told journalists that Catalonia is not a "problem."
"I believe more in the real Catalonia than the froth of statements we're seeing now. Politicians and institutions should help lower tensions," he said. "Let everyone do their job."
One notable absence from the podium was Princess Elena. The Royal Household had decided that only the king and queen and the crown price and his wife should be on the podium. Princess Cristina and her husband Iñaki Urdangarin, who faces corruption charges, were also absent.