Falcao too good for Athletic Bilbao
But is the Colombian goal scorer too tempting a cash cow for Atlético Madrid?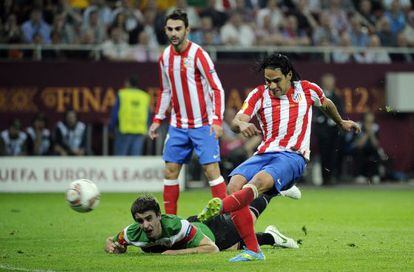 When Diego Simeone took over at a misfiring Atlético Madrid in late December, he said he wanted to create a "strong team, feisty and counterattacking." Less than five months later, in Bucharest on Wednesday night he must have felt proud of his handiwork. Atlético was tough, decisive, piercing on the break and, yes, for once it was a rock in defense.
After Radamel Falcao's curling shot had found the net in the seventh minute — the second straight Europa League final the Colombian had scored in after getting the only goal of the game for FC Porto last year — Athletic Bilbao poured forward and an equalizer seemed the likeliest outcome. Simeone's fellow Argentinean, Marcelo Bielsa, has made the all-Basque team into a well-organized passing side this season. Atleti was under the gun for much of the first half.
But the defensive cover was always ready and, when required, goalkeeper Thibaut Courtois was sharp between the sticks.
Then Falcao scored again, seemingly able to move at a different speed to the dazzled Bilbao defenders who again let "The Tiger" swivel and turn in the penalty box before picking his spot.
Bielsa made two substitutions at half time, bringing on Íñigo Pérez and Ibai Gómez, but Atlético looked ever-more comfortable as the second period wore on. Diego completed a surprising 3-0 scoreline with a well-taken solo effort with five minutes left.
"It was a fair result by an exaggerated margin," Bielsa said after the all-Spanish final. "They had eight chances and scored three and we had nine without taking any of them.
"It is clear we didn't develop our game properly and Atlético created the conditions to suit its own style and ideas. [...] When that happens, the first person who is responsible is the coach because I am the one who chooses who plays, the way they play and who trains them," Bielsa concluded.
For his part, Simeone was modest in victory. "I am proud of my players and happy for the fans. I am grateful to the people who trusted in us in December."
Those same people will now have to decide whether the soccer capital accumulated by the club's second Europa League trophy in three seasons, stays on the field or gets cashed in. After a magnificent season in which Falcao was top scorer in the Europa League and is the leader in the "other" Liga goal chart (he is third behind the stellar figures of Messi and Ronaldo with 23 strikes), bigger clubs are sure to come calling.
Falcao hinted it might all depend on what happens in Sunday's final Liga round in which Atlético could qualify for Europe's elite competition: "The Champions League would be the icing on the cake. [...] When I arrived at Atlético I said that."