Argentina's expropriator in chief
Economic guru Alex Kicillof is said to have been the mastermind behind the government's decision to expropriate YPF from Repsol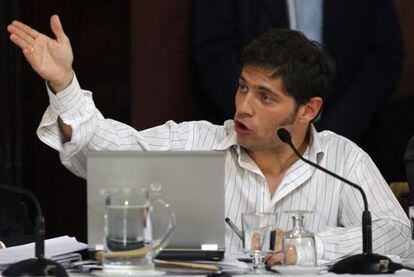 After Repsol YPF directors met for the first time with Axel Kicillof, they went away with good impressions of the eloquent deputy economy minister. During tense meetings with Repsol executives, in which the government of Argentina had demanded that the Spanish oil company increase production, two top members of President Cristina Fernández de Kirchner's Cabinet were present. But it was Kicillof - the only man in the room not wearing a tie - who did most of the talking.
"He looked like he had just come from a student assembly meeting. He had very dogmatic opinions about the private sector," recalls one person who was present. "But he was the only one who really believed in what he was saying."
The 40-year-old economic guru is said to have been the mastermind behind the Argentinean government's decision to expropriate YPF from the Spanish oil giant, a move that has badly strained relations between Madrid and Buenos Aires. Kicillof is said to enjoy direct access to the president, and was instrumental in drafting the proposed renationalization law that is being debated in the Argentinean Congress. The central government will take 51 percent of Repsol's stake while the rest will be shared by the provinces.
Fernández de Kirchner explained that the government was taking YPF from Repsol, which acquired its stake in 1999, because the Spanish firm had refused to boost production and make major investments in the country's energy sector.
During the Argentinean Senate session the following day, it was Kicillof, again casually dressed, who did most of the talking. "Where do they get that figure, $10 billion?" asked Kicillof, referring to the price Repsol Chairman Antonio Brufau insists that the Argentinean government reimburse the Spanish oil company for its 57.4-percent share in YPF. "We're not going to pay Repsol what they are asking."
Planning Minister Julio de Vido sat alongside Kicillof but barely spoke. For two-and-a-half hours, Kicillof used words like "clowns," "windbags" and "halfwits" to pepper his argument before lawmakers. He said that he wasn't there to give lessons to any country, but asked Spaniards to respect Argentina and criticized those whom he called "the guitar players of the markets."
When she announced the takeover of YPF, President Fernández explained that De Vido and Kicillof will be the oil company's new managers. It wasn't the first time the president has given Kicillof a big job. When the government took back Aerolíneas Argentinas in 2008, he became a deputy administrator. But this time it appears Kicillof is in the driver's seat. His image has skyrocketed, and he has become something of an international personality. A profile in the Spanish-language Vanity Fair describes him as an "attractive, loving father [...] and the brains behind the expropriation."
Kicillof seems to believe in his own power over the president. Clarín, one of Buenos Aires' leading dailies, said in its Tuesday edition that he bragged one night at a party in December to his former classmates from the prestigious Colegio Nacional de Buenos Aires high school that he had "Cristina hypnotized."
"Kicillof is the economist that Cristina has trusted following the death of her only advisor for the national economy from 2005 to 2010: [her late husband and president] Néstor Kirchner," reported Clarín , which added that he meets with the president at least three times a week. Among Kicillof's close friends is the president's son, Máximo Kirchner, head of La Cámpora, a powerful but controversial group of young Peronist Party members who have been gaining inner control of many key institutions and state-run companies.
Since the 1990s, Kicillof has been an ardent supporter of the Peronist faction controlled by the Kirchner family. At the University of Buenos Aires, where he graduated with a doctorate degree with full honors, Kicillof organized the leftist group TNT (said to be an acronym for "Tontos (pero) no tanto" while others insist that it was actually in reference to Wile E. Coyote who never gave up in trying to catch the Roadrunner by using TNT). From there, he joined La Cámpora.
He is said to have impressed President Fernández with his advice on the Aerolíneas Argentinas renationalization, and from then on his influence in government flourished. But not many are convinced that Kicillof will be able to manage YPF efficiently.
"In all likelihood, Axel Kicillof and his fellows will make as an unholy a mess of YPF as they already have of Aerolíneas Argentinas," wrote James Neilson in a column this week in the Buenos Aires Herald. "Far from helping the country overcome its rapidly increasing energy deficit, in their hands the oil firm will almost certainly make it far worse."
Kicillof is an ardent believer in the teachings of British economist John Maynard Keynes, whose theories uphold that private-sector decisions sometimes lead to inefficient macroeconomic outcomes.
The son of a psychologist and psychiatrist, Kicillof is married with two children, and also speaks English and French. His wife, Sol, is a professor of literature at the University of Buenos Aires.