Pope avoids ruffling Cuban regime by steering clear of dissidents
Mexico visit ignites protests concerning allegations of sexual abuse by late priest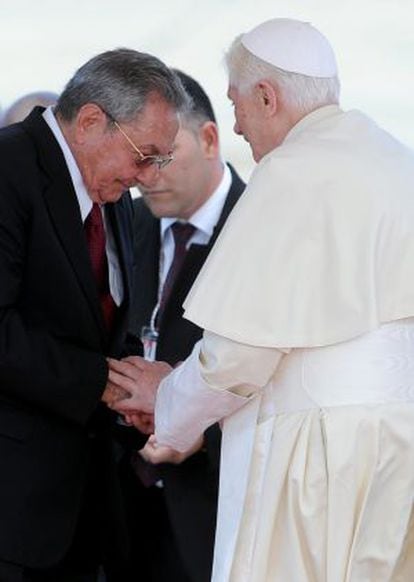 Pope Benedict XVI completed his first trip to Mexico and Cuba on Wednesday with a large Mass held in Havana's Revolution Square and a scheduled private meeting with former President Fidel Castro.
During his three-day visit to the communist island, the pope didn't talk publicly about human rights issues, as many had wanted him to do. But the pontiff did make some calls for the government to help usher in change that could help the Cuban people.
In his newspaper column "Reflections," published Wednesday, Fidel Castro said that he would meet with the 84-year-old pontiff before he returns to Rome. "With pleasure, I will greet His Excellency Benedict XVI as I did with John Paul II," wrote the 85-year-old.
The pope also came in for criticism for not meeting any Cuban dissidents, including members of the Ladies in White human rights group. He did urge Cubans to build a "renewed and open society," and asked the Communist government to give the Catholic Church more freedom to help people in the time of change.
But he chose his words carefully, avoiding open criticism of the government. "I carry in my heart the just aspirations and legitimate desires of all Cubans, wherever they may be," he said, including the "sufferings" of prisoners and their families.
His predecessor, Pope John Paul, did not meet with dissidents during his 1998 visit, but he did speak openly about human rights.
Aimeé Garcés, a Ladies in White member, told Reuters that she feared that the authorities had prevented some of the members of her group from actively protesting during the pope's visit. During Benedict XVI's first open air Mass in Santiago, a man shouting "down with communism" was taken away by security.
In Mexico, the pontiff's prior three-day visit was also marred by controversy. The day after he arrived, two former members of the Catholic lay organization Legion of Christ protested the pope's presence because they said the Vatican had eluded its responsibility to prosecute its group's late founder, Father Marcial Maciel, who sexually abused hundreds of seminarians. "Not only did the Vatican know \[about Maciel's abuse\] but it tolerated and protected Maciel," said Bernard Barranco, a researcher who is preparing a case against the Church.
Among the documents he presented was a 1999 letter that Joseph Ratzinger, the current Pope Benedict XVI, sent to former Legion member Alberto Athié who asked for an inquiry into Maciel's abuses. Maciel died in 2008. "Unfortunately, we cannot open a case against Marcial Maciel because he is a person much beloved by Pope Juan Paul II, and he has also done so much good for the Church. I am sorry, but it is not possible," Ratzinger wrote.
The current pope had been in charge of the Church's doctrine of faith congregation. In Mexico, the pope said that he was "saddened" by the wave of murders and suffering caused by the crackdown on drug traffickers.