Selena Gomez reacts to video claiming she was 'always skinny' while dating Justin Bieber
To the surprise of many, the actress left a sad face emoji in response to a clip that she was thinner when she was with her ex-boyfriend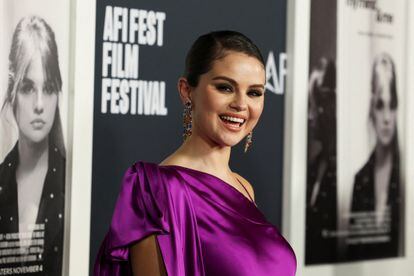 Selena Gomez has surprised followers by responding to a viral TikTok video that claims she was "always skinny" while dating singer Justin Beiber. She and Beiber were in an on-off relationship for 10 years, which ended for good in spring 2018. A few months later, Bieber married model Hailey Baldwin.
The TikTok video, which compiles paparazzi photos of the actress and singer, ends with a screenshot of an alleged old Instagram comment left by Gomez, stating: "He prefers models. I'm just too normal."
The actress also posted a sad face emoji in the comments section of the TikTok video. The fact that the star, who has been nominated for a Golden Globe for her role in the TV series Only Murders in the Building, commented on the clip shocked social media users. The video's creator, @donttellmymomma.fr, replied: "YOU DID NOT."
This isn't the first time Gomez has spoken about her body image. Back in April, the actress posted a video on TikTok, in which she talked about how her lupus medication affects her weight.
"So I be trying to stay skinny," she said in the viral video. "But I went to Jack in the Box and I got four tacos, three egg rolls, onion rings and a spicy chicken sandwich."
She continued, "Honestly, I don't care about my weight because people bitch about it anyway. 'You're too small,' 'you're too big,' 'that doesn't fit.' 'Meh meh meh meh.'"
In 2019, she also addressed public scrutiny over her weight in her video podcast Giving Back Generation. "So for me, I really noticed when people started attacking me for that. And in reality, that's just my truth. I fluctuate. It depends what's happening in my life."
As for her breakup with Beiber, Gomez said it also took a toll on her.
"Everything was so public," she said in her recently released documentary, Selena Gomez: My Mind & Me. "I felt haunted by a past relationship that no one wanted to let go of. Then I just moved past it, and I wasn't afraid anymore."
She continued: "I feel like I had to go through the worst possible heartbreak ever and then just forgetting everything at the drop of a hat, it was really confusing."
But she said the breakup was ultimately a positive change: "I just think that needed to happen and ultimately it was the best thing that ever happened to me."
Sign up for our weekly newsletter to get more English-language news coverage from EL PAÍS USA Edition