The new Selena Gomez
The actress and singer enters her 30s as a respected performer, producer, and mental health activist, leaving her time as a Disney actress and virtual celebrity behind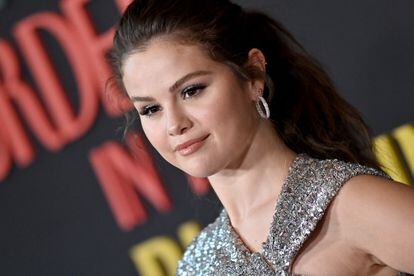 Selena Gomez has just turned 30, a definitive step toward maturity for mere mortals. But for the international star who has 345 million followers on social media and was forced to grow up fast because she started her television career at 10, she has also reached the age when the industry and the public seem to take her seriously. Thanks to the series Only Murders in the Building, the second season of which recently premiered, she's now respected as a leading actress and producer.
Reaching her 30th birthday also means that the Texas-born Gomez can turn the page on a very difficult decade for her personally. That's why the milestone matters so much to her. As she reflected on her Instagram account, "My twenties were a journey through good, hard and beautiful moments that I will never forget. Each of them has shaped me into the person that I am today." Thus, without going into detail, her birthday post recalled everything that has happened to her in recent years: she was diagnosed with lupus and bipolar disorder, underwent a kidney transplant and chemotherapy, and suffered anxiety and panic attacks and depression, caused by her illnesses and lifelong overexposure. "For a while, I felt like an object. It felt gross for a long time," she confessed in a recent interview.
But those years were also a time for the singer and actress to heal. Overcome by public criticism, she gave up social media four years ago, just when she was becoming the most-followed person in the world. Even today, she still doesn't log on to her accounts or have the apps installed on her cell phone. Gomez only talks to her friends and family by phone; she doesn't use messages. By disconnecting from the internet, she has said, she learned to be by herself and to stop comparing herself to other lives and other bodies. She has re-emerged as a champion of natural beauty, as she demonstrated in a recent viral TikTok video in which she said of her stomach, "real bellies are back."
After years of focusing on her career and projecting a perfect image, Gomez began to find happiness by helping others through being vulnerable, explaining her experience, and presenting herself naturally. She has transformed her suffering into activism and solidarity. She also founded the Rare Beauty brand, which advertises "makeup made to feel good in, without hiding what makes you unique." She donates 1% of the cosmetic company's profits to support mental health through the Rare Impact Fund, where she hopes to raise 100 million dollars over the next 10 years. In addition, she and her mother, Mandy Teefey (who was also Gomez's manager during the early days of her career) established the Wondermind organization, which they call a "mental fitness ecosystem to democratize and destigmatize mental health."
Gomez's mental health activism led her to star alongside U.S. President Joe Biden and First Lady Jill Biden in a 2022 youth mental health campaign. In the event video, she says: "I don't take my platform lightly. I'm not perfect, I'm human." She adds that she "tried everything to escape this feeling," and won't pretend "to have it all put together" ever again. She says that Selena + Chef - in which she learns to cook with star chefs like Gordon Ramsay - provides the best example of the new Selena Gomez. Started during the pandemic and now beginning its fourth season, the series, she says, is "the most myself I've been to the world." Indeed, her Instagram page is full of fan messages thanking Gomez for her willingness to be a bad cook on screen.
Promoting Only Murders in the Building over the past few weeks, the entertainer admitted that it took her a long time to realize she had given her life away to Disney. "I didn't know what I was doing, I was just running around on set," she recalled. When she was released from The Wizards of Waverly Place, the series that made her famous, Gomez made a clean break from her childish and chaste Disney image by acting in the film Spring Breakers (2012). Since then, she has worked with important directors such as Woody Allen and Jim Jarmusch. But she had not landed a starring role as an adult until Only Murders in the Building, her show with Martin Short and Steve Martin. Much to the indignation of her peers and fans, the Emmys have overlooked her as an actress, but she has made history with her Emmy nomination as a producer, only the third for a Latina woman.
She's also far removed from her image as just another celebrity by virtue of her highly publicized relationship with singer Justin Bieber. She's taken control of her image, and her personal life no longer garners so many headlines. Now, Selena Gomez says that she's seeking peace. She imagines her future as a mother and wife, as well as possibly devoting herself exclusively to philanthropy down the road. Gomez has only one area where she still feels the need to prove herself: music. Despite what some media have reported, she has no intention of abandoning music; it's her most personal form of expression. "I'm not saying I want a Grammy, but I feel like I'm doing the best I can, and it's all about me," she says from a newfound mature and serene place. She's the new Selena Gomez. She's entering her 30s as an entrepreneur and mental health activist, and she's respected as a philanthropist and a promising actress and producer.