Heavy snow slams Northeast, while storm cleanup begins in South
The storm could bring as much as 18 inches (45 centimeters) of snow to parts of New Hampshire and Maine and could cause power outages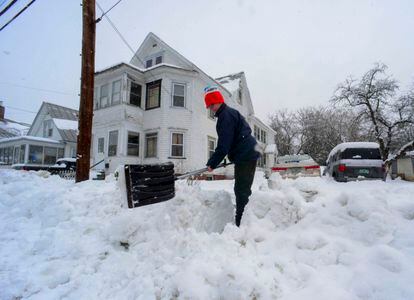 The winter-weary Northeast and upper Midwest were digging out Saturday from heavy snowfall while cleanup began in battered parts of the South and Midwest after a sprawling storm system produced ferocious winds that left widespread damage and caused multiple deaths.
Snow fell across a large swath of the Northeast, from western New York to New England, with some areas expecting more than a foot of snow on Saturday. The mix of snow, sleet and rain prompted the National Weather Service to warn of possible coastal flooding in Massachusetts and Rhode Island.
The storm could bring as much as 18 inches (45 centimeters) of snow to parts of New Hampshire and Maine. It also could deliver strong winds that could cause power outages.
Hundreds of businesses were closed, many flights were canceled, and some bus service was suspended. The heavy, wet snow was accompanied by winds gusting to 40 to 50 mph (64 to 80 kph), raising concerns about toppled trees and power outages, said meteorologist Jon Palmer with the National Weather Service in Maine.
In the upper Midwest, residents dug out Saturday from heavy snowfall that caused widespread power outages and forced Detroit's Metropolitan Wayne County Airport to briefly close late Friday. Passengers were advised to check with airlines for flight delays on Saturday.
Also in Michigan, an 80-year-old man was struck and killed Friday evening by a snowplow that was backing up while clearing snow from a driveway in Ann Arbor, MLive.com reported. The snowplow driver said he didn't know he had struck the man until a bystander got his attention, police said.
Victoria Burnett felt a sense of foreboding as the snow began falling Friday in Farmington Hills, northwest of Detroit. Burnett lost power for seven days following the first of two ice storms that slammed Michigan last week. She was able to use a generator until her service returned.
"At the end of the ice storm – Sunday and Monday – I was starting to get very depressed," Burnett told The Associated Press on Saturday. "When it started snowing (Friday) and I saw it was heavy, wet snow, I was really worried."
Burnett said her lights flickered, but the power remained on.
The sprawling storm system spawned straight-line winds, possible tornadoes and powerful thunderstorms in the South on Friday. At least five deaths were reported in hard-hit Kentucky, Gov. Andy Beshear said Saturday. The storm, with wind gusts surpassing 70 mph, downed trees and power lines and damaged homes and other buildings.
"This is very significant, widespread damage throughout Kentucky," Beshear said.
In central Tennessee, where the severe weather took down power lines and damaged homes, at least two deaths were blamed on the storm. In both cases, the victims were struck by falling trees, authorities told local news outlets.
About 800,000 utility customers in Kentucky, Tennessee and Michigan were without power, according to PowerOutage.us. More than 370,000 of those customers were in Kentucky, and the governor warned it would take days for utility crews to fully restore service.
In Alabama, a 70-year-old man sitting in his truck in Talledega County was killed when a tree fell onto his vehicle. A 43-year-old man in Lauderdale County and a man in Huntsville also were killed by falling trees Friday, local authorities said. Heavy rain caused flooding in southern Missouri and northern Arkansas.
In southwest Arkansas, Betty Andrews told KSLA-TV that she and her husband took shelter in the bathroom of their mobile home while a tornado moved through.
"It was very scary. I opened the front door to look out and saw it coming. I grabbed Kevin and went and got into the bathtub," Andrews said. "We hunkered down, and I said some prayers until it passed."
They were OK, but the home sustained major damage and the couple was temporarily trapped in the bathroom until a neighbor cleared debris from outside the door.
The storm system previously slammed California earlier in the week with as much as 10 feet (three meters) of snow. Some residents in mountains east of Los Angeles will likely remain stranded in their homes for at least another week after the snowfall proved too much to handle for most plows.
Sign up for our weekly newsletter to get more English-language news coverage from EL PAÍS USA Edition