María Clemente, the first trans deputy in Mexico's Congress: 'We have broken the glass ceiling'
Just a few months ago the business administration graduate was a driver for a ride-hailing app. Now she has set her sights on reforming the Mexican Constitution to make it more inclusive
María Clemente arrives in high heels and is tall, tanned, with an easy smile and a small tattoo at the corner of each eye – one of the moon and another of the stars – the significance of which only she knows. She has a degree in business administration and until a few months ago worked as a driver for ridesharing firm DiDi and from September 1, along with her colleague Morena Salma Liévano, she is set to become the first transgender lawmaker to serve in the Chamber of Deputies of the Mexican Congress. Clemente's journey to this point has been a difficult one but she believes the real challenge starts now. Among her objectives as a lawmaker, Clemente has identified modifying Article 1 of the Mexican Constitution to make it more inclusive as well as safeguarding the labor rights of app-based delivery and passenger drivers.
Born in Mexico City, Clemente will celebrate her 36th birthday on October 11 and has already exceeded her own expectations for how long she would live: the life expectancy of a trans woman in Mexico is 35, compared to 77 for the overall population, according to a report compiled by several NGOs and the Washington Office on Latin America. She feels privileged. In a country that is habitually lethal for the trans population, she has become a federal deputy. "We have broken the glass ceiling for the political participation of the trans community," she says with conviction. Until now only one transgender woman, Rubí Araujo, had been elected to office in the country as a city councilor in Guanajuato in 2016. Araujo's election placed Mexico, where in 2020, 43 transsexual people were murdered, at the political forefront in the region.
In the June 6 legislative elections in Mexico, there were around 40 trans candidates, leading Clemente to state "it is difficult to consider oneself a representative of a population where there is no consensus toward a political vision." But she adds that both colleagues from other parties and leaders of the trans movement view her election "as a victory."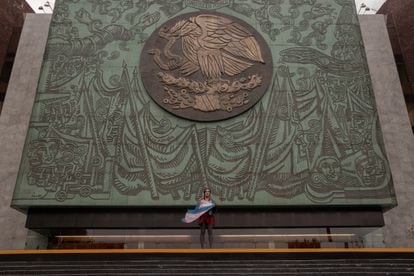 "It's incredible to be a voice for a population in such an important place as Congress, where the laws are made," she says. Her priorities now are: "To listen to my colleagues, drive an agenda in favor of sexual diversity and by building a judicial structure, make the integration of the trans population ironclad."
The first step is to pore over rules, codes and laws in search of any discriminatory concepts. One has already been identified: "We would like to reform Article 1 of the Constitution to suppress the concept of sexual preference and replace it with 'sexual orientation and identity or expression of gender,' which is the terminology used in the international convention of human rights," Clemente says. Furthermore, she is also seeking to bolster the National Council to Prevent Discrimination (Conapred), to make it more efficient and to guarantee its budget.
Additionally, after 18 months as a DiDi driver, Clemente has first-hand knowledge of the protections app drivers require. "Drivers are users of the app in the same way the passenger is, and as such our hard work does not translate into labor rights because the app is not recognized as an employer. We want to table initiatives to protect their labor rights."
Politics as a safe haven to come out
Clemente's life, straddling the Cuauhtémoc district and the suburbs, has always been intrinsically linked to metropolitan politics. She was born in Tlatelolco but grew up in Cuautitlán Izcalli, in the State of Mexico. The daughter of a neighborhood activist and a member of the Party of the Democratic Revolution (PRD), the first thing she did when she turned 15 was to join the party ranks. Although she didn't know it at the time, she was following in the footsteps of Mexican President Andrés Manuel López Obrador, who she refers to as an inspiration throughout the interview. Later, she participated in the early foundation processes of the leftist ruling party National Regeneration Movement (Morena). "I was an activist for the sake of being an activist, through pure conviction," she says. Clemente became increasingly certain that her rightful place was among the Mexican left. "I consider myself a working-class woman, I understand the solutions from that viewpoint."
Clemente came out as a trans woman seven years ago in what she considered her safe haven: politics. "I came out of the closet during a meeting of the university council at the Autonomous University of Mexico City," she says animatedly. "I couldn't go another day without doing it and I had to keep attending the meetings, so I arrived at the council one day and it was the first day of my official transition." She remembers she asked for the floor for a minute "to tell them what was happening" and asked for their support. "I had done it before occasionally [come out as a woman] but this was the first official day, it was saying that this is forever, and for every day."
Clemente found at university – and later in Morena – a safe space to come out – one that she did not find among her family. "I had to leave many members of my family behind, because they did not accept my decision and decided not to continue with me on my path in life." However, she adds that she did receive the support and unconditional love of her mother and friends, "and that is the most important thing." That affection has served to consolidate Clemente in her new position.
"If you had told me 10 years ago that I would be where I am now, I wouldn't have believed it," says the politician, who has been the subject of numerous verbal and physical attacks in recent years. Clemente says that the current climate "seems very cheerful, very simple, that there are two trans federal deputies," but that just a year ago, when she was driving the streets in her taxi, it did not seem like a feasible notion. "I saw it as extremely unlikely, above all because of discrimination." On her journey, she has learned one lesson to take away: "Mexico is a country sustained by women; it is consolidated by the political struggle of women."
English version by Rob Train.