How Joe Biden is driving a complicated shift in US policy toward Latin America
The new administration is seeking international cooperation but will not be making hasty decisions over Venezuela and Cuba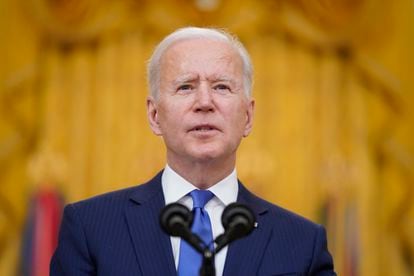 The Temporary Protected Status granted to Venezuelan citizens in the United States by President Joe Biden's administration, due to the ongoing crisis in their homeland, represents the first tangible sign of a change of direction in Washington's approach to Latin America. It is one that could be lengthy and complicated in regard to the two most pressing conflicts in the region: Venezuela and Cuba. The White House has stressed that a modification of its strategy toward the castrista regime "is not among the chief priorities" of Biden's foreign policy and has indicated that although the president has placed restoring international cooperation high on his agenda and does not share the previous Republican government's zeal for sanctions against Caracas, neither is there any rush on Washington's part to soften those currently in place. The message is designed to maintain pressure ahead of any future negotiations but also highlights underlying difficulties. Decisions taken at the tail end of Donald Trump's presidency have also served to heighten international tensions.
Trump's doctrine for Latin America was based on the idea of a "troika of tyranny" encompassing Venezuela, Cuba and Nicaragua, a repetition of the so-called "axis of evil" of Iraq, Iran and North Korea popularized by then-president George W. Bush in 2002. There are few coincidences in Washington and this is not one of them. Trump surrounded himself with hawks who had served under Bush, such as National Security Advisor John Bolton, who coined the troika phrase but eventually fell foul of his president, and Elliott Abrams, Ronald Reagan's cage-rattler-in-chief in Latin America, who served as Trump's Special Representative for Venezuela.
"We have many options for Venezuela, including a possible military option, if necessary," Trump said in August 2017 while on vacation at his golf club in Bedminster, New Jersey. "I'm not going to rule out a military option, this is our neighbor and we have troops all over the world in places that are very far away. Venezuela is not very far away and people are suffering and dying there," he added in that particular style of his, which could so casually link armed intervention to convenience of location.
The Biden administration will continue to seek ways to 'exert coordinated pressure unless the Maduro regime demonstrates that it is ready to sit down at the table'
But this apparent warlike ardor, to the distaste of some nostalgic old heads, did not extend further than rhetoric. And Trump's words of support for the Venezuelan people, to the frustration of many others, did not manifest itself during his presidency into the protected status that opponents of the Nicolás Maduro regime were demanding. It was not until Trump's last day in the Oval Office on January 19 that he signed an order to defer the deportation of Venezuelan asylum seekers for 18 months, which left them in an administrative limbo and in contrast to the terms of the Temporary Protected Status (TPS) now afforded under the Biden administration, prevented them from working. What Trump did achieve was to turn the screw by applying sanctions, redoubling those directed at individuals and targeting the lifeblood of the Venezuelan economy, oil, with the aim of forcing Maduro to convene elections.
The current US administration has emphasized the scant fruit produced by their predecessors' strategy: "What we have clearly seen is that the regime has adapted to sanctions. Oil markets, long ago, adapted to oil sanctions. We could keep on with unilateral sanctions and stay in this situation for who knows how long. The United States is in no rush to lift sanctions but we need to recognize here that the unilateral sanctions, over the last four years, have not succeeded in achieving an electoral outcome in the country. Nowhere in the world have unilateral sanctions actually led to a democratic transition in the absence of a multilateral and coordinated approach among the international community, which is what the previous administration failed to accomplish," a White House administration official said during a press briefing with journalists on March 8.
Even so, the Biden administration will continue to seek ways to "exert coordinated pressure," according to the same briefing, "unless the Maduro regime demonstrates that it is ready to sit down at the table and demonstrate that this time it is going to be different."
The war drums may have fallen silent in the White House and the long-awaited granting of TPS has been secured, but Washington is not offering a clean slate in its relations with Caracas. Unlike the European Union, the US continues to recognize Juan Guaidó as Venezuela's president-elect despite the National Assembly, from where Guaidó's constitutional legitimacy originated, changing its tune after the December elections (the results of which have also not been recognized by the EU). The US has not veered a millimeter from its stance that Maduro's government is illegitimate although Trump's election campaign, accusing Biden of a Socialist bent, left its mark on the more conservative branch of the Latino electorate and helped the Republican candidate to win the coveted state of Florida.
"The policy of pressure against Venezuela is quite bipartisan in reality and it's normal that Biden is in no rush to soften that approach without clear motives," says Dany Bahar, an economist at the Brookings Institution's Global Economy and Development program. "He is unlikely to hurry over Cuba either, he is a moderate. Why look to pick this fight at the domestic level?"
A shift in policy toward Cuba is not high on the president's list of priorities, which are the pandemic, economic recovery and the rebuilding of alliances abroad

White House spokesman
The path undertaken by Trump over Cuba, which Biden has promised to review, is one of those that will be difficult for the president to retrace while keeping everybody happy. In one of his final acts as president, Trump added Cuba to the US State Sponsors of Terrorism list alongside Syria, North Korea and Iran, handing his successor the task of removing it. The designation, which comes with the imposition of "sanctions against countries and individuals" who do business with the island, met with the disapproval of the secretary-general of the United Nations, António Guterres, and Latin American politicians including former Colombian president Juan Manuel Santos.
The European Union, and Spain in particular, also anticipate that Biden will reverse the enforcement of Article III of the Helms-Burton Act, which permits US citizens to seek redress against international companies profiting from property confiscated by the Castro regime after the Cuban revolution. The Act had been suspended by every US president since its initial introduction in 1996 but Trump decided to reactivate it in 2019.
The current administration has indicated that nothing is likely to take place rapidly on this matter either. "A shift in policy toward Cuba is not high on the president's list of priorities, which are the pandemic, economic recovery and the rebuilding of alliances abroad," a White House spokesman said. Even so, the Biden administration is going to "carefully review" decisions made by the previous administration. Beyond any modification on these two specific fronts, which would also be liable to cause problems among the US' European allies, a thawing process similar to the one undertaken by Barack Obama also seems unlikely in the short term.
"We are committed to making human rights the cornerstone of our foreign policy and that includes redoubling our dedication to promoting human rights in the hemisphere," a White House National Security Council (NSC) spokesman said. Biden's foreign policy team includes several veterans of the Obama administration such as Secretary of State Anthony Blinken, who also worked in the department under Bill Clinton. Juan S. González, who worked as an advisor to Biden during his tenure as vice president, has been installed as Deputy Assistant Secretary of State for Western Hemisphere Affairs for a second time.
Migratory reform
Biden's arrival in the White House has also led to heightened expectations on the migratory front. The new administration has embarked on reforms that center on the motives for emigration from Central America with an investment plan of $4 billion over four years to kickstart the regional economy. It has also pledged to "humanize" the process of arrival and entry into the United States after Trump's iron-fist policy but this will also take time, despite willingness on the US side, and Washington has been quick to emphasize it should not be construed as an open-door policy.
During a recent "virtual visit" to Mexico by Blinken, the secretary of state sent a clear message to those seeking to escape poverty in Central America for a new life in the US: "To anyone thinking about undertaking that journey, our message is: don't do it. We are strictly enforcing our immigration laws and our border-security measures. The border is closed to irregular migration."
There is, though, little sign of a drop-off in the number of people attempting to do just that. According to a New York Times report published last week, there was a three-fold increase in unaccompanied minors detained at the border during the last two weeks of February.
English version by Rob Train.