Astor Piazzolla: Argentina celebrates 'tango killer' turned national treasure
On the centenary of his birth, Buenos Aires is pulling out the stops to celebrate the late musician. But Argentina wasn't always so affectionate to its genius composer
They say that Argentine tango musician Astor Piazzolla was bad-tempered. But his countrymen gave as good as they got: "People insulted him in the street. A taxi driver accused him of killing tango, and refused to give him a ride," recalls his widow, Laura Escalada. As one might imagine, that is not her view of the bandoneon player and pioneer of "tango nuevo" – a form of music that incorporates new elements into the traditional genre. "He was a very sweet man, tender, very shy," says Escalada. "We all have a rough character if we are beaten."
On the centenary of his birth (and 19 years on from his death), Buenos Aires is paying homage to this son of the Atlantic coast city of Mar de Plata who reinvented tango. Argentina's fight with Piazzolla has long ceased, and he is now much loved.
The story of his life is extraordinary. When Piazzolla moved to Prohibition-era New York as a child, he was poor and an easy target for criminals in tough neighborhoods with his deformed leg. His father, an accordionist, bought him a second-hand bandoneon in a pawn shop, and he learned almost single-handedly to play the 10 kilo-concertina that hung around his neck for the rest of his life.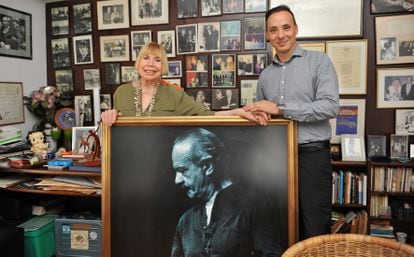 In 1934, he met Carlos Gardel, a god of tango. Piazzolla's father wanted to send Gardel one of the wood carvings he made, and he sent his son to deliver the gift. Gardel's entourage refused him access to his room, so the quick-thinking teen devised a Plan B.
"As he was a rascal, Astor went up the fire escape and snuck in through the window," recounts Escalada. Gardel found it funny, and when he realized the boy spoke fluent English he decided to use him as a translator. He also gave him a small role in the film El día que me quieras (or, The day that you love me), and listened to him play the bandoneon.
Gardel was impressed overall but didn't much like his style of playing tango. Regardless, he offered to take the 13-year-old Astor on his next tour of the Americas. His father refused due to his son's young age, but the choice was perhaps a premonition: a plane crash killed Gardel and his entourage while they flew over Medellín, Colombia on June 24, 1935.
In his early 20s, Piazzolla returned to Argentina to try and make his fortune. He married Odette María Wolff in 1943 and had two children, Diana and Daniel. His tango playing had greatly improved and he began to work as a music arranger in the orchestra of Aníbal Troilo, one of the greatest figures in tango at the time. But the collaboration didn't last long. Piazzolla was demanding, and wanted the musicians to actually study sheet music. His reputation as being difficult was growing.
The years that followed shaped Piazzolla's reputation as an outcast. He recorded and his orchestra played in cafes, but the old guard of tango rejected his music. As the pioneer of tango nuevo, Piazzolla introduced new instruments such as the saxophone and electric guitar to tango music, and also played with harmonic and melodic structure. But according to his critics, you couldn't dance to his tango – it was too complicated.
In 1954, he traveled to Paris on a cargo ship. He studied with the celebrated composer and pianist Nadia Boulanger, who told him not to give up on tango or classical music. In 1959, back in Buenos Aires, he learned of his father's death. He locked himself in his bedroom and composed his masterpiece Adiós Nonino (or Goodbye Grandfather). It was, he said, his "number one tango." The death of his father also triggered shockwaves through his personal life. He divorced and became estranged from his children.
As a "tango killer," Piazzolla was quite a poor assassin: in 1969 he created a tango bombshell, the wonderful Balada para un loco (or Ballad for a crazy person). And in 1975 he definitively reinvented the genre with Libertango, a melody that everybody knows, but not everybody can identify.
By then he had married Laura Escalada, a young opera singer and radio presenter. Escalada still lives in the apartment they shared, which is strewn with objects from his life. "Astor loved fishing for sharks in Punta del Este [in Uruguay], he liked nothing better," she says, pointing at a lingering shark jaw.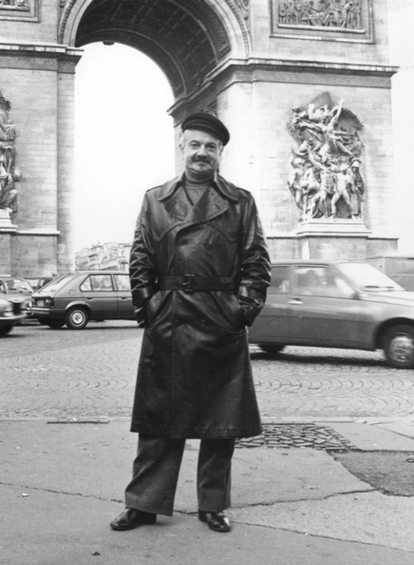 Piazzolla finally began to receive some recognition at home in the 1980s, when he had composed more than 2,000 pieces of music. But time was running short. The composer suffered a cerebral hemorrhage in Paris on August 4, 1990, and never recovered. He died in a coma on July 4, 1992. "He smoked constantly his whole life, and he had already had a heart attack," his widow notes. "But to end up like that was horrible." His final days were spent in Buenos Aires, where his estranged son Daniel reestablished contact with his father.
Escalada created the Astor Piazzolla Foundation in 1995. She has battled to keep the musician's memory alive, along with his grandson, Daniel Villaflor Piazzolla, the son of Diana, who died in 2009. "Little by little, Laura stopped being Astor's wife and became my grandmother," says Daniel Villaflor. "What's happening now would have been impossible without my grandson," says Escalada, hugging him.
Now the Teatro Colón in Buenos Aires has reopened after its closure due to the pandemic, to pay tribute to Astor Piazzolla, and the Kirchner Cultural Center has a special program dedicated to the tango king. In Buenos Aires, this year will also end to the sound of Piazzolla's music: his works will be played in a great concert in front of the obelisk that is a symbolic icon of the city. Piazzolla is no longer the tango killer. He's an Argentine hero.
More information