Nine expert tips for packing your suitcase
Knowing how to choose the right luggage and bringing multipurpose garments along are just two of the techniques that can make travel easier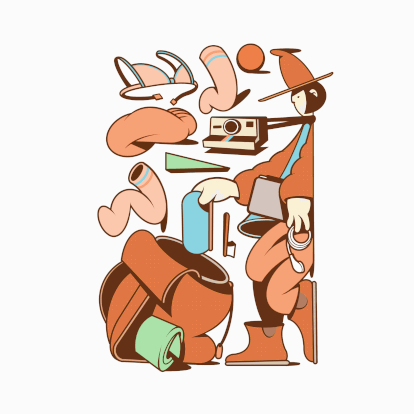 Travel journalism has been my job for more than 15 years, and going to different destinations around the world every week has allowed me to master the fine art of packing a suitcase strategically. After covering thousands of miles, I have learned the hard way and figured out that, in addition to the basic rules, there are other tricks that can simplify the cumbersome process of putting your belongings in a bag. Here are nine practical tips.
01 What kind of luggage?
I determine my choice according to the type of trip and its duration. If I am going to make more than one transfer or deal with winding roads, I choose a backpack; the ideal capacity is 50 liters. Regarding suitcases, if the getaway is short, I opt for a cabin-size trolley made of semi-rigid material. If the journey is long and you will not have a lot of mobility, rigid suitcases are the best option because they protect the contents better.
02 How to save time and space
The first step is making a list of everything that is required, gathering belongings and categorizing them. I separate clothes, personal hygiene items, shoes, first-aid kit and other miscellaneous items to later place them inside packing cubes and bags made of cloth or resistant plastic. To optimize space, I use vacuum bags with a sliding zipper that compact the garments (up to 50% of the interior volume can be saved this way).
03 Roll or wrap
Rolling clothes to maximize space or wrapping them in layers (known as the bundle packing method) are functional techniques. The latter consists of placing the smaller clothes in the center and the larger clothes on the outside, folding them together to form a bundle. We must not forget about those small spaces where you could fit additional things, such as inside shoes. Finally, I put the bulkiest clothes and shoes at the bottom (they serve as support) and the most delicate and wrinkle-prone items on top.
04 An effective personal hygiene kit
The most practical thing is to carry solid soap, shampoo and toothpaste. For liquid products I buy malleable plastic containers with a reinforced lid with a capacity for less than 100 milliliters. Forget about the big bottles: pack the small versions of cosmetic products like perfume.
05 What is the appropriate clothing?
The choice must always be based on the weather, the type of destination and the activities on the agenda. Pants and shirts in neutral colors combine with everything. Regardless of the weather, my suitcase is never without a fleece sweatshirt, leggings and a windbreaker. Expert advice: clothes made of merino wool are lighter, cooler and are less prone to retaining smells.
06 Do not carry too much
Overpacking for long trips can be a big mistake. For stays longer than seven days, I bring five tops (three T-shirts and two shirts), three pairs of pants (two pairs of jeans and a dressier pair), two pairs of shoes, four pairs of socks, seven sets of underwear, a light waterproof jacket and a bathing suit.
07 Not everything has to go inside the suitcase
There are clothes that take up a lot of space and add weight to your luggage, such as coats, jackets or hiking boots. The most practical solution is to wear them. A piece of advice: when weighing your luggage, consider that items such as a camera, headphones or a laptop will not be taken into account if they are around your neck or in your hands.
08 If it fulfills the same role, don't bring it
I avoid packing similar kinds of clothes or objects; a single waterproof jacket is enough and one type of footwear is enough. I also like to prioritize garments that serve a double purpose, such as pashminas. And I opt for multifunctional objects, for example, a multi-pin adapter with USB slots that saves space and means I don't have to bring extra plugs or adapters.
09 Keep luggage cool
When I arrive at my destination, I unpack the suitcase, especially in hot places. Dirty, damp clothes can permeate the rest of the clothes, so it is advisable to use cedar scent blocks, which are capable of absorbing moisture and provide a pleasant aroma. One last piece of advice: store your dirty underwear and socks in reusable airtight bags.
Sign up for our weekly newsletter to get more English-language news coverage from EL PAÍS USA Edition