Some Spanish regions halt injections of AstraZeneca batch under EU investigation
Health Ministry insists the doses are safe and that European authorities have found no evidence linking blood-clotting issues with the British-Swedish vaccine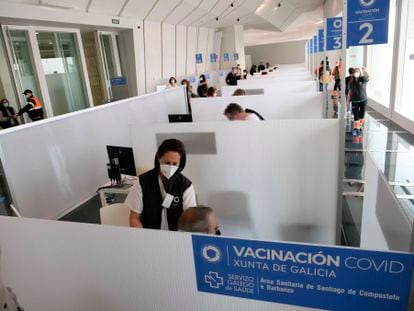 Spanish officials on Friday sought to allay misgivings about the coronavirus vaccine produced by Oxford-AstraZeneca after several European countries temporarily halted its use following a few reports of blood clots among recipients that are being investigated by European authorities.
Government spokesperson María Jesús Montero said citizens should feel confident about the Covid-19 vaccines because they are safe and no adverse effect has been recorded in Spain, where people are receiving doses made by Moderna, Pfizer-BioNTech and AstraZeneca.
Although vaccination with AstraZeneca continues in Spain, a few thousand doses from a batch that arrived in mid-February have been set aside while the European Medicines Agency (EMA) conducts its investigation.
Denmark, Norway and Iceland have halted all AstraZeneca inoculations, while Austria, Latvia, Estonia, Lithuania, Luxembourg, Italy and Romania have halted injections of specific batches. Use of batch ABV5300 was halted in Austria after a person was diagnosed with multiple thrombosis and died 10 days after vaccination, and another was hospitalised with pulmonary embolism. The EMA says there is "no indication that the vaccine caused these conditions."
In Spain, the AstraZeneca vaccine is being administered to essential workers under 55 years of age
In Spain, many vials from the batch number ABV5300 have already been administered as they arrived in February, the Health Ministry said. But several regional governments – Andalusia, Catalonia, Castilla y León and the Canary Islands – have set aside their remaining doses of this batch. The Valencia region said later on Friday that it was also halting injections of this batch.
Authorities in Castilla y León have put AstraZeneca doses on hold "out of precaution." In a statement, the government said that "no serious adverse effect from the inoculation of this vaccine or any of the other vaccines has been recorded." Although the regional government did not say how many doses are affected, to Thursday the region had received 85,800 doses of AstraZeneca.
Andalusia received 4,000 vials of AstraZeneca's ABV5300 batch on February 12, enough to extract 40,000 doses, said a spokesperson for the Andalusian department of health and family. "Those vaccines started to be administered and we've had no reports about negative reactions among recipients. There are only 1,200 doses left from that batch, and out of precaution we have decided to halt injections until the EMA clears up the issue."
The Canary Islands government has temporarily placed 110 doses on hold, while Asturias withdrew some vaccines on Thursday, but decided to go ahead with their administration on Friday. In Catalonia, 35,000 out of the 37,000 available doses from that batch have already been injected, and the remaining 2,000 have been set aside while the EMA's investigation is ongoing.
Other regions of Spain are going ahead with inoculations, including the Basque Country, Cantabria and Madrid, where the regional deputy health chief Antonio Zapatero said the vaccine "is very good, it is a safe vaccine and an effective vaccine."
In Spain, the AstraZeneca vaccine is being administered to essential workers under 55 years of age, including teachers, firefighters, police officers and healthcare workers who are not in the front lines. They will be followed by the general population between 45 and 55 years of age, according to the government's priority guidelines.
English version by Susana Urra.