Storm Filomena: 12 Spanish regions on alert for snow
There were traffic disruptions and advisories for difficult driving conditions on over 100 roads on Thursday
Spain on Thursday felt the continuing effects of an unusual weather event dubbed Storm Filomena that is sweeping across the Iberian peninsula in the form of two back-to-back low-pressure systems.
For the second day in a row, southern Andalusia, the Canary Islands and the North African exclave city of Ceuta experienced heavy rains, strong winds and rough seas, while central regions of mainland Spain were preparing to be blanketed with snow.
There were traffic disruptions and advisories for difficult driving conditions on over 100 roads on Thursday, while snow chains were being required on 33, according to the traffic authority DGT. Some of the main affected motorways included the A-7 at Alcoy (Alicante); the A-4 at La Guardia (Toledo), the CM-40 and the R-4 ringroad at Ocaña (Toledo), the A-3 at Requena (Valencia); the CV-80 at Sax (Alicante) and the RM-15 at Bullas (Murcia).
The DGT also asked motorists to take extra care while driving on the A-4 at Valdemoro (Madrid), on the A-42 at Yuncos (Toledo), on the AP-36 at La Roda (Albacete), on the A-3 at Chiva (Valencia), on the A-91 at Puerto Lumbreras (Almería) and on the A-44 at Noalejo (Jaén).
Almería is the province with the greatest number of affected roadways: on seven of them, sections have been cut off to traffic due to heavy snowfall. In Granada province, also in Andalusia, the A-337 is closed off as it passes through La Ragua, and a section of the A-395 has been cut off near the ski resort of Monachil in the Sierra Nevada.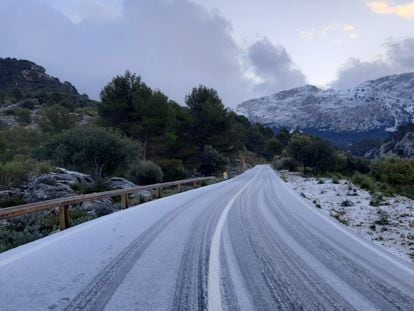 The Aemet national weather agency is forecasting the biggest snowfall in years for Thursday, with the greatest snow totals expected in Jaén and Albacete (up to 20 centimeters in both provinces), in Alicante, Castellón and Valencia (15 cm), in Almería, Granada, Teruel, Ciudad Real, Cuenca and Murcia (10 cm), and in Toledo and Madrid (5 cm). A total of 12 Spanish regions are on alert for snow.
Other parts of the country are preparing for intense rain: Cádiz, Ceuta and Málaga could see rainfall of 80 to 100 mm. There is also an orange warning for low temperatures in Huesca, Ávila, Burgos, León, Palencia, Segovia, Soria, Zamora, Lleida, Navarre and La Rioja. Meteorologists are expecting to see more snowfall on Friday in central and eastern Spain, and in northern areas on Saturday.
In the Canary Islands, residents have been told to expect winds gusting up to 80 km/h at sea level, and above that in mountain areas. Rough seas could create waves of four to five meters, the weather service warned. There will also be intense rain, particularly in the western islands and on Gran Canaria. Conditions are expected to start improving by Saturday.
While the first low pressure system will push past Spanish territory on Sunday, a second weather event is likely to bring a fresh round of intense rain in southern Andalusia and Ceuta. Temperatures could also drop significantly again, with lows of -10ºC in central and mountain areas, said Aemet spokesperson Rubén del Campo.
English version by Susana Urra.