Spain adds 1,326 coronavirus deaths to official count due to methodology change
The latest figures indicate that the incidence rate in the country may be stabilizing, but experts have urged patience
New figures suggest that the rate of coronavirus infection in Spain may be stabilizing, although a change in counting methods has just added 1,326 deaths to the official fatality count.
Although the 14-day cumulative number of cases per 100,000 stands at 528.75 cases, which is a healthcare disaster, this indicator's pace of growth has been slowing down for several days, and the 0.15% increase registered between Tuesday and Wednesday could almost be viewed as a stabilization.
What this might mean is that the curve is reaching its peak, although Pedro Gullón, of the Spanish Epidemiology Society, believes that the figures need to be viewed with patience. "It's important to move past the peaks, but you can't let your guard down because if there is an uptick, the starting point is very high," he notes. "It's still too early to draw conclusions."
The regions of Andalusia, Aragón, Canary Islands, Castilla-La Mancha, Castilla y León, Extremadura, Madrid and Navarre all registered lower incidence rates on Wednesday. And in Catalonia, La Rioja and the Balearic Islands, the rise was so small that this parameter could be considered to have stabilized.
The official case count since the start of the pandemic is 1,284,408, including 25,042 new infections reported on Wednesday. This number, however, includes 5,105 old cases that have been added to the count following a change in the Health Ministry's statistical methods. This means that there were 19,937 new cases reported on Wednesday, which is very high but still far from the single-day case record of 25,595 set on October 30. Spain. which is experiencing a second wave of the pandemic, passed the symbolic milestone of one million coronavirus cases on October 21.
The new statistical method also affects the death count. On Wednesday, the Health Ministry added 1,326 fatalities to the official tally, including 297 that were registered over the last 24 hours – a record of Spain's second wave. Deaths from Covid-19 officially stand at 38,118, although the real figure is much higher because thousands of people died without getting tested during the first wave of the pandemic, in March and April.
Even if the number of new cases starts to drop, this will not be immediately evident in the death toll, which is still reflecting the spike in new cases recorded in the last three weeks. Health Minister Salvador Illa on Wednesday insisted on the need to wait "two to three weeks" to see the effects of recent measures aimed at curbing the spread of the virus, such as the shutting down of bars and restaurants in Catalonia, the border closure in Navarre and the implementation of a national nighttime curfew.
The government recently declared a new state of alarm giving regional authorities the legal tools to introduce restrictions on citizen mobility, and it also secured congressional approval to extend the emergency measure for six months. Regions have moved to seal off neighborhoods, municipalities and even entire regions. For now, there is no home confinement despite requests from regions like Asturias, which has seen a recent surge in cases. The Spanish government first declared an emergency state on March 14, confining millions of people to their homes in one of the world's strictest lockdowns.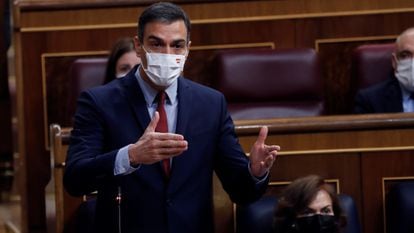 "Looking at the exponential growth in cases registered the previous week, we are now seeing a couple of days of containment, but we need to wait at least another week to see if the applied measures are effective," says Guadalupe Fontán, a nurse specializing in public healthcare. Gullón, of the Spanish Epidemiology Society, adds that "in March and April, under home confinement, the incidence rate was still rising after two weeks, albeit more slowly."
The new statistical adjustments have also reduced the number of patients hospitalized with Covid-19 since the beginning of the pandemic, which now stands at 164,452. The percentage of hospital beds occupied by Covid-19 patients experienced a slight single-day rise, from 16.24% to 16.40%. There were 20,325 people hospitalized for coronavirus-related reasons on Wednesday, 382 more than on Tuesday. Although the national average is rising, this indicator has dropped in 12 of Spain's 19 territories (17 regions and two exclave cities on the northern coast of Africa). Although the drops are all under one percentage point, they are relevant because hospitals play a key role in pandemic management.
The new statistical adjustments also bring down by 2,185 the number of Covid-19 patients who have at some point required intensive care (ICU) treatment, a figure that is now 15,898. This indicator is a key trigger for Spain's regions to ramp up their coronavirus measures, given that ICUs are the most difficult to set up on an improvised basis and their availability has an immediate effect on the mortality rate. There are currently 2,754 people in intensive care units. In eight regions, nearly 50% of intensive care beds are occupied by Covid-19 patients. The rate is in excess of 35%, which is already considered to be an upper limit, in Asturias, Castilla y León, Madrid, Melilla, Navarre and La Rioja.
English version by Susana Urra.