Nearly one-third of all intensive care beds in Spain occupied by coronavirus patients
According to the latest Health Ministry report, a total of nine regions registered occupancy of ICUs above 35%, which is considered to be an upper limit
A third of Spain's intensive care unit (ICU) beds are now occupied by coronavirus patients, according to the latest report on the pandemic supplied on Tuesday by the Health Ministry. In total, 2,754 people are receiving intensive care treatment for Covid-19, 104 more than on Monday, and with 531 more admissions than discharges. Since the pandemic took hold in March, a total of 15,898 patients have needed ICU treatment for the coronavirus.
This indicator is a key trigger for Spain's regions to ramp up their coronavirus measures, given that ICUs are the most difficult to set up on an improvised basis and their availability has an immediate effect on the mortality rate. There are nine regions where the latest report shows occupancy above 35%, which is considered to be an upper limit: Aragón (48%), Asturias (38%), Castilla y León (39%), Catalonia (42%), Ceuta (47%), Madrid (38%), Melilla (57%), Navarre (40%) and La Rioja (57%).
A total of 238 fatalities were notified in the 24 hours prior to the publication of Tuesday's report, with 832 over a seven-day period
Hospitalizations are also at a high, with 16.24% of beds occupied by Covid patients. According to Fernando Simón, the director of the Health Ministry's Coordination Center for Health Alerts (CCAES), this means that "in some hospitals, the programmed activity is being suspended, and that is not good news."
The regions of Aragón, Asturias and Castilla y León, as well as the North African cities of Ceuta and Melilla, are the most compromised, with percentages above 20%. The importance of this indicator is reflected by the fact that it is these are regions that have requested tougher coronavirus measures. Currently, there are nearly 20,000 people hospitalized in Spain due to Covid-19.
In terms of fatalities, a total of 238 were notified in the 24 hours prior to the publication of the report, with 832 over a seven-day period. This means that the rate of 100 daily Covid-19 deaths is holding steady, but this parameter is not, for now, increasing at the same speed as the number of hospitalizations and ICU admissions, which are the first data points to reflect a rise in cases. The official coronavirus death toll in Spain now stands at 36,495.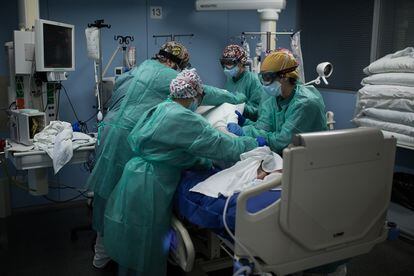 While the epidemic continues its advance through the country, there are some signs of a change in trend. For example, while the number of new cases continues to be high, coming in at 18,669 in Tuesday's report, it is far from the record set on Friday of 25,595. Yesterday's data broke a four-day run of rising figures, not counting Monday's new cases given that these include Friday, Saturday and Sunday. In total, 1,259,366 positive cases have been officially confirmed in Spain since the health crisis began.
The 14-day cumulative number of coronavirus cases per 100,000 inhabitants has also fallen in six regions: Aragón (1,119), Canarias (73), Castilla y León (820.2), Madrid (373.7), Navarre (1,182) and La Rioja (764). In Monday's report, this data point only fell in the Canary Islands, Madrid and the Valencia region.
Focussing on the improvement of Madrid's figures, Fernando Simón on Tuesday night pointed to the region as an example of how the restrictions that have been implemented – including perimetral lockdowns of the entire region and of individual healthcare areas – can have an effect on flattening the curve. On September 29, the region registered 784.71 cumulative coronavirus cases per 100,000 inhabitants over 14 days. By October 16, that number had fallen below 500, although there was controversy over changes made by the region in terms of a reduction in the number of tests being carried out. And 15 days after that, the number dropped below 400. Simón also used this result to bolster the Health Ministry's current position that a full lockdown similar to the one implemented in March is not currently necessary.
English version by Simon Hunter.