Experts warn Spain's state of alarm is not a cure-all for the coronavirus crisis
Epidemiologists say impact of the emergency measure will depend greatly on what action regions take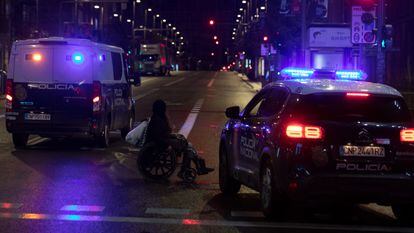 The state of alarm in Spain could change everything, or it could change practically nothing. It all depends on what measures the regions adopt. Regional premiers, for instance, could decide to introduce a curfew at 10pm or at midnight – a decision that would have a very different effect on the pandemic, according to health experts who spoke to EL PAÍS. Even so, these experts warn that a curfew is not a cure-all, given that restrictions on nighttime activities are already in place in many of Spain's regions.
The decree declaring a state of alarm, approved by the Spanish Cabinet on Sunday, provides regional governments with a legal tool to apply coronavirus restrictions without needing approval from the courts. But it forces them to do very little. Under the state of alarm, regions have the option to limit social gatherings and introduce perimetral lockdowns, but only a curfew is mandatory for the entire country – with the exception of the Canary Islands. The curfew is set between 11pm and 6am, but regional authorities can choose to move it forward or back an hour.
We know that many outbreaks happen in social settings, but I have my doubts about whether most happen at night, especially after midnight

Pedro Gullón, from the Spanish Epidemiology Society
The experts who spoke to EL PAÍS are pleased that measures aimed at slowing the spread of the coronavirus are no longer at the mercy of the courts – which in some cases have struck them down – meaning they can be implemented with greater speed. But depending on when the curfew starts, the impact will be very different, they say. "If you introduce a curfew from midnight you are limiting a very specific activity in a very specific section of the population, such as outdoor drinking sessions [known in Spanish as botellones] among young people, and also house parties," says the epidemiologist Javier del Águila, who does not see much difference between a curfew and the restrictions that have already been introduced by several regions forcing bars and restaurants to close by 11pm. "Limiting movement at 10pm, however, would have a much greater effect on a wider range of people. Each region will have to decide what to do based on their own epidemiological studies, and on where contagions are happening," he explains.
"We know that many outbreaks happen in social settings, but I have my doubts about whether most happen at night, especially after midnight," says Pedro Gullón, from the Spanish Epidemiology Society, who thinks that given the current level of community transmission in Spain it would be more useful to make remote work mandatory wherever possible. "That way, you are preventing a lot of movement, stopping people from having to take public transportation," he explains.
Daniel López Acuña, a health expert and former official at the World Health Organization (WHO), believes that the state of alarm was "extraordinarily necessary," but he is concerned that it does not force the regions to follow the government's new coronavirus alert system, which outlines what measures need to be taken based on the level of risk in a territory. "If they don't comply with them, the government should impose them," he says.
The alert system was approved last Thursday by a majority of Spain's regions – with abstentions from Madrid and the Basque Country – at a meeting of the Inter-Territorial Council of the National Health System, which brings together central and regional healthcare chiefs. Under these guidelines, the level of risk is measured according to eight main indicators and 20 secondary ones. Depending on these indicators, a territory may be classified as being at extreme, high, medium or low risk. There is still no official evaluation, but using coronavirus data provided by the regions, according to this system there are seven regions in Spain at extreme risk: Aragón, Castilla-La Mancha, Castilla y León, Navarre, Madrid, Catalonia and La Rioja, as well as the exclave cities of Melilla and Ceuta on the northern coast of Africa.
Limiting movement at 10pm would have a much greater effect on a wider range of people

Javier del Águila, epidemiologist
When a territory reaches level 3 (high risk) on the alert system, the guidelines recommend limiting social gatherings to six people, as well as introducing restrictions on capacity in the food and drink sector, at funerals and within sports facilities. For level 4 (extreme risk), no specific measures are outlined; instead, the document suggests taking extraordinary measures that may require a state of alarm.
Now that Spain is under a new state of alarm, there are no clear guidelines on what measures regions in extreme risk should take beyond introducing a curfew and limiting social gatherings. "Perhaps they should define some measures within the extreme risk level," says Gullón, who believes that if the current restrictions are not effective, authorities may consider ordering the closure of all bars and restaurants – a decision the Catalan government made on October 14. The next stage, he says, would be to shut down all non-essential businesses, and if the situation became very serious, it could end with the closure of schools. "Although I don't think this is going to happen, they are going to try to avoid it at all cost," he adds.
Gullón believes that home confinement orders may ultimately be introduced in some high-risk areas, "but under no circumstance" will the situation be like what it was under the first state of alarm in March, when millions of Spaniards were forced to spend all day inside their homes. "Even going outside for a walk was prohibited, which did a lot of psychological damage to people, and the evidence has shown that it was completely unnecessary," he says.
English version by Melissa Kitson.
More information
El País
| Madrid / Barcelona / Seville / Valencia