Hundreds of workers protest Nissan closure in Barcelona
The Spanish and Catalan governments warn carmaker that the decision could be more costly than investing in the struggling plant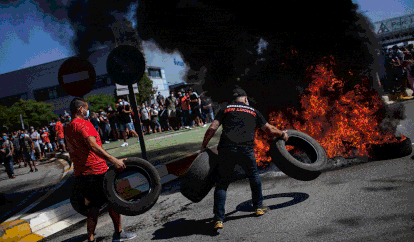 Hundreds of Nissan workers on Thursday blocked roads and burned tires to protest the Japanese automaker's decision to shut down its Barcelona plant in December.
The move, which had been widely anticipated but was officially announced at 10am on Thursday, means that 3,000 direct jobs will be lost. A total of around 20,000 workers are expected to be directly or indirectly affected by the closure of Nissan's largest plant in Spain. Auto making is a major economic sector in Catalonia, contributing around 10 % of regional GDP.
The Spanish executive said it "laments" the decision, and has offered the carmaker to create a working group to find alternatives. But the Japanese multinational said that, after examining the different options, "we believe there is no viable possibility for the future," in the words of Nissan Europe chairman Gianluca de Ficchy.
The Industry Ministry underscored that closing the Catalan plant will be more costly than investing in its continuity: €1 billion versus €300 million, the news agency Efe reported.
This amount includes compensation for laid-off workers and suppliers whose contracts will not be honored, as well as clean-up costs at the site of the plant. The Catalan head of the Enterprise and Knowledge department, Angels Chacón, said the company has received €25 million in public aid over the last 12 years.
The Industry Ministry believes that the Catalan facility could have a future if Nissan invested in a new production line and assigned the plant a new electric vehicle. The Spanish government presented this plan early this year at the company's headquarters in Yokohama, in a joint project with the Catalan government and the city of Barcelona.
Chacón said in a televised interview on TV3 that the regional executive will not make it easy for Nissan to leave Barcelona. She accused the multinational of "disloyalty" and "contempt" over its lack of response to the alternative plan.
Anger and impotence
Angry workers blocked off streets and burned tires outside the plant, located in the industrial area of Zona Franca, and announced further protests. "They've left us to die," said the head of the workers' committee, Juan Carlos Vicente, after a meeting with company executives.
But for many workers at this historic carmaking plant, the overwhelming feeling was one of helplessness.
"It's very tough news. We knew about it, we imagined it could happen, but you never think it's really going to come true. There are many families who could be left out in the street, and we feel impotence and a lot of anger," said Cristina Montero, 43, a single mother with a mortgage to pay who has been working at the Nissan plant for 15 years.
"We'd been warning for many years that they were taking cars away from us and taking them to the plants in France or England," said Vicente. In recent months, the Barcelona factory was down to 20% of its manufacturing capacity after several models were pulled.
"They've told us that we couldn't be competitive even if they gave us a car. They don't want to keep Barcelona, but we can't allow it. We are going to revert this," he added.
But not all workers see this as very likely. "Things had been going badly for many years, and now it's a total collapse," said José Antonio Pina, who has been working here for 21 years. Álex Navarro, who went to work at the assembly plant 16 years ago, was more optimistic: "The negotiation is getting started, and this is when we need to apply the pressure."
"Difficult decision"
The closure will affect the production plant in Zona Franca as well as the ones in Montcada i Reixac and Sant Andreu de la Barca. In theory, the company's plants in Ávila and Cantabria, which have no ties to Barcelona production, will not be affected.
Nissan CEO Makoto Uchida said the "difficult decision" was part of a move to cut the company's global production capacity by 20% to produce around 5.4 million vehicles annually.
The closure is part of Nissan's drive to become profitable again after posting net losses in the last fiscal year. The carmaker is also reinforcing its alliance with Renault and Mitsubishi, and planning to leave the European market to Renault while Nissan focuses on Japan, China and North America.
English version by Susana Urra.