WEATHER
The heat is on: Spain braces for unseasonably warm weather
Parts of the Cantabrian coast and Andalusia may see record-breaking highs of up to 25ºC in February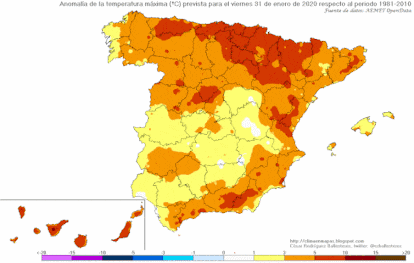 The month of February is bringing summer-like weather to Spain. As parts of the country continue to take stock of the damage caused by Storm Gloria, temperatures are expected to rise significantly over the weekend and into early next week.
Some areas along the coast of Cantabria in the north, as well as parts of Andalusia in southern Spain, will see thermometers hit 25ºC, according to the national weather agency Aemet.
"The highs will be near the record for a month of February," said Aemet spokesman Rubén del Campo, adding that by Wednesday it will feel like winter again.
Readings on thermometers were unusually high on Thursday night in the Canary Islands, Andalusia and the Valencia region. At Tenerife Norte airport, in the Canaries, the monitoring station recorded 16ºC. In Granada it was 15.7ºC, and in Jávea (Alicante), which was hard hit by the recent storm, it was 15.3ºC.
"These temperatures are between 9ºC and 11ºC above normal," said Del Campo.
The warmest day will be Monday, when temperatures are expected to be 5ºC to 10ºC above normal for this time of the year across Spain.
In parts of the Cantabrian coast, the Pyrenees, southern Aragón, Castilla-La Mancha, Andalusia and the Canary Islands, readings will be 10ºC to 15ºC above normal.
Between Tuesday and Wednesday, there will be a general drop in temperatures, and places such as Teruel, in Aragón, will transition from a high of 23ºC on Monday to just 7ºC on Wednesday.
English version by Susana Urra.