Spanish-Lebanese arms dealer wanted for tax fraud reported to accompany former king Juan Carlos I in Abu Dhabi
Abdul Rahman El Assir, who stands accused of evading millions in taxes, is thought to be using his old friendship with the ex-monarch as a 'shield' given his legal problems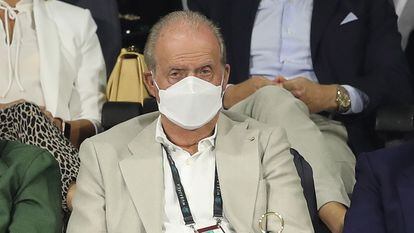 Abdul Rahman El Assir, a Spanish-Lebanese arms dealer who is subject to an international arrest warrant, has been living in Abu Dhabi for several months, and often accompanies Spain's former king, Juan Carlos I, in the private complex where the latter has been living since leaving Spain in August 2020, according to witnesses who have spoken to EL PAÍS.
El Assir is being sought by the authorities after failing to attend a trial in which he stands accused of evading €14.7 million in taxes due in Spain. His friendship with the emeritus king, who left his home country due an ever-rising number of accusations of financial wrongdoing against him, dates back to the 1980s and has long been in the public eye. They have a number of friends in common and also share a passion for hunting.
"The relationship had cooled, but the loneliness of the pair in Abu Dhabi has seen it become stronger once more," explains a person who is close to Juan Carlos I. "It's a friendship of more than 30 years that no one has managed to avoid," says another source from his entourage, and who refused to give more details.
One of the witnesses to these meetings in Abu Dhabi believes that El Assir is using his old friendship with the former head of state as a "shield" given his legal problems.
When consulted about these reports, La Zarzuela palace responded by making clear that the private activities of Juan Carlos I no longer have anything to do with the royal household. Javier Sánchez Junco, the emeritus king's lawyer, declined to comment.
El Assir, 71, is a well-known international arms trader who is viewed as having played a key role in Spanish military exports in recent decades. His whereabouts have been a mystery since he opted to flee the justice system three years ago.
It was on October 4, 2018 that El Assir disappeared off the map. That day, he had an important meeting in the Madrid Provincial Court, where he was due to go on trial for allegedly evading millions in taxes. He managed to delay the hearing a month by claiming that he was suffering from illness in Switzerland, a country that he moved to when his problems with the Spanish Tax Agency began.
The trial was moved to December 5, then February 5 and finally March 5, but he failed to appear at any of the hearings. Excuses from his lawyer and the repeated no-shows exhausted the patience of the public prosecutor and the court, who eventually issued an international arrest warrant. "The order was issued and remains in force," an official source from the prosecutor has confirmed to EL PAÍS.
El Assir is facing an eight-year prison sentence if found guilty, as well as an €80 million fine and a tax repayment of €14.8 million. The prosecution claims that he "consciously omitted" earnings of €31 million and failed to file a tax return. The fraudulent activity is alleged to have saved him €12.03 million of taxes in 2002, and €2.7 million in 2003.
In order to hide his fortune, El Assir made use of the shell companies La Granjilla Corporation S. A., Miraflores Dieciocho S. A. and Gransoto S. L.. According to the investigations of the prosecutor, El Assir has a number of mansions, a berth for a large yacht and several luxury cars used by his family registered to such companies. The arms dealer has been under investigation since 1999, when he established Spain as his place of residence.
El Assir has more legal problems than simply those in Spain. In France, he was sentenced by default for "Karachigate," a corruption scandal involving the sale of arms in Pakistan. The justice system in that country issued another arrest warrant for his extradition, which has been in force since mid-2020 and figures on Spanish police databases, this newspaper has confirmed. Part of these commissions for the sale of submarines financed the presidential campaign of the former French prime minister, Édouard Balladur.
In Switzerland, he also owes €2.2 million in unpaid taxes, according to local media outlet Bergen Zeitung. Along with his brother, Rabih, he is linked to the Luxembourg company Wheelerdale, according to the country's business registry, and as was revealed by the Openlux journalistic investigation published in June by Spanish online newspaper Infolibre. In 2019, Wheelerdale declared assets of €77.5 million.
Abdul Rahman El Assir is the son of a writer and a singer. He emerged in the 1980s thanks to his contacts among Spain's high society and with several politicians from the Socialist Party (PSOE). His first wife was Samira Khashoggi, the publisher and editor of the women's magazine Al Sharkiah, and the daughter of the personal doctor of Saudi Arabian king, Abdulaziz Al Saud. She was also the sister of Adnan Kashogui, the influential Saudi arms trafficker who lived in Marbella, and was one of the richest men on the planet when he died in 2017.
Samira was divorced from the Egyptian-born businessman Mohamed Al-Fayed, with whom she had son Dodi, the boyfriend of Diana Princess of Wales at the time of her death in 1997. The Khashoggi siblings were related to Jamal Khashoggi, the journalist for The Washington Post who was assassinated at the Saudi consulate in Istanbul in 2018 by Saudi government agents.
After divorcing Samira (who died in 1986), in 1985 he married María Fernández-Longoria, the daughter of the Spanish ambassador in Egypt, and with whom he had three children. They later separated. During this time, he began working for himself and set up a company called Exel on the Paseo de la Castellana boulevard in Madrid. His first operations involved the sale of military weapons to Morocco and trucks to Somalia.
Thanks to his friendship with Juan Carlos I, he was invited to the wedding of then-Prince Felipe de Borbón (now King Felipe VI) and Letizia Ortiz. In 2016, he celebrated the wedding of one of his daughters in the Swiss ski resort of Gstaad, and laid on a private jet for the guests. Among them were the daughter of the former Spanish prime minister José María Aznar and her husband, businessman Alejandro Agag. El Assir also attended their wedding, according to Spain's gossip press.
El Assir has been a regular visitor to the exclusive Sotogrande residential development in Andalusia, southern Spain, and has taken great care of his image. In newspaper archives, for example, there is barely a single photo of him. "He has lived nearly his whole life with borrowed money, asking for it from some to pay others," explains a businessman consulted by EL PAÍS. This newspaper has not managed to secure any statements from El Assir, nor any other person close to him.