The rise of rough sex in the time of sexual recession: 'I want to be manhandled without being judged for it'
Statistically, young people are having less sex than ever. However, from this arid terrain new forms of intimacy are emerging that don't necessarily fit within the classic formula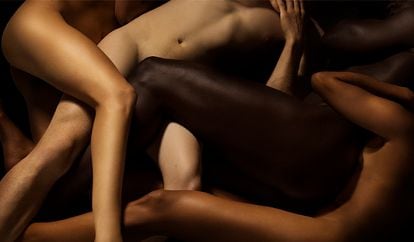 Silvia C., a 36-year-old administrative worker, is bored by "conventional" sex. So much so, that she does not even entertain the idea of practicing it. "If I were to have a stable relationship again," she says, "perhaps I would settle, as I've done in the past, with missionary, Sunday morning sex and other vanilla routines."
Her choice of words, "vanilla," says it all. Silvia is interested in sporadic sex with men and women — "let's say in that order" — who are into BDSM (bondage, discipline, sadism and masochism). "Nothing too extreme," she points out; only practices related to "the use of erotic toys and latex fetish clothing, role-playing games, a certain amount of controlled and consensual pain…" However, bringing up these preferences on a first date can be problematic. "Some guys just don't get the game. They can take it as an invitation to mistreat, humiliate or hurt you, when BDSM is actually all about complicity and respect."
To avoid this kind of misunderstandings, Silvia resorts to "very specific dating apps" in which people can detail their preferences and "negotiate" before the first encounter. Through this technological resource, she feels that she is accessing a community of people who understand sex the way she does, "as a playful activity, with a theatrical touch, which stimulates the imagination as much as the genitals — perhaps more." Fifty Shades of Grey? At this point, Silvia finds the mere mention of this 2011 classic of "mom porn" laughable, but she admits that the book once was part of her bedside reading material. "Today I see it as the symbol of everything I hate. The trivialization of BDSM, the patriarchal cult of powerful, charismatic men, sex as a means to climb the social ladder, submission without fantasy…"
Getting straight to the point
Silvia is not alone. Not in her rejection of the E.L. James novel turned into the epitome of short-term success without substance, nor in the intuition that a different kind of sex is possible. Andrea M., a 26-year-old doctoral student, states that her sex life used to be "rather pitiful" until she got into the habit of asking for exactly what she wanted and outright dismissing those who were not willing to provide it, something she strongly recommends to save time and avoid any uncomfortable situations.
In her case, what she usually wants is "rough sex." That is to say, "with energy, with passion, with dialogue, but without too much kinky stuff." Andrea understands sex as a team sport — placing a lot of emphasis on the sporting part: "I take care of myself, I'm in good shape, and I think that's essential to be a good lover, because what you're offering is your body and what you can do with it." She claims to be "fed up" with average, lazy, lackluster or unimaginative partners: "I want to be manhandled, and I'm not willing to be judged for it. So I go looking for what I need where I know I can find it, whether it's the gym, a boxing club that I just joined or, also, from time to time, apps and social media."
Tinder remains one of her preferred hunting grounds, despite the discouraging abundance of "pathological troublemakers and liars." However, now she alternates it with other platforms such as Lips, Plenty of Fish or Badoo, where, with any luck, "you skip the foreplay, because most people get straight to the point."
A rebellion in the midst of the sex recession?
It could be said that both Silvia's version of BDSM and the high energy sex that Andrea looks for are more fashionable today than ever. In the opinion of Brit Dawson from The Face magazine, who wrote a long article on the subject, "rough sex is coming out of the closet." People are showing less and less reluctance when it comes to asking for it or admitting that they like it. That is reflected in what people search for on pornographic platforms like PornHub, in the preferences users manifest in hookup apps and in the sustained increase in the sale of sex toys and fetish clothing that has been occurring since 2011; most notably after 2018. Also in studies as striking as one from April 2021 which stated that 80% of undergraduate students in the United States who have frequent sexual relations resort to practices such as choking, hair pulling and spanking. Women, incidentally, are even more likely than men to do so.
What is most surprising is that this golden age of intense or kinky sexuality is occurring at the same time as what some experts refer to as the great sex recession. Kate Julian, staff writer for The Atlantic, explains that the amount of people under 30 who have an active sex life has dropped steadily since the early 1990s. She puts it in numbers: "From 1991 to 2017 [...] the percentage of high-school students who'd had intercourse dropped from 54 to 40 percent."
Julian wonders why this phenomenon is taking place right now, at a time in which "the share of Americans who say sex between unmarried adults is 'not wrong at all' is at an all-time high. New cases of HIV are at an all-time low. Most women can — at last — get birth control for free, and the morning-after pill without a prescription," she writes. "Grindr and Tinder offer the prospect of casual sex within the hour. [...] Our culture has never been more tolerant of sex in just about every permutation." In other words, sex has colonized multiple spaces and demolished most of the traditional barriers that hindered its practice. And, despite everything, it is practiced increasingly less.
Jean M. Twenge, a psychologist at the University of San Diego, attributes this paradox to multiple reasons, but particularly one: "Relationships between human beings are becoming virtual at a rapid pace." Since 2016, states Twenge, "it was found that those born between 1980 and 1990 were becoming one of the most celibate generations in history, with much higher rates of sexual abstinence after turning 18 than the baby boomers at their age."
The trend has continued to rise, as digital natives began to enter adulthood. A study published in 2020 by the University at Albany, in New York, states that "the frequency with which young adults have sexual intercourse has declined over recent decades, but the sources of this trend are not well understood." It goes on to suggest "trends in economic insecurity, relationship formation, parental coresidence, use of electronic media, psychological distress, and alcohol consumption" as possible causes; in other words, a sinister cocktail of virtuality, sobriety and emotional inhibition would be conspiring against sex.
The fantasy as an incentive
Social psychologist Justin Lehmiller, author of the essay on sexual habits Tell Me What You Want, has a theory. The endless overabundance of sexual options through multiple channels (pornography, apps, social media) could have lead the youngest people to see sex as somewhat trivial, not even particularly desirable unless it is practiced with the right incentives, which come in the form of making erotic fantasies come true.
For his book, Lehmiller interviewed more than 4,000 American women and men. He found that more than half, without major distinctions of gender or sexual orientation, showed a clear preference for rough sex — understood as consensual practices to intensify the erotic experience, in a broad spectrum (not necessarily fetishisms and paraphilias) that would go from biting, pinching and stimulating language to moderate BDSM.
The author states that the interest of many women in this kind of practice could have something to do with a search for creative resources to reduce the gender gap in bed. According to Lehmiller, this gap occurs in heterosexual relationships that practice conventional intercourse because men take an average of five to six minutes to reach orgasm, while women need close to 13. If the physical intensity and the psychological stimuli are increased, then the gap tends to close.
Pol, a 29-year-old computer technician, and Natalia, a 27-year-old graphic designer and student, have put Lehmiller's theory to the test in their sexual activity, with inconclusive results. Natalia believes that the orgasm gap must be corrected, rather than with creative and physical efforts, "with a little solidarity, less coitus and more foreplay." Pol believes sex loses much of what makes it attractive when it is only a means to relieve a temporary physiological urge: "That's what masturbation exists for (and there's nothing wrong with it, either). Sex with a person you care about has to be something else, more like a shared game and an extra level of intimate connection." He finds the "rougher than usual" sex that he and Natalia practice very stimulating, because he perceives it "as an effort to take things to another level, to keep it from becoming routine."
Both Natalia and Pol reject that other type of rough sex that porn proposes, the one that is based, in her words, "on taking male fantasies of domination and selfish satisfaction to a level close to misogyny and abuse." Pol used to consume pornography, but today he considers it "one of the many absurd and unhealthy addictions that one falls into throughout life, like junk food or tobacco." Both claim that they no longer need any audiovisual stimuli to fuel their relationship. "The images that our brains project are much hotter to us," concludes Natalia.
Sign up for our weekly newsletter to get more English-language news coverage from EL PAÍS USA Edition