The silent displacement: How Mexico City's residents are being pushed out by the rise of Airbnb
The increase in 'digital nomads' with higher purchasing power is forcing locals further away from the Mexican capital's downtown boroughs as the rental platform targets longer-term stays
Alexandra Dunnet, a 35-year-old screenwriter, has seen the future of a city in ruins. The last remaining tenant of an apartment building located in the Condesa neighborhood in downtown Mexico City, she discovered on the internet that the apartments recently occupied by her neighbors are now being offered on Airbnb as temporary housing for tourists at exorbitant prices. Apartments in her block - she pays 10,000 pesos ($512) a month in rent - are being advertised for 91,800 pesos ($4,700) to so-called "digital nomads," people with high purchasing power who move around lower-income countries where their money is worth even more.
Earlier this year, tenants of the building where Alexandra lives were forced to leave because the owners refused to renew their annual contract. She will have to leave her apartment, where she has lived for five years, in January. "What is happening is that people who live in Mexico City are not going to be able to stay here. We are going to have to move to other places and commute in to work here. And in these downtown areas, everything is going to belong to tourism, not to the citizens", she says.
In Mexico's capital, a new type of silent, forced displacement is taking place. While in other cities in Mexico and Latin America, residents are forced to leave their homes due to insecurity and violence, in Mexico City it is market forces and corporate interests that are forcing people out. The rental model of platforms such as Airbnb, which promises significant profits for property owners, is causing the mass eviction of renters in the metropolis. The city government, headed by the leftist Claudia Sheinbaum, has thrown open the doors to the booming tourist rental business.
On October 26, Sheinbaum announced a collaboration with Airbnb and the United Nations Educational, Scientific and Cultural Organization (UNESCO) to promote Mexico City as a "digital tourist center" for foreign workers who stay for periods lasting weeks or months but who have a higher purchasing power than the inhabitants of the cities they choose. "We don't want rents to skyrocket," Sheinbaum said during the announcement. "We are not aware that the increase [in prices] is associated with Airbnb, but rather that Airbnb is coming to places that already had higher rents." The evidence, however, shows that there is a strong relationship between the increased global reach of the platform, the displacement of tenants and rent increases.
The rise of Airbnb
No other rental housing provider is expanding as much as Airbnb in Mexico City. According to a study prepared by the Sheinbaum administration, the number of temporary homes tripled between 2000 and 2020, from 22,122 to 71,780. At the same time, the report acknowledges, more than 20,000 families from the lowest-income brackets are forced to leave the city every year due to a lack of affordable housing options. Those people are literally sidelined, banished to the periphery. "A large part of that population continues to work and consume basic services in Mexico City, which causes more than 1.5 million daily trips between the metropolitan municipalities and the central municipalities of the CDMX," the report states.
The most-affected area is Cuauhtémoc, home to the historic center of Mexico City's and the Zócalo, where the Aztecs founded Tenochtitlan in 1521. According to the study, there are more than 10,000 homes designated for temporary use in the borough, or 5% of the total number of registered dwellings.
Airbnb does not publish data on its properties in the cities where it operates. What is known is that over the last three months alone, temporary housing bookings grew by 33% in Mexico, according to the platform's latest report to its investors. The Inside Airbnb webpage, a user-driven engineering effort, notes that the market has shifted toward longer stays. Furthermore, specialists in urban planning point out that the company has grown under the protection of the global phenomenon of housing financialization, which has turned housing into a commodity, little more than another financial asset.
"Housing finds itself in an uncomfortable position whereby, while it is the largest source of wealth on the planet, designed to enrich those who play the stock market and invest in pension funds, it is also a human right protected by the Mexican Constitution and by international law", explains María Silvia Emanuelli, coordinator of the Latin American office of the Habitat International Coalition. "Financialization, which at one point focused on home ownership, is moving towards rental housing. And on platforms like Airbnb it has access to a phenomenal formula to position homes on the market that are effectively intended for tourists, those who spend a short time in a certain place and who can, therefore, pay a higher figure than someone who lives here and needs an annual contract."
Airbnb declined an interview request from EL PAÍS for access to the agreement signed with the capital's government. The Sheinbaum administration did not make the document public either. A spokeswoman said that agreements of this type are routinely not disclosed. Specialists and people affected by the displacement have criticized a government that defines itself as leftist for promoting a housing scheme that grows voraciously at the expense of the city's most vulnerable inhabitants.
Baruch Sanginés, a geographer who trained at the National Autonomous University of Mexico and has a master's degree in demographics from the Latin American Faculty of Social Sciences (FLACSO), compiled data collected by Inside Airbnb to build a graphic analysis of the 324% growth the platform has experienced in the Mexican capital over the last 10 years. "What immediately jumps out is the concentration in the downtown area. That is where the best transportation services, museums, restaurants, bars, etc are located, and also the most desirable jobs are mostly in this area, which is also where the largest number of Airbnb properties are located," he says.
Sanginés points to a hoarding of real estate in the downtown area that has resulted in the displacement of citizens and increases in the cost of services. "At first it started as an application for people with a specific need, but what has happened, and this is where the criticism lies, is that there are people who suddenly have the resources to invest heavily in real estate. They are able to acquire several apartments in a building, several properties, and then everything goes up in price."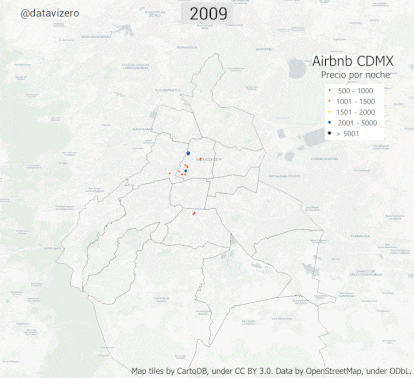 After little more than a decade of operation in Mexico, Airbnb is no longer interested in offering one-night stays. In a brief press release, the platform said its goal is to "promote the city as a global hub for remote workers and develop and showcase cultural and creative stays and experiences on Airbnb that enhance Mexico City's reputation as the Capital of Creative Tourism." This statement has been interpreted as an attempt to expand the market to popular neighborhoods that, until now, have remained relatively isolated from the influence of the platform.
A giant billboard on the front of a building offers an irresistible deal: selling apartments for Airbnb. The sale announcement is a sign of the platform's expanding business, which is moving out of the already saturated Roma, Condesa and Juárez neighborhoods. "You can live in it or rent it on Airbnb, it's not prohibited," replies one of the sellers to a request for information. In another property in the Roma Norte neighborhood, another pre-sale apartment business is being promoted: "Invest in rental apartments for foreigners." Its catalog states that return on investment can be achieved in about 15 months, depending on the rent charged on Airbnb. The prices per apartment range from five to seven million pesos ($256,000 to $358,000) for spaces of between 50 and 75 square meters.
Neighborhood organizations have identified instances of silent eviction, where tenants have been kicked out by owners so they can rent their apartments to tourists. In the Centro neighborhood, there are families packing up to make way for new luxury residents. Diana Gatica, 55, has to leave her apartment, near the Zócalo area, on December 31. "They told me that when the contract was up I had to leave. I told them: 'I know that I pay little in rent, so if you want to raise it that's fine.' They told me: 'No, your apartment is very important for our Airbnb business, because it has the best view'. I told them: 'But this Airbnb thing is going to be regulated and then it will cease to be a business.' He shrugged and told me: 'We are in Mexico.'" Diana pays rent of 10,000 pesos ($512) a month, the budget she now has to find somewhere else to live. "The apartments I can afford are depressing, frankly. Everything is going up so much. I'm wasting a lot of time searching and I can't afford anything. I have anxiety: I wake up at night wondering where I'm going to live now," she says.
On the other side of the coin, Airbnb is much more lucrative than the traditional rental model for property owners. "I found it attractive, a good source of income that gave me a better return than the normal income in the market, which has been on a downward trend in recent years," says Jorge, who prefers not to give his full name and who, until a few months ago, had three apartments in the Condesa neighborhood up for rent through the platform.
As a business person, Jorge has explored various investments. Airbnb, he says, has been the best by far. "The traditional rental scheme has some disadvantages," he says. "The main one is security issues, especially here in Mexico City, since the law protects the tenant quite a bit, and if you are unlucky enough to have one who takes advantage of that, they can stop paying you rent." The landlord also believes that the knock-on effects of higher pricing are good for the neighborhoods where Airbnb operates. "If I am someone who lives in the area and I am earning more, I also spend more. And where do I spend it? Well, in my area. Not everything is black and white, there are many gray areas and these Airbnb rentals have many benefits."
Emanuelli of the Habitat International Coalition says the city government should impose restrictions on the Airbnb model to stem the tide of displacements due to high rents. She adds there should be official information available on how many apartments are offered by the platform and where they are located, in order to limit the number of Airbnb properties in certain areas. Another measure, she says, would be to restrict Airbnb rentals to properties where the owner lives, to avoid whole floors or buildings being taken up by apartments available on the platform. "This is the original formula Airbnb was based on, within the collaborative economy, of sharing an extra room with someone from another city. That does not increase prices as much as when a whole house is being rented," Emanuelli explains.
Forced to pack up her belongings and look for another place to live, Diana Gatica once again becomes anxious about the possibility of history repeating itself: "I might find something, but will I be kicked out again in another three years' time? What am I supposed to do?"
Sign up for our weekly newsletter to get more English-language news coverage from EL PAÍS USA Edition