Need to rekindle the passion? Sleeping in separate beds might be just what you need
Having different bedrooms, in addition to improving rest, can become an incentive when it comes to sex
When Raquel, a 35-year-old woman from Madrid, was a child, she found out that her grandparents slept in separate rooms. This was upsetting: "I thought that they were going to break up. I didn't dare ask my parents because I was embarrassed, but I was worried sick for weeks. If they shared a bed, I couldn't understand why my grandparents didn't, if they were also married." The perception that something was wrong was not unreasonable, considering that a couple deciding to sleep apart is seen by most as a red flag.
Clinical psychologist María Hurtado explains that this is a recurring theme in couples therapy – present in 30% to 40% of her consultations – and one of those that trigger the most arguments. "Many are shocked, but we need to normalize that, depending on the circumstances, it is better to sleep in different rooms and put an end to the myth that when we are in a couple we must do everything together," she says.
The specialist explains that at the beginning of a relationship, nothing really bothers us; sleeping apart is the last thing on our minds, if we can help it. However, when dopamine (a substance that generates pleasure) decreases, giving way to oxytocin – the so-called cuddle hormone – affective bonds are stronger than passion, and rest and comfort become a priority. That is why she sees many cases of married couples in their late 50s who choose to spend their sleeping hours apart.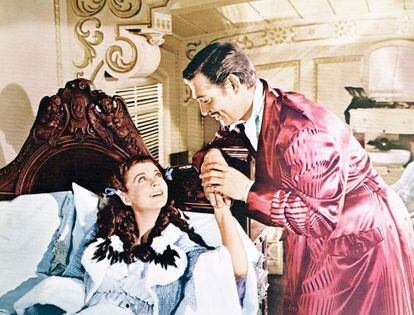 María and Fernando, 34 and 39 years old, are a couple living in Alicante, Spain. From the moment they moved in together, they wanted to have their own separate bedrooms. "I have always thought that it is very important to keep our individual space. If the relationship is taken care of and everything works between us, as is the case, there is no need to sleep stuck to each other. Also, you rest better when nothing bothers you, and while we sleep we can make noises or move too much, unconsciously," says Fernando. "Our friends often make faces when we talk about it, almost as if we were a couple of weirdos or our relationship was about to go belly-up. But it's quite the opposite. I feel that our bond is even stronger. We have many moments of intimacy that don't have to be constrained to the bedroom or the night, and we also spare ourselves many complaints and bad moods," reflects María.
A survey carried out by the National Sleep Foundation of the United States in 2015 revealed that 25% of couples sleep in separate beds and 10% in separate rooms, without this meaning that there is a problem with the relationship. On the contrary: according to the experts who conducted the study, this could bring great benefits to couples. People as well-known as Melania Trump, who decided to sleep in a different room than her husband in the White House, or Queen Elizabeth, who did not share a bedroom with the Duke of Edinburgh, have been doing this for years.
The summer heat waves being recorded in many parts of the world, with temperatures so high that the slightest touch is annoying, have encouraged many couples to seek distance at bedtime. Snoring, insomnia and different needs in terms of room temperature and schedules are some of the most common reasons that lead to this decision. In these cases, the specialists themselves are the ones who recommend it.
In 2016, the Paracelsus Medical University in Nuremberg, Germany, published a study showing that sleep problems quickly lead to relationship problems; a finding that supports what the University of California, Berkeley, found out in a 2013 study – when one person's insomnia affects their partner's sleep, the relationship suffers.
When one can't sleep because of their partner, it leads to frustration and rejection. "It makes us irritable and puts us on the defensive," comments sexologist and couples therapist Eva Moreno, who adds: "We get love and sex mixed up with the act of sleeping together, and it shouldn't be like that." Sleeping in separate rooms or beds does not mean that you will not continue to share a bed for other activities; quite the opposite. The sexologist says that, regarding sex, this can turn into an incentive. "Being apart leads us to ask the other to come with a spicy message, for example, or to take the bed by assault. It can bring the spark back in long-term relationships. It also leads us to be a little more imaginative and not constrain sex to the bedroom, because it is something we can do at any time, not only at night, and in any corner of the house," says the expert.
What's more, a relationship can be nurtured outside the bedroom, with communication, common interests, frequent displays of affection and fairly sharing household duties. "There are many ways to keep the complicity, and they all involve sharing quality time: spending a while simply talking about our day or about a book that we loved, going for a walk or having a drink without distractions," says Hurtado.
The Covid-19 crisis exacerbated sleep problems, and led to more conflicts in relationships. For this reason, having separate spaces during the day as well as at night has become, since the pandemic, essential for a lot of people. The same is happening now with the high summer temperatures that many places are experiencing. The trick to coming out of these situations stronger is to listen and attend to the needs of the other. "The need to sleep apart does not mean that we cannot share a bed from time to time, either on vacation or on cold days when we feel like keeping each other warm," Moreno and Hurtado agree.