From Covid denial to the ICU: 'My husband didn't believe the virus existed'
EL PAÍS speaks with three people who did not get vaccinated and ended up in critical care due to the disease. They explain how their opinions of the vaccines have been changed by the experience
Internet, television, blood clots, people, social media, side effects… Elena Dragan is going through the list of reasons that scared her enough to not get vaccinated against Covid-19. All of her family opted to do the opposite: "My son, my husband, my sister, my brother-in-law… everyone except me," she explains. "I didn't have the courage."
Now Elena is at home, and she is still testing positive for the coronavirus. At least she no longer requires oxygen. Several times she mentions how she had "one foot in the grave." She spent several weeks in Madrid's Princesa Hospital, and seven days in the intensive care unit (ICU). "I don't know how to thank the doctors who saved my life, and I will get the vaccine as soon as I can," she says. This 50-year-old is one of the small percentage – just 2.6% – in her age group in Spain who is yet to get a single dose of a Covid-19 vaccine.
In the Madrid region, 88.6% of the target population (i.e. the over-12s) has been vaccinated, while the average for all of Spain is 89.5%. Experts, healthcare workers and politicians are keen to persuade the remainder to get inoculated. The vaccines, they have said over and over since the campaign began, "work, are safe and effective."
The progress of the pandemic in Spain over this last year has proved this to be true. In November, data showed that six out of 10 patients in the ICU were unvaccinated. And over the last two weeks, data that the Health Ministry has begun to publish broken down by the vaccinated and unvaccinated has provided more evidence of this.
According to the latest national statistics (from December 2, and not broken down by region), infection rates among those who have not been vaccinated double and even triple those who have. In terms of those with serious illness caused by Covid-19, these rates are even higher, as much as 16 times. For example, in the 60 to 79 age range, the rate of the unvaccinated who require hospitalization is 46.2 per 100,000 inhabitants, compared to just 2.8 for those who are vaccinated.
According to Fernando de la Calle, a specialist in tropical diseases at La Paz and Carlos III hospitals in Madrid, "it has been clear to see on the wards that the vaccine works, right from the start."
De la Calle adds that there has been an increase in hospitalizations in recent days. "It's sustained, and we need to be vigilant, but it is not excessive," he explains. The Madrid region currently has 464 Covid-19 patients in hospital, and 133 in the ICU, according to the latest report from the regional authorities released on Tuesday. "And the vast majority of those who have ended up in the ICU are unvaccinated," the doctor explains.
Covid, he continues, "is still aggressive, and has been from the first wave." But there is a difference, he adds: "Now we have a weapon to avoid it, and there are people who don't want to use that weapon. The cases that we are seeing now are particularly painful because they could have been avoided – terrible pregnancies, for example, which are doubly dramatic. Or young people, aged 50."
Like Elena Dragan, who is exactly that age. Or Carmen Terrazas, who is just about to turn 50. Or Manuel Ríos, Nicoleta Bizega and her husband, all of whom are in the same decade. All of these people, who opted not to get vaccinated for a variety of reasons, are now recovering from infection. Four had to be admitted in the ICU for treatment. And all of them, without exception, now say that they will get vaccinated as soon as they can.
In the Madrid region, since August 21, only a month has to pass between a Covid-19 infection and vaccination if you are under the age of 65 – provided that the clinical condition of the patient allows for it. One of the aforementioned people has been able to do this. Here is his story.
Manuel Ríos, 78 days in the ICU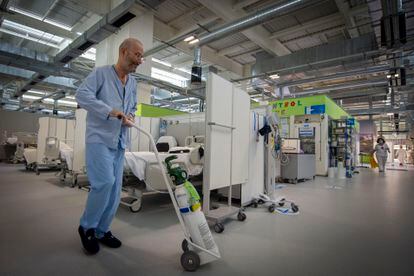 He still coughs once in a while and his ears pop. "It's as if I were underwater," explains Manuel Ríos. He doesn't know where he got infected with the coronavirus but he went to the beach in the summer, and after three days with a 38ºC fever he returned to Madrid. At the age of 51, and "never having smoked," he started to have difficulty breathing. He went to the emergency room, was admitted into hospital, and in under 24 hours he was taken to the ICU. He was intubated, and ended up spending 78 days there. "I nearly didn't get out of there. Could I have died? I could have, that's what the doctors thought, that I wasn't getting out of there."
Ríos, a cleaner at a public elementary school in Madrid, was not vaccinated. He's yet to be able to return to work. "Frankly, because I didn't trust the vaccine," he explains. "To have created it so quickly… It didn't give me much confidence." His family and his friends cited the same reason to not get inoculated. Only his eldest son, aged 25, opted to do so. He is telling his story sat in the chair next to his bed in the Enfermera Isabel Zendal Hospital, where he has been recovering for a month.
"I have a lot of aftereffects from the virus, in particular in my lungs," he explains, as he stands up, supporting himself on the cart carrying the oxygen tank that he still needs.
He says that he was never scared because he had no idea what was happening. He only remembers having a lot of dreams, about "surreal things." He says he never wants to go back to that induced coma. "I never want to experience this again, nor for it to happen to any of my family or friends."
He still believes that getting the vaccine is an individual choice, "for each to take," but that after seeing the consequences he will get his. "My opinion has changed. Clearly."
Carmen Terrazas: 'You never think it will happen to you'
She can't get out of bed. She's also in the Zendal and has been there for three months now. This morning, at the end of November, she has just got back from rehabilitation and says that she is "exhausted." Carmen Terrazas is having trouble speaking, but she says that she got "sick" on August 28. "I had the shivers and I said, 'Oops, this is Covid…'"
She believes that she caught it at home, because she had been with someone who was infected. She quarantined, took Paracetamol, and got a positive result back from an antigen test. She tried to hang on for another two days, but ended up going to La Princesa Hospital. From there, she was taken to the Zendal. She doesn't remember exactly which ward she was on when it happened, but one day she fainted. "When I woke up, two months had passed." She had spent them in the ICU.
The reasons this nearly-50-year-old had to not get vaccinated were several. "First because I was a little scared of the vaccine. Then I went on vacation. Afterwards, I went to the [WiZink Center arena, a mass-vaccination site in the center of Madrid] and there was a huge line, and I thought, 'I'll come back another day.' After that, I started preparing my daughter's school things and I just forgot about it." But she states categorically, without even being asked, that she is not a "denier." She adds that her brother got infected at the start of the pandemic and that her whole family is vaccinated.
"You never think that it will happen to you, and then it does. I was suffocating, I can't take care of myself, I've spent three months like this… And I don't know what's to come. Who still hasn't got vaccinated? I'm not judging, everyone should do what they feel. But being here, I've realized that the majority of those who are here too are unvaccinated. The statistics say it all," says Terrazas, straining herself to keep talking after three minutes.
Nicoleta Bizega: 'My husband didn't believe the virus existed'
Nicoleta Bizega is talking quietly. She is in a hospital room in the Madrid municipality of Torrejón de Ardoz with her husband, who has just got out of the ICU where he spent 11 days intubated. She says that she has been very scared. "It's better not to think about all of that," she says. But she does.
Pedro, 57, was hospitalized on November 6 after a week at home steadily getting more sick. He thought it was a cold. Bizega, 52, who also had mild symptoms, tried to persuade him to go to the hospital – just as she had tried to persuade him to get vaccinated. "I believed from the start that there was a virus, but my husband didn't – he thought that the virus didn't exist, or he didn't want to believe that it did."
She takes a couple of minutes to explain that "misinformation, what you hear from here and there, the TV, good opinions and bad, like with everything, people who say what they think but sometimes without knowing what they're talking about, and those who say yes and those who say no, and you end up not knowing what to think…" Those were the reasons her husband decided not to get his vaccine. She had still not got hers because she had spent several months traveling to and from Romania, her home country, because her mother was sick. When she was about to get vaccinated, she got infected.
The couple lives in the municipality of Arganda del Rey, and Bizega explains that her usual social circles were different. She is studying to be a Jehovah's Witness, and the people she regularly spoke to "never denied the existence of the virus." But out and about, she would hear "a bit of everything." "When you go to a store to do the shopping, someone says yes and someone else says no. There are some people you can't argue with and in the end, everyone ends up making their own decision."
She has made hers: as soon as she can, she will get vaccinated. "And my husband now has another opinion, the opposite one, he has now realized. Of course, the vaccine doesn't guarantee you won't get infected, but the experience won't be the same if you are vaccinated compared to if you are not. No one thinks that these things can happen to them, but they can happen. And they do."