The other effects left behind by the coronavirus crisis in Spain
The pandemic is having a deep impact on all areas of life, with fear of contagion changing work and social interactions, and even sexual relations
"Life can't just be working all week and then going to the supermarket on Saturday. It just can't be. That life is not human." So said paleoanthropologist Juan Luis Arsuaga in a widely shared interview with EL PAÍS last year. At the time, the Spanish government had declared a nationwide home lockdown in a bid to control the coronavirus pandemic. Nearly one year on, Alberto del Campo, a doctor in anthropology, has taken a closer look at this idea. In his new book La Vida Cotidiana en Tiempos de la Covid (or, Daily Life in Times of Covid), Del Campo pulls together a dozen studies that investigate how the health crisis has impacted daily life, turning what was once simple and routine into highly prized activities. The newly unemployed who dream of going back to work, the working mothers overwhelmed without their support network, the youngsters who have had to change their sex lives, the people who want to wake up without being afraid of contagion – these are just some examples of the other effects left behind by the pandemic.
"Beyond the number of patients, deaths and unemployed, the pandemic is also a crisis in daily life, in our way of relating to, communicating and having fun with one another, of traveling, studying, dividing household chores; in essence, in how we are, what we think, feel and how we act day-to-day, " says Del Campo, who is a professor at the Pablo de Olavide University in Seville.
The social anthropologist saw the impact the pandemic was having on everyday lives and called on experts in his fields and other related areas to shed light on these effects. According to Del Campo, while these changes are easy to miss given the scale of the coronavirus crisis, they are still significant, as they may lead to a different type of post-pandemic society.
"The coronavirus is not just an agent of change, but also an activator, a stimulant for change," explains Del Campo.
Here is an overview of the main ways the coronavirus pandemic has scarred society.
A longing for routine
When sociologists from Granada University studied the results of a survey into the effects on social changes caused by the pandemic, they noticed something unusual. When respondents talked about their needs, desires and hopes, the most frequent words they used were: going out, friends, family, going for a walk, being able to, doing. "We find two categories that express certain nostalgia for pre-pandemic daily life, such as routine and calm, very interesting," say Ángela Mesa-Pedrazas, Ricardo Duque-Calvache and José Manuel Torrado, the authors of the study, which was based on interviews with 3,000 people. "Routine, which in other contexts has negative connotations, such as boredom and monotony, is desirable. People are tired of living in extraordinary and interesting times," they say.
"We spend the bulk of our time on practices that, while not always having a set time, allow us to continue functioning as a society, such as household chores, travel, the working day and gathering with our family and friends," the sociologists explain. "We assume that such time and activities are a routine part of life, of everyday living that is the sum of the actions we do more or less periodically. Many of these actions also imply relating to other people and all individual realities have this in common: social contact."
The authors also highlight how the coronavirus restrictions on movement were perceived as "more bearable" by respondents during the complete home lockdown in spring than during later stages, when there were fewer limits on travel. "It's as if this little mobility woke an appetite that had been repressed for weeks just from being able to go on longer trips," they explain.
Vulnerability, distrust and skepticism
"We believed that we were safe from ills, misfortunes, disasters and pandemics that could hit the planet," says Luis Díaz Viana, professor of investigation at the literature and anthropology department at the Spanish public research institute CSIC.
Díaz Viana says that the old and the young have responded very differently to the new reality brought about by the coronavirus pandemic. In the case of youths, "they have taken confinement as an early holiday or an escape from exams that did not look good." "They did not get used to there being deaths from the virus among people of their age," says Díaz Viana. The oldest age groups, on the other hand, "are leaving the crisis with disbelief, distrust and skepticism toward a system that we believed was better than it was," he explains.
According to the professor, the system's "monumental shortcomings and unhealthy globalization effects" have been exposed, revealing "a classist, unfair and ruthless system for the weak who are those who are left out of the productive circuit. We already knew this, but starkly suffering the consequences of it should open the eyes of those who have not had theirs opened already. But it does not seem like this will happen. Some have not worked it out and others don't even want to know the importance of this unannounced crisis."
Change of pace
José Antonio González Alcantud, professor of social anthropology at Granada University, says that before the pandemic society was like a "hummingbird" – constantly on the move. "Stopping meant insignificance, social death, going out without any glory and, of course, depression," he says. "In the pandemic, we have seen the withdrawal of the 'hummingbird' man to give way to an artificial dandy [who] rejects the outside world and shuts in around the fire of the domestic home."
"The pandemic has made us extremely intimate again, almost excessively so, focused on our subjectivity," says González Alcantud. This new reality has given rise to more fears of succumbing to boredom. "People in general have not experienced this scare because their lives have been filled with new intensities, such as surviving from day to day and being alert to the news, watching the pandemic like a real war whose fronts have to be covered every hour," he says.
The home has also been "reappropriated," says González Alcantud, as a "kind of snail's shell, as protection against outside elements, unknown perils from the street, from formless life." This is the case for both "bourgeois homes," filled with creature comforts, and the overcrowded, "cold and dispirited" proletarian home.
The toll of remote working
"The sudden implementation of teleworking has revealed some tensions and contradictions in terms of world-life balance that show that it is far from the utopian ideal some considered it to be," says Hugo Valenzuela-García, a doctor in anthropology at the Autonomous University of Barcelona. According to Valenzuela-García, remote working has exposed the growing inequality and tension caused by the "difficulty of balancing the productive sphere (work) and the reproductive sphere (home)."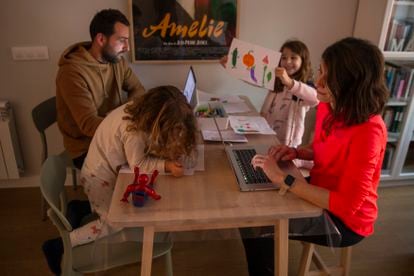 A survey on teleworking carried out by Valenzuela-García pointed to some of the first disadvantages of working from home, with employees complaining they were working longer days and given a greater workload, which made them feel overwhelmed and over-exploited.
The survey also highlighted the feeling of loneliness and longing for social contact and face-to-face relations. "This response underscores an aspect of work that is rarely praised, but is undoubtedly crucial: its social significance, specifically, the emancipation and integration of the individual in a wider social fabric," says Valenzuela-García. He adds that the fact teleworking is often considered to be less productive is evidence that "socializing through technology" such as video conferences and chats, "is not perceived in the same way as it would be in person, possibly because the sense of interaction is diminished."
Respondents also recognized the difficulty of separating home life from work life. According to their replies, this balance was reestablished "when it is possible to establish clear distinctions between time and work spaces, set down routines, equally redistribute household chores, set reasonable goals and apply practical strategies to separate both worlds (setting time to respond to emails, disconnecting the phone, turning off screens).
Working mothers
The closure of schools, new social-distancing rules and the move to remote work "forced an abrupt reorganization of family life, which was deprived of the social support usually provided by the education system, extracurricular activities and support network of families and carers," say anthropologists Serena Brigidi, Fabiola Mancinelli and Marta Ausona Bieto in a study also signed by Juan Leyva-Moral, from the nursing department at the Autonomous University of Barcelona.
The "women-mothers-workers," identified by their initials in Spanish as MMT, have had to juggle multiple roles to adapt to the new circumstances, forced to balance professional commitments with helping their children with home learning and looking after the home. Examining survey results, the authors found that even teachers "expected mothers to be responsible for making sure their children correctly followed activities." According to their study, teachers would warn mothers if "homework was not sent or done poorly." In contrast, "fathers were not expected to take part in this monitoring and indeed, they rarely did, creating tensions with their partner," the researchers explain.
According to the study, the coronavirus lockdown also took away the physical and mental space of working mothers from middle- to upper-class backgrounds. "The MMT of this investigation confessed their doubts and internal struggles with the ideal of the responsible, present, productive and organized mother, which was, in part, explicitly demanded of them by their partners, children, even teachers at school, and in part, self-imposed. They spoke of feelings of blame for not being able to do everything," the study concludes.
Regarding men's behavior during the lockdown, the researchers also observed "an inversion of roles with respect to household chores that require going outside." The study found: "Those which were normally done by women, like doing the shopping or taking the dog for a walk, began to be done by men [...]. The moment that a domestic chore became a privilege, it stopped being exclusively assumed by women."
Fear and insecurity
"Faced with the threat of the coronavirus, most humans have felt afraid. And that is not from being a man or a woman, from being young, an adult or old, from being rich or poor, educated or not; nearly all of us have felt afraid of the virus," according to the study by Ana María Huesca González, a professor of sociology and criminology at Comillas Pontifical University in Madrid.
But Huesca says that this fear – despite being a "common nexus" – "divides more than unites." "More than creating new ways of thinking, feeling and acting together, this new society that we are seeing develop is up against a proliferation of multiple realities based on extreme individualization," she warns.
The sociologist highlights how the widespread feeling of insecurity due to the pandemic and its economic repercussions "is the best way to ensure that all of society accepts any decision that presumably reduces the threat, even if it means reducing rights and freedoms."
But this is difficult to achieve given that the consequences of the health crisis are not the same for everyone. "The gap between insiders and outsiders will be wider than ever: [the pandemic] is not a problem for the winners because they have the means (they can get the diagnostic tests they need), the necessary home conditions (large houses and homes with access to a garden), the ability to remain connected (they are well adapted to living online) and adaptive values to the change of epoch (possessive individualism). For the losers, it is putting yet another obstacle in the way of their possibility for development," the study concludes.
Sexual relations
"What risks or changes in the sexual-emotional model could arise from the combination of desire, sexual need and Covid?" ask political scientist Rebeca Cordero and criminologists Jorge Ramiro Pérez and Antonio Silva. "Based on our experience, we have identified the existence of two clearly differentiated groups: those who accept the lockdown and manage their desire avoiding physical interactions with others, and secondly, those who for different motivations decide to move to the physical plane for interactions," the researchers state. In their study, the researchers point to "a possible paradigm shift" in the sexual-emotional model, marked by a "return to a type of love that is closer to the traditional."
This shift has also been reflected in dating apps such as Tinder, with users discovering that "deep and exploratory knowledge is more satisfactory and beneficial than the ideal of immediate consumption present in fastlove." The study adds: "This possible paradigm shift sheds light on the work of self-awareness that has prompted some people to decide what they do and don't want. Some have even confirmed that for them, sex is of the least importance right now."
After carrying out three different investigations into the users of dating apps, the researchers divided them into five categories based on their attitude to relationships. They are:
"Reinvention. Those individuals who break with the fastlove paradigm, establishing more profound links of understanding with the other, without looking for physical contact in the middle of a pandemic and prioritizing the common good over the individual.
"False sense of security. Those who look for physical sex with people they know believing that the fact that they have had previous contact with them, makes them less dangerous. It is a mistaken perception, given that prior contact does not stop them from being vectors of contagion.
"Individualism. People, who from a hyper-individualistic perspective, look to satisfy their needs: sex, drugs, physical contact, etcetera, without any control.
"Taking advantage of the vulnerability of others (paying for sex). This category applies to those situations in which an individual, knowing the difficulties facing others (due to Covid), decides to pay people in a situation of social fragility for sex.
"Survival mechanism. In this last category, are people who accept the practice of physical sex for money, to alleviate their economic hardships."
English version by Melissa Kitson.