Spain's Covid-19 contact tracers: 'All our energy is being put into containing the coronavirus'
EL PAÍS spoke with the professionals working around the clock to help curb transmission of the deadly disease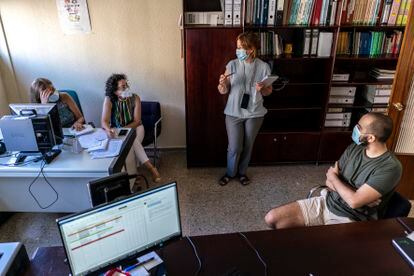 Last Wednesday, mid-morning, nurse Mari Luz Salado performed a PCR swab test on a patient with coronavirus symptoms – patient zero – at the health center in Navas del Madroño in Spain's western region of Extremadura; that night the result came back positive.
When José Eloy Durán, coordinator of the outpatient clinic, received the news early Thursday morning, he already had a list of five people who had close contact with the patient and a team of trackers on the case. By noon, the list had grown to 30, and included co-workers and family members. A few hours later, all the contacts had an appointment for a PCR test and were informed that they had to quarantine for two weeks.
Many people are unaware of the number of daily interactions they have

Ana Bejarano, director of public health in Cáceres province
"It is essential to act quickly and be one step ahead," explains Durán. "It is impossible to contain the virus without tracking." Spain has 3,500 contact trackers, according to data collected by EL PAÍS from the regional authorities, but it would need more than 8,000 to control the Covid-19 epidemic by international health recommendations.
"We're detectives," jokes Dr María Dolores Tejero, who works in the Cáceres health department. Tejero belongs to a team in charge of coordinating and updating the data that arrives from the 23 health centers in the Extremadura region. Since May 11, this group of doctors, nurses, pharmacists, newly qualified doctors and veterans have been combining contact tracing with the usual demands of their professions. In a modest room, with a couple of computers and pieces of paper with arrows linking one name to another, the team has just pieced together a network of people who have had some type of close contact with coronavirus cases.
According to criteria of the Spanish Health Ministry, a "close contact" refers to anyone who has been in immediate physical proximity to patient zero without the recommended protection or who has shared an closed space or been closer than two meters for more than 15 minutes. This could be anyone from a partner or a family member to a passenger in the next seat on the bus or a guest at a dinner party. Finding these individuals is a tracker's job. The investigation begins when a person is diagnosed with Covid-19. "Are you sure they didn't meet staff from the other company you work for?" they might be asked. "But were they wearing masks? How long were you with him?" The questions are exhaustive.
Ana Bejarano, director of public health in Cáceres province, says it's also important to do a second round of questioning. "People tend to think only of their family or the people they live with," she says. "Many people are unaware of the number of daily interactions they have. Maybe you talk to your neighbor for a while inside the lobby of your building, which is an enclosed space, and you don't give it much thought."
Durán knows from experience that even small encounters are important. Early last week, the health center he coordinates reported an initial outbreak among three people, a figure that rose to five after a follow-up investigation. All of the secondary infections were asymptomatic and three of them tested positive after enjoying a few beers with patient zero at an outdoor sidewalk cafe – without wearing a mask.
"It is a team effort that requires coordination between hospitals, primary and public healthcare. That's the key," says Bejarano, who also emphasizes the importance of basic civil responsibility. "Some people have been more reticent and there are those who think we are exaggerating, but most collaborate."
Spain has 3,500 contact trackers, but would need more than 8,000 to control the Covid-19 epidemic, according to international recommendations
Bejarano walks around with a notebook at the ready and a cell phone that rings constantly. She answers and says: "Yes? Did the priest give her communion in her hand or in her mouth? Ask him again because it may be a casual contact, I don't think it's a close one. Although we'll wait for the outcome of the PCR and, meanwhile, he should keep isolated."
Once the call is finished, Bejarano explains: "Our role is to prevent the transmission of the virus. We are very strict in that sense and this means that, if there's any doubt, we consider it a contact."
"Call just in case" is the mantra the trackers work by. The coronavirus pandemic is far from over and no one wants to hear the words "second wave." In another corner of the department, Dr Jesus Pérez scribbles on a pad, adding to a list of the number of positive cases and their locations. Written next to the words "Tordecilla de la Tiesa," a municipality in Cáceres province, is the number two and a big asterisk. One more positive case at this location and it would be considered an outbreak. According to the Health Ministry, an outbreak is defined as three or more cases with an epidemiological link, or one case at a senior residence.
A total of 15 outbreaks have been reported in Extremadura, 12 of them still active, according to sources from the regional health department. As of last Friday, there were still 204 active Covid-19 cases in the region, and 889 contacts under medical surveillance.
The hours fly by and the day comes to an end. The next step for the contact tracking team will be to wait for the results of the PCR tests carried out in the past 12 hours and, if any should test positive, start the process over again.
Bejarano goes home to two teenagers and a pile of work. At midnight the data will be updated and she will be on her screen to take a look. "I can't go to sleep anymore without knowing what's in store tomorrow," she says. "All our energy is being put into containing the coronavirus."
English version by Heather Galloway.