Coronavirus outbreaks in Aragón, Catalonia cause spike in Spain with 580 new cases detected in a day
The Health Ministry on Thursday reported the highest number of infections in two months, and a record amount of hospitalizations since the statistical system was modified in May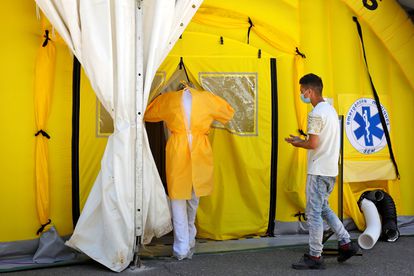 If the novel coronavirus was ever under control in Spain, it seems clear that this is no longer the case – at least in Catalonia and Aragón. What began as localized outbreaks among seasonal workers in Huesca and Lleida has now arrived in the capital cities, Zaragoza and Barcelona, where there is "not inconsiderable community transmission," according to Fernando Simón, the director of the Health Ministry's Coordination Center for Health Alerts, speaking on Thursday evening.
The daily data that Simón presented from the Health Ministry last night shows that the coronavirus figures have shot up due to these two major outbreaks: 580 positive cases in a day, a figure that has not been seen for more than two months. And while 70% of these infections are asymptomatic, the number of hospitalizations, 196, and admissions into intensive care units (ICUs), 17, are creeping up too. Both weekly figures are the highest seen since the ministry changed the way it keeps count of the data on May 25. Before this date it is practically impossible to make comparisons given the methodological change. In both cases the rises are due to Aragón and Catalonia, Simón explained on Thursday. In the rest of Spain, he added, there are more and more free hospital beds.
According to Thursday's report, there have been nine Covid-19-related deaths in the last seven days in Spain. The total number of fatalities during the crisis, as confirmed by PCR tests, currently stands at 28,416.
Simón described the situation in these two Spanish regions as "worrying." Just a week ago, the health chief said that he trusted that the outbreaks in four of Huesca and Zaragoza's comarcas – a traditional territorial division in parts of Spain – were on their way to being controlled. In fact, the problem now is not in the area, Simón explained last night, but rather in the capital and in bigger cities and towns. "We believe that some seasonal workers have returned home and have taken the virus with them," he said.
The problem of fruit pickers will be with us until the fall, he explained, given that these are essential workers who have to continue to travel throughout Spain from area to area to follow the harvests, although he added that he hoped that precautions being taken will reduce the impact in the sector.
Fruit and vegetable companies account for a huge proportion of new coronavirus cases. While they are the center of just 10% of the 158 active outbreaks in Spain, they account for 40% of the 1,963 cases that have been detected.
What most concerns the Health Ministry, however, are possible outbreaks in Spain's nightlife. "These could implicate people in multiple locations who generate a diffuse transmission everywhere that they have been," Simón explained. "Risky practices in this context are, what's more, much more significant than in other types of groups where there are outbreaks. That is why we repeat our request: you have to have fun, but you have to learn to do so with care, in a different way."
The increase in cases has been preceded by a rise in suspected cases, which have gone up from 50,000 last week to 54,000 this week. What's more, the percentage of PCR tests carried out has fallen, to 92% of the total. The average age of new cases continues to fall, to 46 in men and 50 in women.
SImón explained that, in general, there are resources to track and trace cases, although there are areas that are under strain. He did not specify where these are. He also added that there will be regions that will have to strengthen these resources ahead of the fall.
Health chiefs met on Thursday with the health minister, Salvador Illa, to discuss the situation and to approve an early response plan aimed at controlling the pandemic. Two new improvements were added to the measures that had already been presented earlier in the week, according to the ministry: special monitoring in prisons, given their "special characteristics," and monitoring of people with chronic conditions, for whom an outbreak could mean "a serious problem."
The plan also includes procedures for particularly vulnerable collectives, such as irregular migrants who enter the country. "Specific measures will be adopted for the early diagnosis of these people," the ministry stated in a press release.
English version by Simon Hunter.