Couples separated by coronavirus travel ban: 'If I'm hit by a car, he won't be able to come see me'
EL PAÍS asked people who are desperately waiting to reunite with their partners how the Covid-19 pandemic has impacted their plans and relationships
Laia González ran to the train with her high heels in her hand, and jumped on board. Jonathan was waiting inside for her. She had never seen him before, but she knew she loved him. It had started with the dating app Tinder; then came the phone calls, and now there they were – Laia, a pharmacy student from Catalonia and Jonathan, a US military nurse – seeing each other for the first time on a train from Seville to El Puerto de Santa María. A train she had almost missed.
One year later, Laia, a 22-year-old living in Seville, is doing all she can to try to see him again. After a brief period at the US naval base in the Spanish town of Rota, Jonathan, 35, was sent back to the United States. They said goodbye to one another at the base in January without knowing that they would be separated much longer than expected. The idea was to reunite in July, but the coronavirus pandemic and the strict travel restrictions that followed have put their plans on hold.
Thousands of couples have backed an online petition calling on more countries to lift the travel restrictions
In the world of cheap flights and dating apps, love is no longer just found between neighbors, work colleagues or classmates, or even on the same continent. Couples from different countries in the European Union have been able to reunite, but the EU still remains closed off to most of the world: only visitors from 15 nations outside the bloc are allowed to enter. In the meantime, birthdays and anniversaries are missed. Vacations are indefinitely postponed. Weddings are rescheduled. Children are born without their father. People recover from illnesses without their partner standing by for support. And there is great unease and uncertainty about when the separation will come to an end.
Some couples from Europe and the United States are meeting up in Serbia and Croatia, which are outside the Schengen Area. But this solution is expensive, given the cost of accommodation, and not viable in the long term. Denmark has opened the door to a more sustainable solution. It is the first country to allow unmarried couples to reunite, but with conditions attached. Anyone who wishes to visit their partner must have tested negative for coronavirus in the previous 72 hours. If a test is not possible, they need to indicate this on a form and will be tested upon arrival. The visitor then has to remain in quarantine until the results are known.
Thousands of couples have backed an online petition calling on more countries to follow Denmark's example under the slogan #LoveIsNotTourism and #LoveIsEssential. These couples have bombarded Facebook, Twitter and Discord with messages demanding action to ensure their plight is not forgotten. They have also formed groups where they encourage and provide comfort to one another. The pressure appeared to be working. On Friday, Ylva Johansson, the European Commissioner for Home Affairs, called on EU members and airline companies to agree to a definition of a couple as soon as possible in order to allow them to fly. But just a few hours later, the proposal fell flat. Germany, which initially appeared to be flexible, said it would not make any exceptions for not legally recognized couples.
In the meantime, Laia González continues to anxiously wait to reunite with Jonathan. On Tuesday she will travel to Barcelona, where she will stay with family until August 30. She is taking her normal suitcase and another one just in case the United States opens its borders. This second suitcase is carrying presents for Jonathan's parents, whom she is keen to meet.
The waiting period has been difficult. Jonathan worked on the US Navy hospital-ship ISNS Comfort, which brought 1,000 extra beds to New York in late March to help treat coronavirus patients. "I cried on the phone and had to take pills to go to sleep. I had a terrible time because he could have contracted the virus. At least now he is home," explains Laia, who says she has sent him 17 handwritten letters since they were separated.
Laia and Jonathan are not the only couple who now live attached to their cellphones to stay in touch. These are some of the stories of other couples who have been forced to remain apart due to the coronavirus crisis.
A German tech executive and a Brazilian journalist
Robin Brüne, a 32-year-old from Germany, met the Brazilian journalist Flávia V.A. Costa on a trip to Brazil. "It was love at first sight," he says. In January Robin, who works for a US tech giant, proposed to Flávia in the picturesque town of Búzios, three hours outside of Río de Janeiro. She was meant to arrive in Germany on March 27 to start planning the wedding, but the pandemic has brought everything to a standstill. Robin has not resigned himself to wait in silence. He is one of the promoters behind the online campaign to lift the travel restrictions on couples. "It upsets me to see that the world is reopening to tourism and forgetting completely about couples," he says. Brazil is one of the countries hardest hit by the Covid-19 pandemic, meaning there is little hope that it will reopen its borders in the short or mid-term. Their summer wedding will have to wait, but the couple are fighting to say "I do" as soon as possible.
From Venice to Siberia
A Russian woman visits Venice after finishing university, but while she is there her cellphone runs out of battery and she is forced to seek help from a young man standing nearby. Then they fall in love. It sounds like the plot of a romantic comedy, but that's exactly what happened last year when 25-year-old Ksenia Rusanova traveled to Italy and met 30-year-old Lorenzo Bellone.
More than 6,000 kilometers separate Venice from Ksenia's home town of Barnaul in Siberia. The last time they saw one another was February 26 in Moscow's Red Square. When they said goodbye at the airport, Lorenzo tried to reassure her. "Don't cry," he said. "We will see each other soon." He was meant to travel to Barnaul and meet her family over the Easter holidays. He did not know that a virus would upset the script. "We tell each other that the wait is worth it, because we have all our life ahead of us to make up for lost time," he says.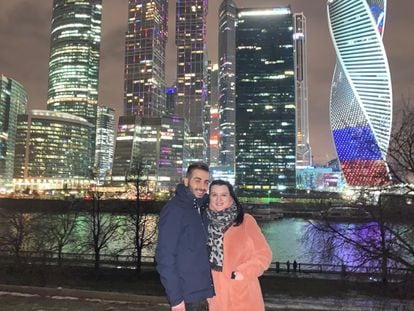 Repatriated by herself
Speaking from a small town near Munich, Martina Mauritsch, 32, explains by phone in perfect Spanish that she had made plans with Héctor Durán until 2022. The two met in April 2019, when she traveled to Cancún in Mexico. A worker at the hostel invited her to have dinner with his friends, and that's where she was introduced to Héctor, a 26-year-old tourist guide in Bacalar. That night they played cards and swam in the lagoon. The farewell came with a promise: he told her he would visit her Europe. Martina, a social worker at a psychiatric clinic, had her doubts. But she was wrong. Héctor came to Europe, and the two traveled across Austria, Switzerland and Germany together. They saw each other again in Cuba in February. That's where they were when the pandemic hit. Martina, a citizen of Austria, was repatriated by her government, but Durán was not allowed on the flight. They celebrated their first anniversary apart, as well as his birthday on June 22. For Martina, the worst part is not knowing when they will be able to meet again and the frustration of not being able to do anything about the situation. "If I'm hit by a car tomorrow and taken to hospital, he still won't be able to come see me," she says. The plan, once the travel restrictions are lifted, is for the two to live between Mexico and Germany.
"Please, let us reunite with our partners"
Natalie, 26, has just found out that the German Interior Ministry is not going to make exceptions to travel restrictions so that couples can reunite. For weeks, she has been campaigning online to make this happen. She met Danny, a 32-year-old from California, on a platform that connects people interested in cultural exchanges and sharing cooking recipes. "I wasn't looking for a date, but we began to talk every day and we fell in love. It's the best thing that ever happened to me," she says. In January, the couple traveled together around Ireland. He was meant to visit her in Baden-Württemberg in June, and she was to see him in August or September and meet his family.
"I feel sad. Some days are worse than others. We have done as many video calls as we can, taking into account our work and the time difference," she says. Natalie works at a company that exports medical supplies and recently moved to an apartment which she can't wait to show Danny, who works for an insurance company. But the moment has had to be postponed. "My relationship is not less important just because I don't have a piece of paper that says that I am married or because he is not European. And it shouldn't matter in the 21st century, with so many different family models and with globalization. So please, let us reunite with our partners."
English version by Melissa Kitson.