Coronavirus cases jump under Spain's 'new normality'
The number of infections detected in the past week has risen to 1,978, compared to the 1,450 reported before the state of alarm was lifted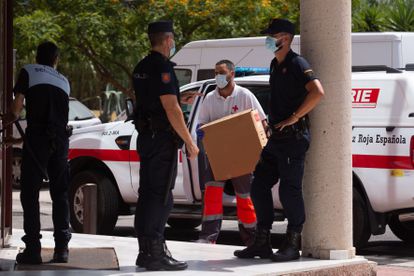 The Spanish Health Ministry reported on Tuesday that 1,978 coronavirus cases had been detected in the previous seven days. This is a significant rise from the 1,450 cases reported on June 20, the day before Spain lifted the state of alarm and entered the "new normality" following a prolonged lockdown and deescalation process. Under the "new normality," restrictions on travel were lifted, although limits were maintained on the capacity of indoor venues and beaches.
Since entering this stage, the number of Covid-19 cases has risen almost every day and nearly all of Spain's 17 regions have recorded outbreaks. The only exception is the northwestern region of Asturias, which has not recorded a single new case in 14 days.
In absolute numbers, the figure is not worrying, but we have to be alert to it

Health Ministry spokesperson
More than 50 coronavirus outbreaks remain active in Spain, but are under control. The most recent outbreaks were detected in Tarazona de la Mancha in Albacete, where four family members have been placed in isolation, and in Castellón de la Plana in Castellón, where 16 family members who came together to celebrate Saint John's Eve are in quarantine.
The Spanish Health Ministry does not provide an exact list of active coronavirus outbreaks, partly to avoid clashes with the regional governments, which are responsible for reporting all cases. An outbreak is defined by the ministry as a group of three or more infections with an epidemiological link, and it is considered active if there has been transmission within the last 14 days. In the case of infections detected in senior centers, one positive case is considered an outbreak, even if the patient is asymptomatic, due to the high level of risk.
Despite this definition, which was made on June 16, each regional authority has their own way of referring to these cases. The government in Cantabria, for example, denies that it has any outbreaks, even though 13 people are in isolation following a spike of cases connected to a building in the city of Santander. And in Andalusia, the regional health chief, Jesús Aguirre, instead uses the English word "clusters" even though the region has two outbreaks in Algeciras, one in a hotel and another in the headquarters of an NGO.
Regional authorities in La Rioja, the Balearic Islands, the Canary Islands and Navarre have not reported any outbreaks of the coronavirus. Nor has the Madrid government, but that does not mean that it has not recorded cases. Madrid is the region that has reported the highest number of infections during the pandemic (71,950, or almost a third of the total), and the region with the second-highest number of cases reported in the past week and 24 hours, with 165 and 29 infections respectively.
"Effectively, this rise in cases is due to outbreaks," explained a spokesperson from the Health Ministry. "In absolute numbers, the figure is not worrying, but we have to be alert to it. We will have to study the trend."
The effort to find cases is reflected in the number of PCR tests for coronavirus that have been carried out. According to the Health Ministry, the regional authorities conducted 179,000 tests between July 19 and 25, of which 1,911 came back positive. In other words, 94 tests were done for every case detected. In the previous seven days, this figure was 89, meaning that the search for cases has intensified. It is important to note that a test is not representative of a single patient, given that a person may be tested several times until it comes back negative.
Irresponsible behavior has been blamed for the outbreaks following the images of overcrowded beaches and people gathering together in local fiestas and on the dance floor. But many of them are connected to family gatherings, like the one in Navalmoral de la Mata in Cáceres, where more than 20 people have contracted the virus. And the most serious situations are related to overcrowding and work conditions.
This rise in cases is consistent with the fact that the epidemic continues, but also that the public healthcare system is detecting it

Federico Arribas, the Spanish Epidemiology Association
This is the case in Málaga, where an outbreak at a Red Cross center has led to more than 100 infections, and in the outbreak among fruit pickers in Aragón, where more than 30 cases have been detected, forcing four areas to move back to a previous stage of the coronavirus deescalation plan. In the neighboring Catalan province of Lleida, five outbreaks have been detected: three of them in a fruit company, one in a meat-packing factory and another in a senior home. There also continue be cases connected to hospitals and in social care centers – three such residences have recorded outbreaks in Valladolid.
But while each outbreak raises alarm, it should not be forgotten that the 1,978 cases reported in the last seven days is just one-fifth of the number diagnosed in a single day of the first week of May.
"This rise in cases is consistent with the fact that the epidemic continues, but also that the public healthcare system is detecting it," explained Federico Arribas, from the Spanish Epidemiology Association. "We continue to be in a pandemic, at no moment has it disappeared, meaning it is very likely that we will see groups of cases. Epidemiological monitoring services and assistance services are on alert, which is why they are being detected earlier. More PCR tests are being done when a case is detected among their contacts, meaning more cases are identified."
Ildefonso Hernández, an official at the Spanish Public Health and Health Administration (Sespas), adds that contact tracking is key to controlling outbreaks. "Keeping in mind the difficulty, not only of reducing the incidence of new Covid-19 cases, but also of maintaining a stable incidence, as shown in the data of countries that have been praised up to now, utmost attention should be paid to the monitoring [of cases] and adhering to preventive measures."
José Rivera Torres, a professor of virology and genetic engineering at the European University of Madrid, says the figures should spark a reflection on "the individual habits we have been developing since the end of confinement." According to this expert, the number of cases "is relatively normal given the infectiousness of the virus."
English version by Melissa Kitson.