Daily coronavirus death rate in Spain rises slightly once more, to 551
The rate of new infections is holding steady at around 3%, a rise that the health authorities have attributed to more widespread testing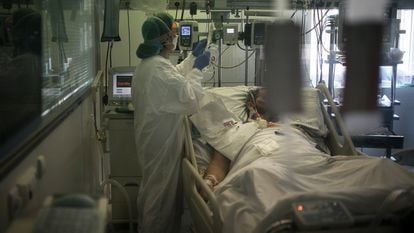 Spain saw 551 coronavirus-related deaths in the last 24 hours, according to figures supplied on Thursday morning by the Spanish Health Ministry. This was a slight increase on yesterday's figure, which came in at 523.
So far during the coronavirus epidemic in Spain, there have been a total of 19,130 official fatalities due to the Covid-19 disease, with 182,816 confirmed infections and nearly 75,000 patients who have recovered and have been discharged from hospital.
The rise in cases was 2.9% today in Spain, when two weeks ago the rate was 7%

Health Minister Salvador Illa
Despite today's slight rise in daily fatalities, the Spanish health authorities said on Thursday that there was still a continuing downward trend for hospitalizations and ICU admissions due to Covid-19, a result of the nearly five weeks of near-total lockdown that has been in place in Spain since a state of alarm was implemented by the Spanish government on March 14.
The number of daily fatalities came in at 567 on Tuesday, 517 on Monday and 619 on Sunday. Reporting delays due to the Easter weekend are thought to have contributed to these fluctuations.
The peak of daily deaths was seen on April 2, when there were 950 Covid-19-related fatalities.
The rise in registered infections rose slightly on Wednesday, however, to 3% of the total, a phenomenon that was attributed yesterday by Fernando Simón, the director of the Health Ministry's Coordination Center for Health Alerts, to the testing kits that are now being widely distributed across Spain. Until recently, only patients with more severe symptoms were being tested.
A similar rise was seen in Thursday's new infection rate, which came in at 2.9%
Speaking at a weekly congressional commission to provide information about the coronavirus crisis, Health Minister Salvador Illa began his appearance by "recognizing the boys and girls who are behaving in an exemplary manner," in reference to the children across Spain who are unable to leave their homes under the strict measures in place under the state of alarm. "We are aware that the confinement is affecting their health, but we are following the progress of the epidemic so that they can get out on the street when it is possible in an ordered manner."
We have reached the peak and we must flatten the curve

Fernando Simón, the director of the Health Ministry's Coordination Center for Health Alerts
Illa also referred to the infection rate. "The rise in cases was 2.9% today in Spain, when two weeks ago the rate was 7%," he explained. "So far 40.5% of patients have been discharged from hospital," he continued. "With a huge effort on everyone's part, the adequate response for patients has been guaranteed and cases are falling. We must maintain the capacity that has been installed until now and there are difficult weeks ahead, for which the health system must be on alert. We have to be very prudent."
Meanwhile, while Illa was speaking in Congress, Fernando Simón was holding the government's daily coronavirus press conference. He also addressed the higher infection rate than that seen earlier in the week. "Increasing testing is making the number of cases rise, but in some cases they are people who had the disease some time ago and others are asymptomatic," he explained. "While this poses a challenge from a communication point of view, it is good news."
Simón explained that at least 1,312 infections had been detected thanks to serological tests, which detect the antibodies for the virus in a blood sample and can be used to identify people who have overcome the disease or not showing symptoms. The PCR test, in contrast, detects if the virus is currently active.
Simón said that while "there is still a large number of fatalities, the number of patients in hospital and ICUs [intensive care units] continues to fall." Simón explained that there were only 1,003 hospital admissions on Wednesday, and 79 patients taken into ICUs, both of which represented a 1% increase.
He added that "the measures in place are allowing us to achieve our objective. We have reached the peak and we must flatten the curve. We are facing the biggest challenge of our recent and not that recent history. For a transition to a new normality, we need to take note of the lessons we have learned."
But the figures offered by the government cannot be taken as absolute. The Catalonia region, for example, on Tuesday began to include fatalities based on data from funeral services, and calculated that that the number of coronavirus deaths in the region exceeded 7,000. But in order to maintain coherence in the figures, only deaths with confirmed infections were sent to the Health Ministry: 3,855. Until the information that the Justice Ministry has requested from the country's civil registries arrives, that difference points to an underreporting of coronavirus deaths of around 50%.
Political consensus
Prime Minister Pedro Sánchez will today begin a round of virtual meetings with opposition parties, in a bid to start laying the foundation for what are being dubbed the "new Moncloa Pacts," in reference to a sweeping cross-party deal in 1977 that produced a national socioeconomic recovery program and shored up Spain's transition to democracy after the death of Francisco Franco.
However, so far Sánchez has not managed to secure a meeting with Pablo Casado, the leader of Spain's main opposition Popular Party (PP), which has been highly critical of the government's handling of the coronavirus crisis. Far-right Vox, meanwhile, the third-largest group in Congress, is outright refusing to even take the call from the prime minister's office to set a date for talks.
As a result, Sánchez will begin conversations with smaller parties such as his coalition partner Unidas Podemos, Ciudadanos (Citizens), the Basque Nationalist Party (PNV) and pro-Catalan independence group Together for Catalonia.
Opinion poll
The results of the latest opinion poll from Spain's CIS public research institute were released on Wednesday. The survey found that 87.8% of Spaniards questioned believe that political parties should support the Spanish government during the coronavirus crisis and leave criticism until a future moment.
Just over 91% of those questioned in the CIS poll agreed that when the health crisis is over, the political parties should make an effort to reach wide-ranging agreements to deal with the economic and employment crisis that is forecast.
The government's management of the crisis deserved little or no confidence according to 48% of those interviewed, with 46.5% saying they were satisfied.
There was widespread outrage on Wednesday on social media and among associations of journalists regarding a question included in this latest CIS poll. The question, asked via telephone interview, was: "Do you believe that during these times the spread over the internet and social media of hoaxes and misleading news stories with little basis in fact should be prohibited, with all information about the pandemic coming from official sources, or do you believe that total freedom for the distribution of news and information should be maintained?"
A total of 67% of those interviewed replied saying that information should be controlled, with just one official source established for news about the pandemic.
Guaranteed minimum income
Social Security Minister José Luis Escrivá announced on Wednesday that in the coming weeks Spain's coalition government would approve a guaranteed minimum income scheme aimed at assisting the most vulnerable families. Sources close to one of Spain's deputy prime ministers, Unidas Podemos leader Pablo Iglesias, explained that an agreement has been reached with Prime Minister Pedro Sánchez of the Socialist Party (PSOE) to roll out the measure, which is aimed at helping 100,000 single-parent households. The government is due to present the measure on Thursday.
The guaranteed minimum income scheme is something that the PSOE-Unidas Podemos coalition had been planning for some time, but given the economic impact of the coronavirus crisis, its implementation has been sped up.
The scheme, Escrivá said on Wednesday, "will be structural, permanent and will be here to stay." He offered no further details, however, such as the total cost of the measure nor how many citizens it could benefit. "It will not be an individual benefit," he said, "but will place the emphasis on households and will differentiate according to the structure of those households."
Wildlife in Spain
One of the surprising consequences of the lockdown in Spain for the last month has been the appearance of wild animals in cities and in other unexpected places. This week one woman managed to capture a video of the highly unusual sight of a group of wild horses trotting along a ski slope at the Sierra Nevada resort, in the Granada province in southern Spain.
Meanwhile, a wild boar was spotted in the Ciudad Universitaria district of Madrid.
With reporting by Jesús Sérvulo González, Emilio de Benito and José Marcos.
English version by Simon Hunter.