"I said, 'Everything will be fine,' but I failed her. I went outside and cried"
Frustrated and exhausted, Spanish health workers are bearing the emotional brunt of the coronavirus crisis and the pressure is leading to depression, anxiety and post-traumatic stress
Fatima, a nurse in the intensive care unit at Alcorcón hospital in Madrid, is writing from a hotel room, where she is staying to protect her mother, who has Alzheimer's, her elderly father and her two teenage daughters from getting the coronavirus. "On my shift yesterday I saw for the first time how life and death look at each other in the blink of an eye," she writes. "I had to help distressed families who, with no warning, had death look into their innocent eyes. I shook a woman's hand before administering medication so that a ventilator could breathe for her. I told her, 'Everything will be fine,' but I failed her. Death won again. I went outside to cry."
Many health workers, on the frontline of a crisis that as of Wednesday had cost the lives of 14,555 people in Spain, with hundreds of thousands ill, feel like Fatima. At a group counseling session for medical staff at Gregorio Marañón hospital, psychologist María Mayoral explains: "They see people getting worse one day and dying the next, which creates uncertainty and a feeling that control has been lost. They are also afraid of contracting [the coronavirus], and passing it on to their loved ones, which generates feelings of guilt and isolation."
They feel helpless, angry, sad and a lot of anguish because they are being pushed to their physical and mental limit

Maria Paz García-Vera, professor of clinical psychology
On March 14, when Spanish Prime Minister Pedro Sánchez announced a state of alarm in a bid to slow the coronavirus outbreak, mental health experts at Gregorio Marañón hospital began to treat not only coronavirus victims and their families, but also their colleagues.
Days later, Celso Arango, the president of the Spanish Psychiatry Association (SEP) and head of Child and Adolescent Psychiatry Service at Gregorio Marañón hospital, sent a letter to SEP members, asking them to take care of health workers "fighting against exhaustion, feelings of impotence" as they make "vital decisions they have not been trained to take."
Arango also attached material from other entities, such as the American Center for the Study of Traumatic Stress (CSTS), to help medical staff deal with overwhelmed hospitals, risk of infection, distressed patients and bereaved families. "Everyone says they are working without proper resources and making very complicated decisions," says psychiatrist Ana Maeso, one of the specialists counseling health workers via telephone or video conference on behalf of the Spanish Neuropsychiatry Association. "They feel helpless, angry, sad and a lot of anguish because they are being pushed to their physical and mental limit."
The coronavirus crisis has a big impact on the mental health of health workers, whether or not they have been infected, as seen in China where the virus first took hold. There, half of the 1,200 doctors and nurses caring for coronavirus victims in 34 different hospitals suffered symptoms of depression and, to a lesser extent, anxiety (44%) and insomnia (34%), according to a study published in March in the Journal of the American Medical Association. Similarly, during the SARS epidemic in 2003, frontline healthcare workers reported feelings of depression, anxiety, fear and frustration, a situation that was repeated in 2014 with the Ebola crisis.
"The hardest thing when a patient dies is seeing the family in their masks crying and calling from the door: 'Dad, we love you!' And you go over and even though he's sedated, you tell him they've come to say goodbye. Sometimes he makes a gesture. Then his family cries. I cry with them," says Gloria, another intensive care nurse.
"Emotional support is normally provided by the families but with isolated patients this is now being assumed by the health workers," says Maria Paz García-Vera, a professor of clinical psychology, who is coordinating the Health Ministry's helplines, which are manned by 47 crisis experts. "Although they feel very appreciated by everyone, this also means a lot of pressure because they don't want to disappoint. They are going way beyond the call of duty."
The hardest thing when a patient dies is seeing the family in their masks crying and calling from the door: 'Dad, we love you!'

Gloria, intensive care nurse
After years of working with infectious patients at the Gregorio Marañón hospital, auxiliary nurse Irene Llorente, is finding it hard to comprehend the fact that a patient could be getting better one day and two days later pass away. In one counseling session, she says, "I just wanted to cry. I couldn't stop. I just walked out the door of the hospital and cried. I couldn't sleep. I had nightmares."
This reaction after finishing a shift in the current circumstances is normal, according to psychologist Mayoral. "To be able to work you have to dissociate yourself, but that is an additional cost; you focus on your work but you are also empathetic and you absorb feelings, and that's when the so-called compassion fatigue happens," she says. "There is a lot of physical and mental fatigue. They are being subjected to extreme emotions."
Fatigue. Exhaustion. Back-to-back shifts. Many of the health workers contacted by EL PAÍS were too exhausted to talk. "I try to stop thinking about everything that's going on," one nurse told us.
The head of intensive care at Torrejón hospital, Mari Cruz Martín Delgado, has been sleep deprived since February 25 when the first critically ill patient was admitted to the unit. "I have that permanent feeling of being on guard – hyper-alert," she says. "We have all doubled and tripled bed numbers; we have changed our way of working, and are continually making decisions while feeling we are not giving the best care," says Martín Delgado, who is also on the board of the Spanish Association of Intensive, Critical Medicine and Coronary Unit Medical Care (Semicyuc).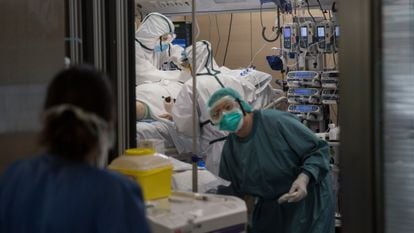 Her colleague María Antonia Estecha, who runs the intensive care unit at the Virgen de la Victoria Hospital in Málaga, in the south of Spain, is also suffering from a lack of sleep. "I don't sleep well," she says. "Three or four hours. We work under a lot of pressure, which escalates without respite. The feeling of uncertainty is also distressing. The main source of frustration is the lack of single-use video laryngoscopes, special tubes, muscle relaxation monitors and better ventilators. But in general we are doing okay. We have so much work that there's not much time to think."
Mental health experts say healthcare workers are currently experiencing a hyperactive dynamic. "Most of them are focused on doing their best, on throwing themselves into the task at hand and the extremely high levels of tension allow them to concentrate," says psychologist Tránsito Bernal, who works with nurses at the Córdoba Nursing School. "But we have to prepare them, because after [the crisis ends], they will suffer from anxiety and post-traumatic stress."
They see people getting worse one day and dying the next, which creates uncertainty and a feeling that control has been lost

Psychologist María Mayora
Services to help health workers with mental health issues are available in five Spanish regions, including La Rioja, Navarre, Madrid, Cantabria and the Balearic Islands, as well as the provinces of Cordoba, Guipúzcoa, Ciudad Real, Guadalajara and Granada.
What will happen when the coronavirus crisis ends? "There has been a lot of improvisation and they [the health workers] are extremely angry; there will be a lot of burnout. They will relive everything," says Enrique García Bernardo, a psychiatrist at Gregorio Marañón hospital.
There is a general consensus that the mental health of health workers must be addressed as soon as possible. "If they start taking care of themselves now, asking for help, they'll be able to handle the fallout better," says Mayoral. "Some will have resources. Others will not."
In the meantime, she and her colleagues will continue to provide counseling to health workers and listen to variations of the same message: "I need to know when this is going to end and if I'm going to hold out."
"If I cry it's because I'm healthy"
"In the support group they help you see that what's happening to you is normal. That if I cry it's because I'm healthy," says auxiliary nurse Irene Llorente. "Now I concentrate on the present. If I have to do this, I'll do it."

According to psychologist María Mayoral, who leads these counselling sessions, the idea is to allow the health workers to validate their emotions because there is a tendency to interpret sadness as a weakness. The sessions also focus on living in the here and now, encouraging those embroiled in the crisis to ask themselves, what can I do today? And then to make them see that they are the ones who are best prepared to deal with the crisis.

"We focus on getting them to accept that in the situation they are in and with the resources they have, they are doing everything they can," says Mayoral's colleague Tránsito Bernal.
English version by Heather Galloway.