Before sending a voice message, ask if you could say it in writing: How to stop the avalanche of WhatsApp audios
Seven billion recordings are sent over the messaging platform each day. Users have complained about the new form of communication, and the company is working on ways to transcribe them automatically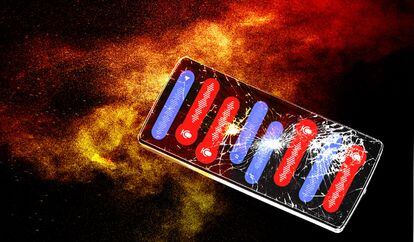 In 2013, one pope resigned, and a new one took his place. Obama began his second term. Edward Snowden shook the US by leaking secret NSA documents. Amidst all that chaos, WhatsApp introduced voice notes: the option to send, instead of a text message, a sound file with a brief recording of the user's voice. Ten years later, the technology, which only a few other platforms have copied, has completely changed how we communicate. We haven't enjoyed a moment of silence since.
Back then, 300 million people used the messaging application. Today the application boasts over 2.2 billion users. But voice notes didn't grow popular until 2018, when digital media outlets like The Ringer wondered whether their era had begun. It had, in fact, begun, and it's still going today. Since then, we have been inundated with voice notes: according to WhatsApp, seven billion were sent in 2022. The recordings don't have a time limit, although there is a maximum file size of 64 megabytes. (Pray that you won't have to discover how many minutes of recorded speech that can contain.) Some Twitter users have claimed receiving voice messages of up to 20 minutes.
Did voice notes herald the return of answering machines? Not quite. On answering machines, callers usually left concise, brief and important messages. They didn't expect us to reply immediately. Now, our devices receive incessant, uninvited voice recordings. They're a clear expression of our hyper-connected culture. The stream of social, work and family obligations never stops. We are trapped in an eternal conversation. The tyranny of WhatsApp audios has sparked debate everywhere from the streets to Twitter to this very newspaper.
The creators of WhatsApp are aware that voice notes have complicated our lives. After a first, canceled attempt in 2021, the company is again working on an update to automatically transcribe audio messages. Apple, on the other hand, seems to want to make things worse: it is developing an iMessage tool to transform written messages into sound bites with the voice of their recipient. Forget the pathological disgust that previous generations felt at hearing their own voices: today, we can't stop recording ourselves.
The (in)human voice
What, exactly, is our problem with voice messages? It's not that we don't want to listen to people talk. Actually, we seem to like that. Podcast consumption in Spain doubled in 2022, and we now listen to an average of 9.5 hours of voices on podcasts every week. The issue, according to experts, is the obligation that the messages impose. We must listen to the entire message, and we must listen now. "If someone gets bored of a podcast, they turn it off and that's it. But if a friend sends you a voice note, you feel somehow obligated to sustain that conversation," explained psychologist Violeta Alcocer. "Audio messages force their listeners to pay attention from beginning to end."
That wouldn't be a problem if we knew how to synthesize what we want to say. But we don't like to skimp our words. "In a voice note, we use more redundant expressions, hesitations and tangential comments. The listener has to pay attention to a potentially lengthy speech in order to understand something as simple as what their dad is making for dinner," the psychologist added. WhatsApp itself may have tacitly confirmed that our messages are getting longer: last March, the platform added the option of playing messages at twice the original velocity. Along with Netflix's controversial decision to allow users to increase their viewing speed, the option characterizes a moment where the demands of modern life forces us to fast-forward through our own lives.
"A basic reason behind our rejection of audio messages is our culture of immediacy," confirmed psychiatrist Luis Gutiérrez Rojas, author of a book on how to survive an increasingly rapid world. "We want everything fast, and we're more and more impatient all the time. The big problem with voice messages, which people now play at double-speed, is that we need to immediately understand what they're saying. If they last three, four or five minutes, they become cosmically annoying." Sometimes, though, the issue is that we simply can't listen to them. "Sometimes we can't listen to a message if there are people around," added Fernando Sarrais, author of a book on improving communication. "Waiting to listen to the message in private is unpleasant, because we've become more impatient."
Mark Zuckerberg's other two platforms, Facebook and Instagram, treat the problem at its root. For now, they limit voice messages to one minute. That's not all positive, though. Instead of receiving one long message, we receive four short ones.
Don't call me
It's worth considering if something we can say in a brief recording wouldn't be better said in writing. "As with everything, we have to keep in mind politeness and common sense," Gutiérrez Rojas said. "Before sending a voice message, ask yourself whether you could write a short text. Be empathetic. People often say to me, 'I'll send you a voice message, I know you're busy.' If you know I'm busy, don't send me a voice message! A lot of them end with 'I'm sorry for the bother.' Don't apologize and don't do it!" An important lesson: if a voice message is your only option, ask the interlocutor if they mind receiving one and if they can listen to it now. Otherwise, it can become twice the work: if the recipient is busy, the sender has to write the message all over again.
Some may still believe that some things are better said with our voices. They're right. Sarrais confirmed that "written communication is colder, and it doesn't have the context of body language and tone that can add nuances and express affection. Audio is better for complex or delicate topics." Alcocer agreed: "A familiar voice makes the person you're listening to feel much closer than in a written message."
Gutiérrez Rojas warned that human expression goes both ways. "Some people send voice notes to show how angry they are. Think of the trials, like those for intimate partner violence, that use as evidence unpleasant messages in which the tone of voice makes all the difference. That doesn't exist in text messages. You can use uppercase letters and exclamation points, but the voice has a lot more force and richness, both for affection and rage. As a psychiatrist, I can't count how many people regret things that they've said and recorded, and in the case of voice notes even more so because of the tone. Never send voice notes when you're angry. Be careful of what you say when you're overcome by emotion."
For now, the voice note is here to stay. They've become more common in pop songs, from Adele to Harry Styles. The motif harks back to nineties R&B songs that sampled answering machine messages. (Pitchfork published a complete guide to the phenomenon in 2017.) Dating apps now include voice notes in their chats. Grindr was the first to introduce them, followed by Happn, Bumble and Hinge. The applications' jump to voice notes was perceived as a leap forward. Hearing the voice of a potential love interest can invite the sound of wedding bells. That's brought about the phenomenon of voicefishing: people changing their accents or tone of voice to seem more desirable. But today, as technology overwhelms us with voice notes that could be replaced with a text that says "see you at five," the most desirable message is one that's short and sweet.
Sign up for our weekly newsletter to get more English-language news coverage from EL PAÍS USA Edition